Author Brian Coleman on what makes gardens in our region sing.
Photos by William Wright
---
"They say that a home is a reflection of the owner, and this is even more true with a garden," author Brian Coleman wrote to Oregon Home in an email exchange late last spring. Coleman's inspiring new book with photographer William Wright, Private Gardens of the Pacific Northwest, reflects the wide range of creativity homeowners bring to the plant love in our region. We had to dig into the details with him.
---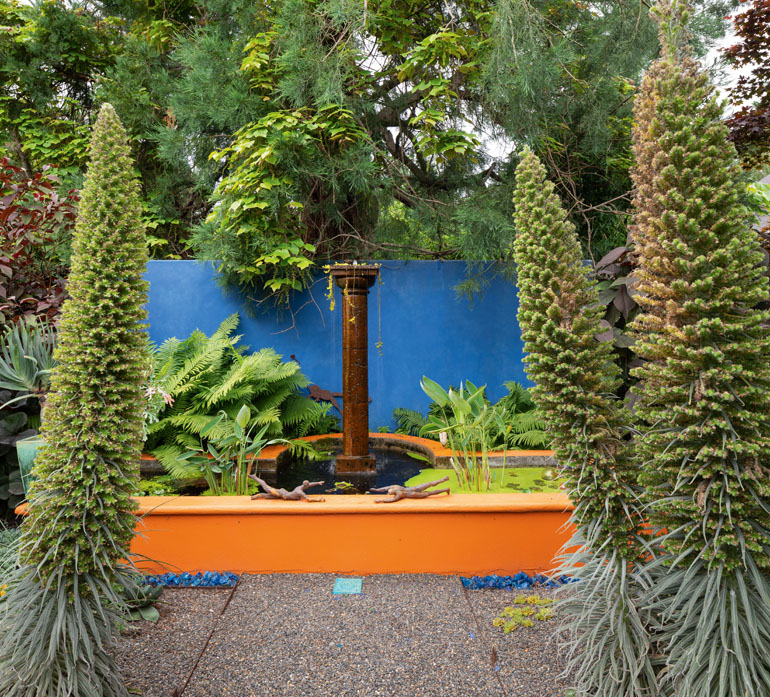 Majestic cones of Tower of Jewels (Echium wildpretii) frame the Mediterranean bed. A concrete water column by garden artists Little and Lewis is set in a vibrant-orange-and-sky-blue walled pond, with Royal Fern (Osmunda regalis) tempering the wall behind.
---
Lush plantings in the south border include bright orange Mango Popsicle Dwarf Poker (Kniphofia 'Mango Popsicle') and the pretty purple-blue blossoms of Longleaf Speedwell (Veronica longifolia 'Marietta'), which nestles against the master bedroom deck.
---
On how he chose the gardens in the book:
"We wanted to have as wide a range of gardens as possible — everything from a small, city garden to a tree house garden on a lake — to give readers a variety of ideas for inspiration."
On the surprises he discovered while writing:
"I was most impressed with individuals' creativity and passion, how homeowners took an uninspiring plot of overgrown weeds and turned it into something magical. For example, Craig Quirk's garden was just an overgrown backyard that had been neglected for decades and he turned it into a breathtaking oasis."
On the commonalities among Pacific Northwest gardens:
"Nearly every garden we featured incorporated water in some fashion, whether it was a fountain or a pond, or just an urn with water lilies for a soothing and appealing accent. And most gardeners were very conscious and supportive of the importance of wildlife and the role their garden played, and planted to attract everything from hummingbirds and swallows to butterflies and bees."
---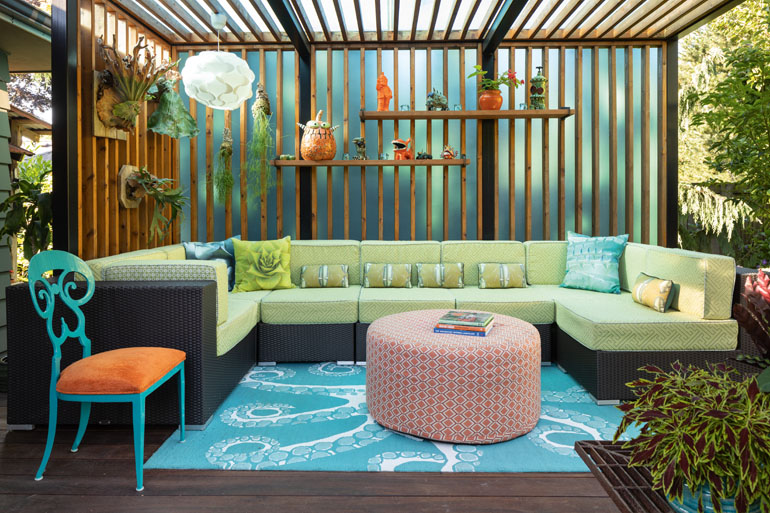 A covered deck off the master suite is an engaging transitional room for enjoying the garden. Made of steel, ipe decking, warm cedar, and sand-blasted plastic, it provides protection from the elements while allowing expansive views of the garden.
---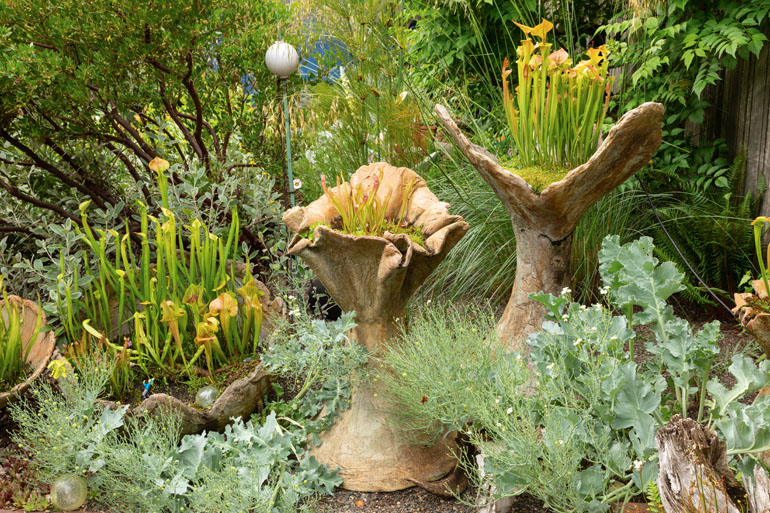 An otherworldly bog garden collection greets visitors at the north entry into the garden with Trumpet Pitchers (Sarracenia) set in organic planters, surrounded by clumps of powdery-blue Sea Kale (Crambe maritima) and Hairy Manzanita (Arctostaphylos columbiana) behind.
---
On private garden trends:
"All of the gardens we shot incorporated outdoor living spaces, from a salvaged chicken coop turned into a pavilion to a private area tucked away where one could sit on a bench and contemplate the beauty of nature around them — after all that's what a garden is all about."
On how private gardens are different from public:
"Private gardens are more personal, places where people can let their individual passion and interests run wild. For example, homeowner Art Wolfe created an amazing Japanese water garden in his front yard — a rare and very special place of tranquility in an otherwise busy and bustling city neighborhood."
---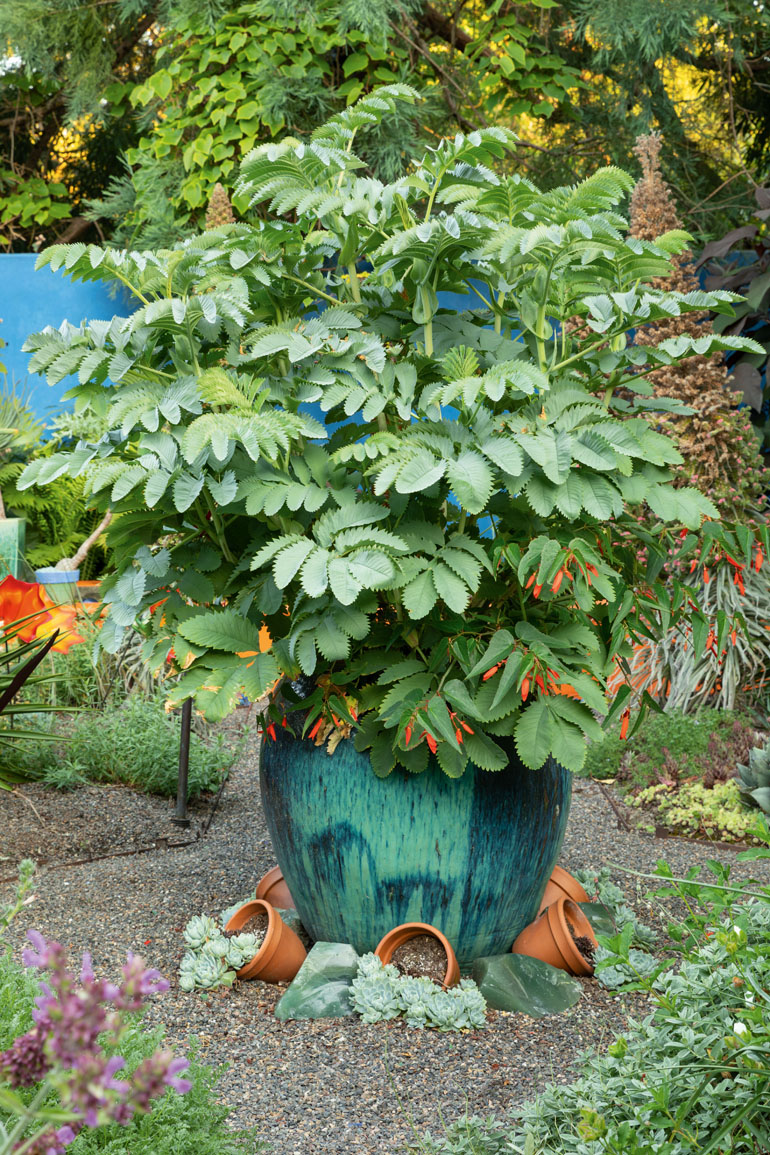 A handsome turquoise pot overflowing with Honey Bush (Melianthus major) provides an arresting focal point for intersecting paths in the Mediterranean garden.
---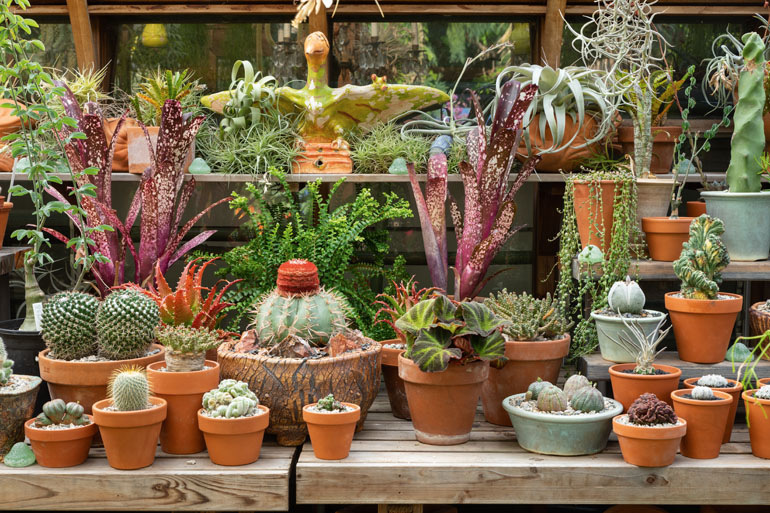 A small greenhouse behind the house nurtures Bromeliad (Epiphytic billbergia), Air Plant (Tillandsia), succulents, and cacti, including Turk's Cap Cactus (Melocactus azureus).
---
On capturing the sensations of a garden in words:
"Every garden has a story to tell that begins with the owner's vision, and I tried to describe this for each garden for readers to understand how it was created. Plant descriptions, their colors and scents are key elements in bringing the beauty of a garden to life on the page."
On Craig Quirk's charming Portland garden:
"It's a wonderful use of color! Craig used the color wheel for inspiration and combined plants we typically don't think of pairing: glowing orange bunny ears and mango-orange kniphofia with mauve-blue phlox paniculate 'Blue Paradise.'"
---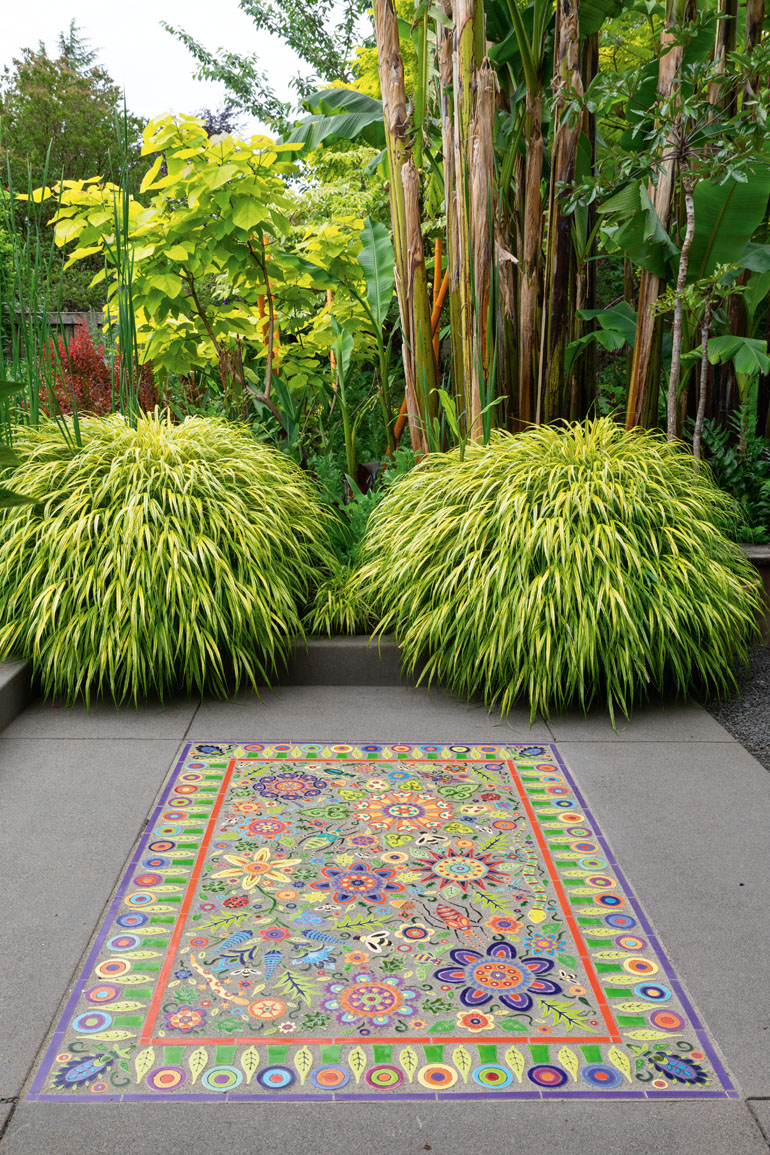 An engaging ceramic tile mosaic carpet by Clare Dohna of Firehouse Tileworks features the bright oranges, blues, fuchsias, and greens found throughout the garden. Chartreuse Japanese Forest Grass (Hakonechloa macra 'Aureola') and Golden Catalpa (Catalpa bignonioides 'Aurea') echo the colorful palette.
---
Captions excerpted with permission from Private Gardens of the Pacific Northwest by Brian D. Coleman, Gibbs Smith, August 2021.