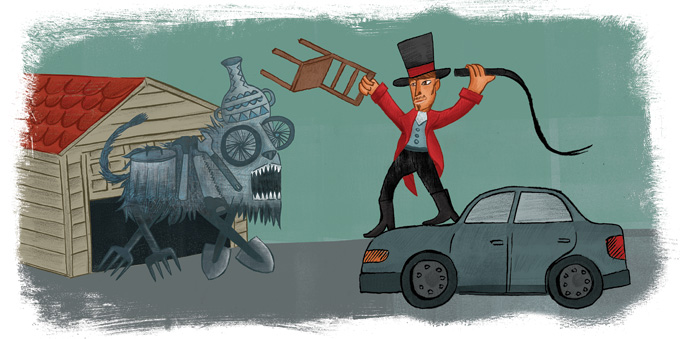 Like the garages of many Portlanders, Mitchell Snyder and Shelley Martin's had become a catchall space. "We've never used it as a garage," says Snyder. "Everything from woodworking equipment to bicycles was jumbled together."
Creating studio space for Martin, the ceramicist behind Vitrified Studio, was an impetus for renovating it. "I had a pottery wheel and a kiln I couldn't plug in because we didn't have adequate electricity," she says.
To improve the garage's usability, they partitioned the 20-foot-by-16-foot space into three separate areas. Snyder, an architect and the principal at Mitchell Snyder Architecture, designed a wood shop, bicycle parking and a ceramics studio.
After adding structural upgrades and insulation, two walls were installed to divide the space. A lengthwise wall turned two-thirds of the space into a woodshop, and a smaller wall divided the remaining area into an approximately 8-foot-by-5-foot bike area and a 12-foot-by-5-foot studio. A door opens onto the bike room, which has space to hang two bicycles, and a pocket door leads to the wood shop, which can also be entered through the traditional garage door. The garage door makes it easy to bring materials into the shop and can be lifted for ventilation. The separate ceramics studio is accessed from the backyard by sliding glass doors.
Snyder did the renovations, except for the electrical wiring. With its three dedicated areas, the garage is much more functional than it used to be. "Delineating the spaces gave everything its place and gave the garage more of a structure," says Snyder.
If your garage is structurally sound, don't demolish it. "A lot of garages are built on the lot line," says architect Mitchell Snyder. "If you tear it down, anything you build will require a setback, which gives you less space." 
Before renovating, spend time space planning. "Really think about what kind of room you need," he says. 
Use durable materials. "The walls are made of OSB, an engineered wood," says Snyder. "It's a garage, so the walls are going to get banged into. We polyurethaned the bike wall to better withstand having the bikes hung on it." 
Check zoning requirements to ensure your renovation maintains the building's garage status. "If you don't do that, you're creating a different type of structure that may have stricter requirements," says Snyder. 
If possible, give workspaces a view. "I love my studio's sliding glass doors," says ceramicist Shelley Martin. "I can see the garden, so it doesn't feel like working in a garage."
{besps}articles/2012/2012_AugSept/garage|width=680|height=500{/besps}
{besps_c}0|01.jpg|The 20×16-foot Snyder/Martin garage before it was remodeled Dark and useless.|{/besps_c}
{besps_c}0|02.jpg|Floorplans show how the space was carved out.|{/besps_c}
{besps_c}0|03.jpg|Floorplans for the new garage.|{/besps_c}
{besps_c}0|04.jpg|A workshop was created.|{/besps_c}
{besps_c}0|05.jpg|An 8×5 space for bicycle storage was added.|{/besps_c}
{besps_c}0|06.jpg|A 12×5 ceramics studio was created.|{/besps_c}
{besps_c}0|07.jpg|New doors for the revamped garage were added.|{/besps_c}