Photos by Jennifer Jako
Just off the recently remodeled Killian family kitchen is a long, handsome dining table made of reclaimed Douglas fir beams and custom, iron end pieces inspired by bridge trusses. When owners Carey and Lance are not eating around this new addition with their three children, the family puts together puzzles or plays games there by the light of an overturned canoe frame turned chandelier.
Chris Bleiler, designer at Fix Studio, an innovative Portland-based design practice, made the dining table, and both he and principal designer and owner Jennifer Jako worked to source the hand-built canoe. They brilliantly stripped away the canvas to reveal a starkly beautiful Douglas fir, mahogany and white oak structure, and designed the complementary salvaged-wood pendant light that sits suspended below it.
This hands-on approach to re-envisioning rooms and filling them with meaningful touches can be seen throughout the Killians' updated kitchen, dining and living areas of their 1959 Southwest Portland home, and it exemplifies what Fix Studio, which headed up the project, excels at.
"We tell stories through spaces and designed objects," says Jako, who has an extensive client list that includes commercial as well as residential clients. "We create conversation pieces and art installations. In essence, the client informs the storyline and we create the setting for the scenes in a space."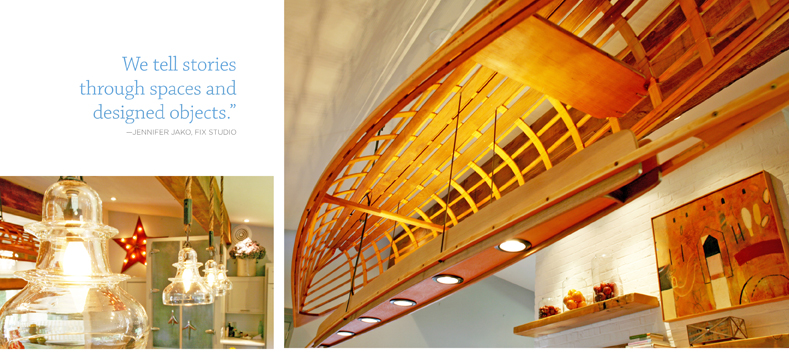 The goal of the Killian remodel was to open up the spaces and add interesting, contemporary furnishings to make the house more welcoming to family and friends alike. Shortly after meeting Jako and Bleiler, recalls Carey, "we were willing to give them a ton of creative license. Not only do they have out-of-the-box solutions to problems, but they can make so many things, and they have a network of people in the industry they can tap to get beautiful pieces made, too."
"We love doing things a little differently," explains Jako. "We tend to throw a lot of ideas out there initially, and then we work together with the client to see what sticks."
Initially, Jako and Bleiler removed an entire kitchen wall that divided it from the dining room, along with dining room walls and hallway closets, to help create a greater sense of flow. Warm, rich wood tones feature prominently throughout the project, from the kitchen island in locally sourced Oregon myrtle wood, to the overhead beams clad in salvaged Douglas fir barn wood.
With strategic walls removed, light now streams into the kitchen from south-facing windows. The perimeter of the room is lined with open shelving, and bright, engineered marble countertops extend up behind the range, which makes cleanup a breeze. The island features a sink and two dishwashers to accommodate family gatherings and entertaining.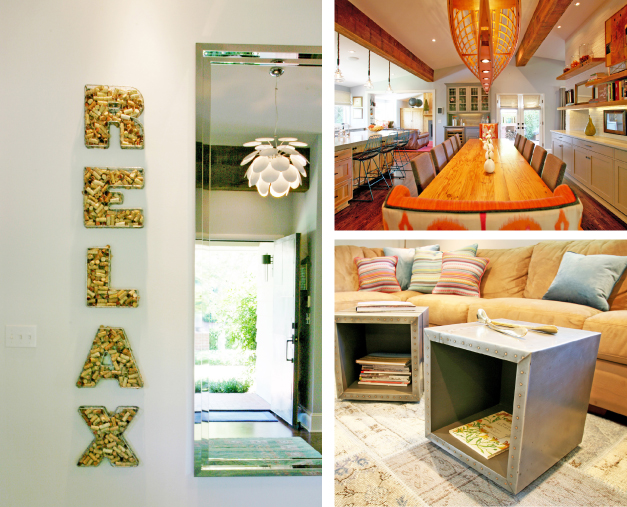 Jako and Bleiler designed a custom zinc hood that a local architectural sheet metal fabricator made. In the living room, now a welcome destination for the family to watch movies, zinc is carried through in a set of side tables and in a large, custom cabinet of Oregon alder that features zinc doors.
Personal touches speak to what the Killian family values most. Bold, wire-formed letters beside the entry door that spell out the word "Relax" are filled with corks from the couples' personal collection. To the left of the entry is a painting by Robert Bissell that features a dozing, contented bear reclined on a piece of driftwood.
Even challenges that arose during renovations were met with ingenuity, recalls Carey. To hide a large, unattractive support column, Jako and Bleiler arrived at a brilliant solution: creating a pantry made to look like a turn-of-the-century ice box that expertly conceals the column inside, complete with zinc doors and vintage hood-ornament door pulls.
"It was all so original," says Carey. "At the time, it was this design problem, and now it's really the statement piece in the room, the feature people ask about more than anything else. Jennifer and Chris truly listened and took such a different approach. We knew the end product would be unique and really speak to who we are."