Photography by David Papazian
Cooper DuBois is a man of many interests. A creative entrepreneur, he loves to help others find their spark and stoke a fire. He's got his hands in a lot of pots, literally and figuratively — designing social gaming apps (he is best known for spearheading Seattle-based Double Down Interactive), running successful Portland bar, The Liquor Store, being a single dad and making some beautiful ceramics in his home pottery studio. He collects talented people, meaningful art, vintage Star Wars paraphernalia and what every dad of an 8-year-old boy collects: tons and tons of Legos.
---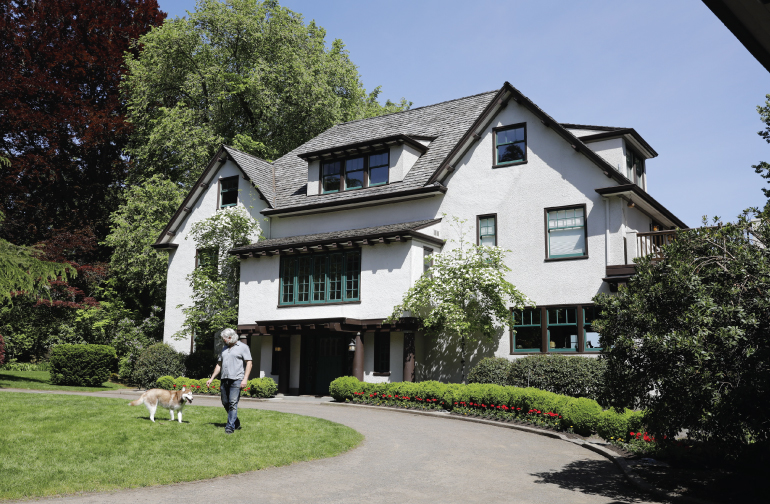 ---
DuBois has transformed his classic Ellis Lawrence home on the Willamette River into just about the best bachelor pad you could ever visit — and managed to make it a great family home, too. It's a juxtaposition which suits DuBois just fine. He found the property, which includes two acres, a carriage house and a dock, a few years ago after a long search. "The house, a Victorian style built in 1911 might not have been my first choice — but the view! I told my agent, MJ Steen, that if the house was even halfway OK on the inside, we had a sale," recalls DuBois.
---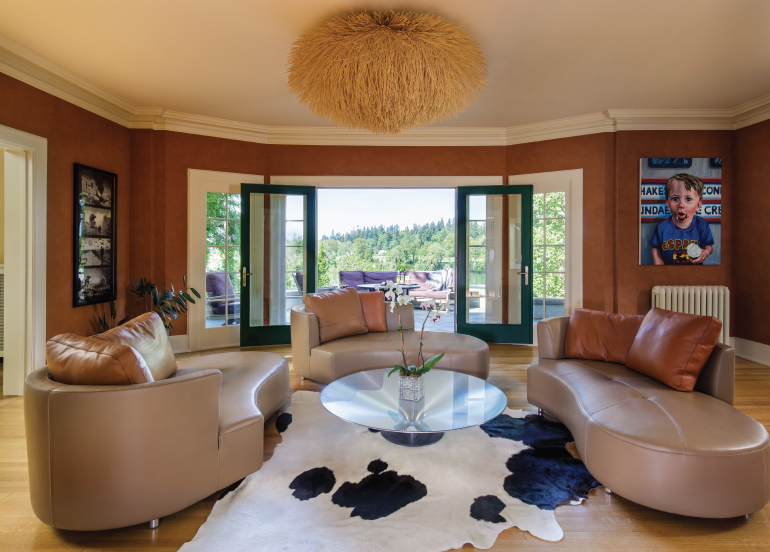 ---
DuBois did a bit of remodeling. He opened up the smaller Victorian-era rooms on the main floor. The goal was to create exterior views in both directions no matter where you sat. On the top, in what would have been the servant's quarters, a 007-style bookshelf was removed to reveal a "hidden" room that wasn't getting much use. DuBois also added a deck off the master bedroom, onto what was otherwise a view to a rooftop. Other than this, it's how he lives in the home that makes it distinctly his.
---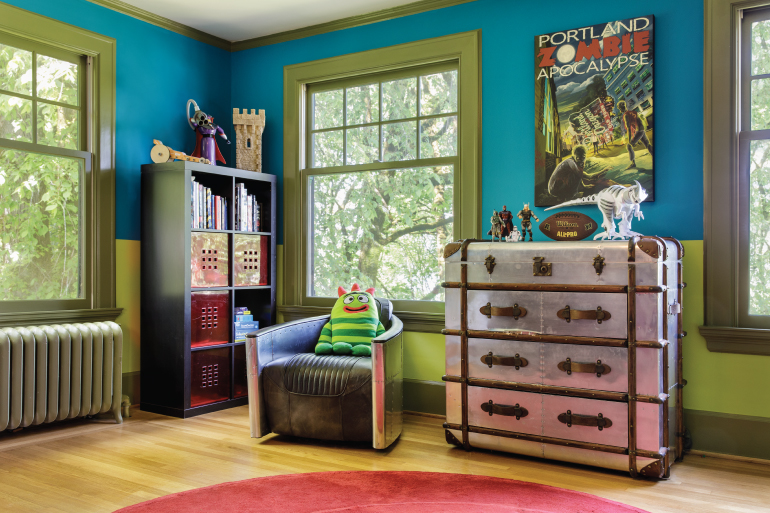 ---
Today the upstairs is where DuBois and his son do most of their work — and play. There's a small kitchen stocked to make hanging out here extra easy. "This is my room with a view. It's where I start my day. I come up here to this desk to reach out to my team working on development projects overseas, and any other administrative work. I like to get this stuff done early in the morning so I can spend time with my son after school," explains DuBois. Most afternoons, this is the hub too, with three pinball machines, Lego supplies, father-son art projects and video games.
---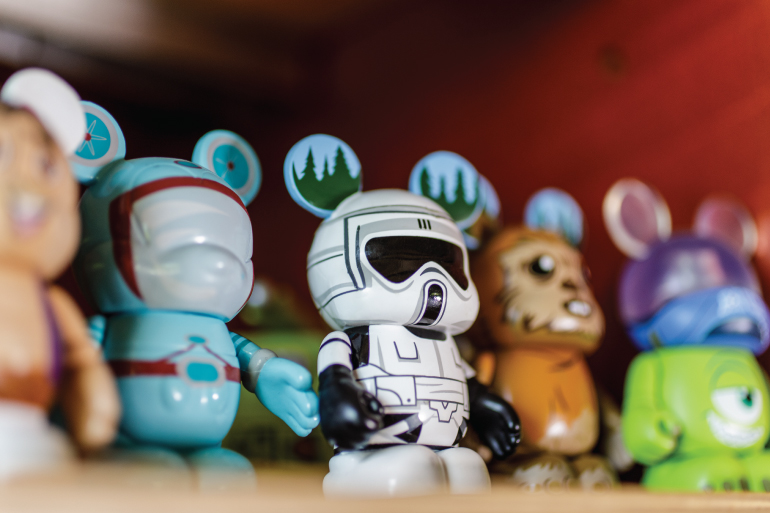 ---
DuBois eschews falling under the sway of any particular interior "style." He embraces what he loves and mixes it in a way that is equal parts eclectic, considered and comfortable. He denies following any interior design trends. And yet this "transitional" approach to making your house a home is about as on-trend as it comes these days. DuBois worked with an interior designer to help him coordinate his art collection, beloved furniture pieces handmade by his brother, Todd Winkler of Westwink Furniture, and a mix of contemporary and industrial furniture and fixtures.
---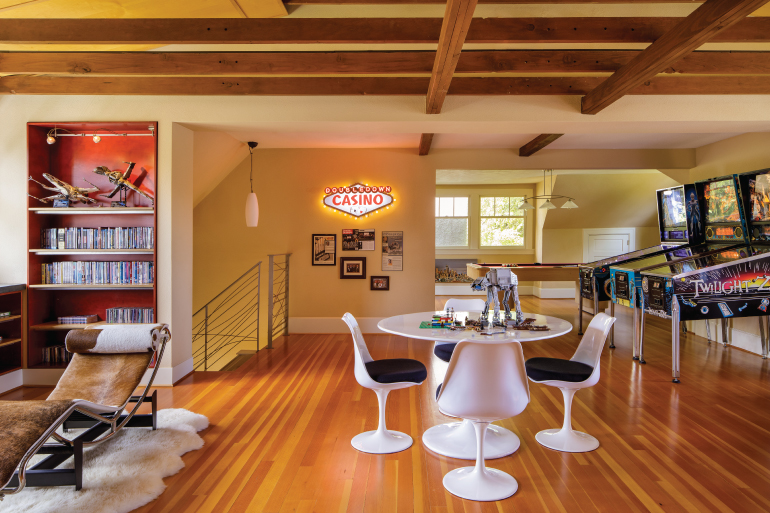 ---
Can you combine Roche Bobois with Andy Warhol, Southwestern folk art, hammered-copper sinks and retro-industrial light fixtures in an old Victorian? Yes, yes, you can. "The idea is to incorporate all the things that have deep meaning for you with the right colors and newer, highly functional pieces. I'm an artist and designer by trade, so I feel like I have a good eye and an understanding about what I want — but working with a designer really helped me pull it together," recalls DuBois. In this case, DuBois worked with Annie Evans of Sacramento, but he maintained his hands-on approach, traveling with her to San Francisco's Design Center. The house is eclectic, but it doesn't feel disjointed. The hammered metal and industrial lighting is found in the kitchen but also in the master bath. Here, the rustic freestanding tub and exposed Edison bulbs mingle with natural stone and tile working their way organically to a modern walk-in steam shower — all with views to the river, of course. Sculptural work by Dustin Yellin and Jun Kaneko make sense near work by local artist Trish Grantham (the artist who breathes light and fun into Portland's Boxer Ramen) and DuBois' own ceramics displayed artfully on the mantel.
---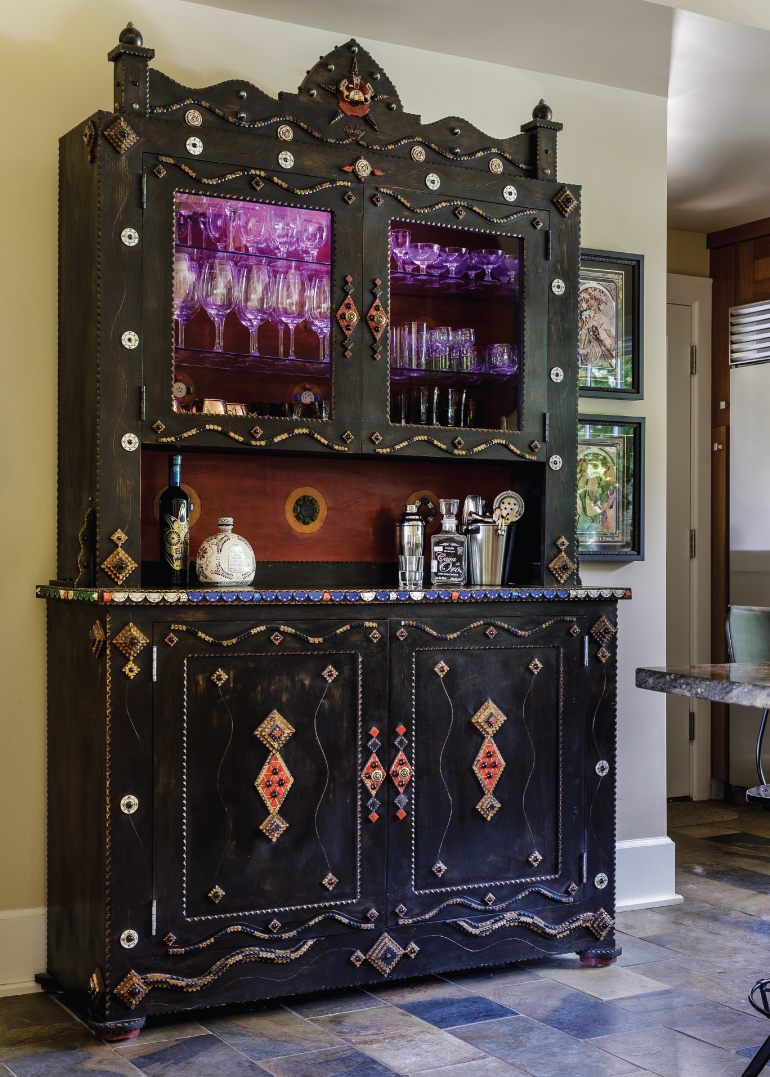 ---
The most important thing for DuBois? The house is supremely livable. He explains, "These older Victorian homes were built with a sense of formal and informal spaces. For me, making every room a space you wanted to hang out in was important — I don't want there to be a room that's just a showpiece." This is especially important in the summer, when the house is open perpetually to the cool breeze off the river. There's no stuffy garden here, just space to be at ease. "We do a lot of entertaining in the summer with a parade of family and other guests coming to visit. I throw the best Forth of July party in town. We host around 150 people, and it lasts about three days. People camp in the yard, and it turns into a big potluck. We've got 2 acres of this slope to the river. I try to keep it tidy around the drive and front, but I let the slope stay natural." If the weather's not so great, that once-formal sitting room has been outfitted with a drop-down movie screen and projector.
---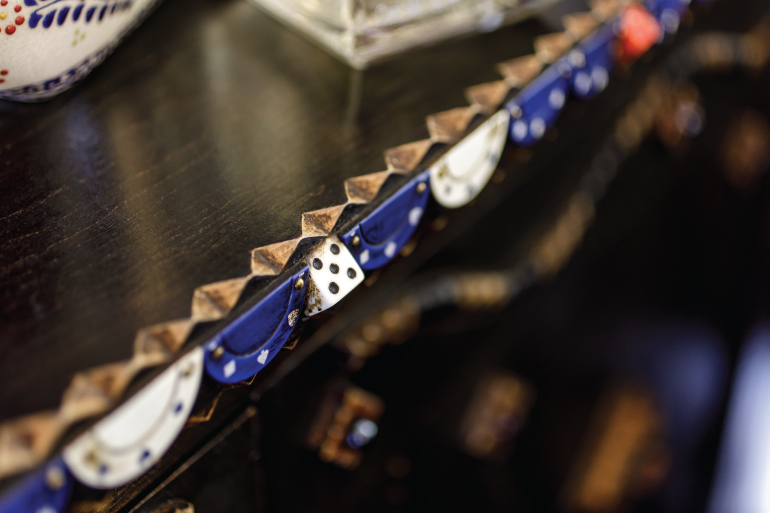 ---
Bottom line for DuBois when it comes to making a house your own? Be true to what you love and it will all come together. His motto, artfully emblazoned across a mirror custom made for him by his brother, is "The universe shall provide."