After decades of planning, a new community is sprouting up in South Hillsboro. During a recent event at the Reserve Vineyard and Golf Club, Windermere Real Estate brokers enjoyed a behind-the-scenes look at what's to come from a number of the key players involved in bringing this project to life. And what they have in store left all of us very excited.
---


Photo: The City of Hillsboro

---
AN AMBITIOUS EXPANSION
First to speak were Chris Barry and Rachel Haddon, who both work in the City of Hillsboro Planning Department. This new South Hillsboro neighborhood — which sits just south of TV Highway between the Reserve and SW 209th Avenue — has been in the planning stages since at least the late '90s.
So far, three different developments have been approved across roughly 1,400 acres: Rosedale Parks, Reed's Crossing, and Butternut Creek. Within those three communities are plans for 8,000 new homes, which will house 20,000 new residents. Reed's Crossing and Butternut Creek will both include mixed-use areas and combined have set aside approximately 286 total acres of parks and open spaces, including an integrated multi-modal transportation network with world-class bicycle facilities.
Of course, adding 20,000 new residents to a city of 100,000 people is no small feat. But the City is building infrastructure with an eye towards future growth. In fact, the entire development was designed to pay for itself, because the City didn't want current residents paying the tab for the influx of new neighbors.
Within Reed's Crossing, plans are already underway for the construction of a new neighborhood elementary school, and property for additional school sites has already been purchased. The City expects full development to take about 15 years but that will be largely market driven.
---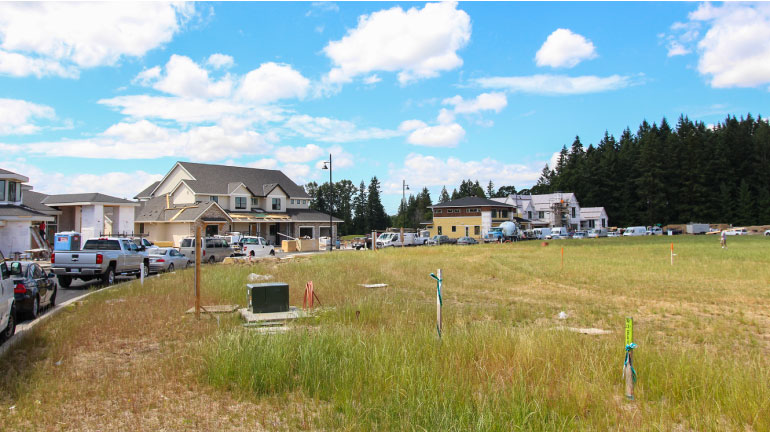 Photo: The City of Hillsboro
---
REED'S CROSSING PLANS UNDERWAY
Next up was David Brentlinger, Vice President of Operations at Newland Communities, which is responsible for developing the Reed's Crossing portion of South Hillsboro. Newland isn't a home builder, instead, they plan and design entire communities from the ground up based on their extensive market research. Newland acquired Reed's Crossing nearly twenty years ago and David said they plan to remain involved for at least another decade.
Reed's Crossing is the single largest development in South Hillsboro, encompassing 463 acres. Plans currently call for approximately 2,800 single-family homes, 900 apartments, up to four new schools, and a 36.6-acre Town Center which will include community-oriented retail shops like a grocery store, medical facility, and brewpub. David said the Town Center will have a similar feel to Hillsboro's Orenco Station, but with a unique look all its own.
The development will also include close to 55 acres of open space, including a 23-acre greenway with a series of boardwalks, interpretive centers, and trails. David said that sustainability has always been a key component of Newland Communities, and Reed's Crossing is no different. Homes in the development will come ready for solar panels and charging for electric vehicles, and the entire community will be designed to make driving less necessary.
Newland is currently under contract with five builders with construction set to begin this fall. The first phase will include a batch of 300 homes built in a variety of styles, including craftsman, bungalow, modern farmhouse, and Pacific Northwest modern. David said they're aiming squarely for the middle of the housing market, with townhomes and single-family residences sitting in the $350,000 – $700,000 price range.
---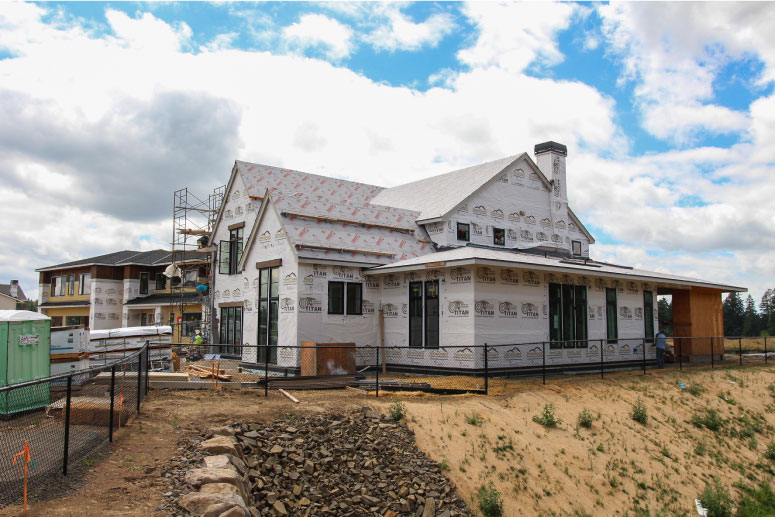 Photo: The City of Hillsboro
---
A NATIONAL BUILDER BUYS IN
We ended the breakfast with presentations from representatives from two of the builders involved in South Hillsboro: Kelli Cunningham from Lennar and Mike Harn and Nancy Haskins from Anlon Homes.
Kelli said Lennar chose South Hillsboro because they recognized the need for housing in our region and loved the neighborhood's planned amenities. They've purchased into all three of the approved communities and plan to build around 100-175 homes per year starting this fall.
Mike Harn and Nancy Haskins oversee the custom home division of Anlon Homes. Their firm built one of this year's NW Natural Street of Dreams Homes and acted as construction consultant on a second. They're heavily involved in local construction and they hope to grow their custom home division as the South Hillsboro neighborhood also grows.
AMAZING THINGS TO COME
After absorbing all this knowledge, we were treated to an insider peek at the NW Natural Street of Dreams located in the Rosedale Parks portion of the South Hillsboro neighborhood. Open 10 a.m. – 9 p.m. everyday through August 26th, the public can view this impressive new neighborhood when they visit the Street of Dreams, remembering that it represents just one small portion of what's to come in South Hillsboro.
What a privilege it was to get an up-close look at all the work that goes into a planned community like South Hillsboro even before the first foundations are poured. We all came away impressed with what's in store for the City of Hillsboro and the continued growth that's sure to follow.
---
Matt Criele, President & Owner, Windermere West, LLC