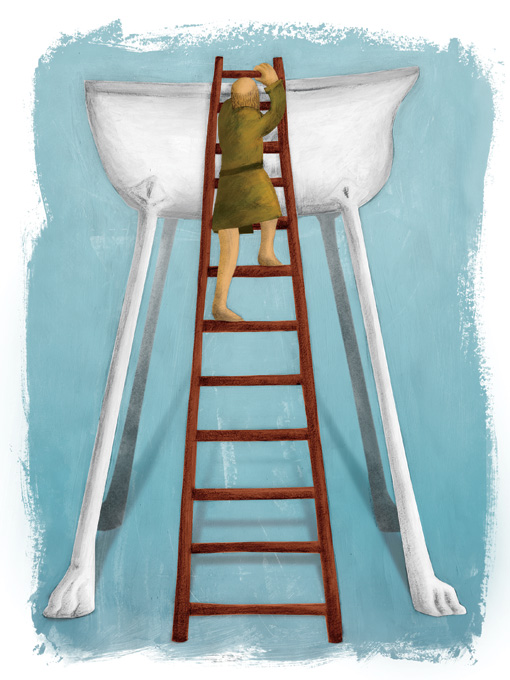 Illustration by Santiago Uceda
This is the biggest trend of all time. Absolutely everyone is doing it: aging.
Despite the facts, most of us manage to keep the inevitability of aging out of mind if not out of sight until it literally trips us up.
"Ego," says 84-year-old Portland interior designer Howard Hermanson. "Everyone thinks they're never going to fall down."
Until they do, while stepping out of the bath or catching a toe on a loose area rug, and suddenly it seems their once beloved house is out to get them, and they're eager to sell, downsize and move into a condo. Hermanson, who still takes on design projects, saw several friends and clients do just that only to regret their decisions because of homeowner association fees, co-op regulations and the reality of living so close to neighbors.
A recent survey by the American Association of Retired Persons found that 84 percent of baby boomers want to stay in their homes as they age, but only 16 percent have taken any steps to do so. This is a bit like deciding to run a marathon without ever actually lacing up a pair of training shoes. It's going to happen whether or not you prepare for it, but incorporating aging-in-place, universal or accessible design — the language is developing as quickly as the solutions — can make the transition easier.
Instead of waiting until you absolutely need it, then rushing to retrofit a house, choose to incorporate universal design principles as you update. Widen the entry and remove the curb in a shower. Add handrails and handheld or adjustable-height showerheads. Anywhere there is a change in elevation — a sunken living room or a raised platform — place secure handrails that are aesthetically in keeping with the rest of the house. Look for slip-resistant floors, such as wall-to-wall carpet, cork or textured tiles with lots of grout lines. Avoid super-glossy finishes on hardwood floors, and area rugs that curl and trip. If you have the space, consider creating an additional dwelling unit that can be rented out to create income or can house an aide as needed.
Sometimes the house is fine but caring for the outdoor space presents problems.
Consider "downsizing" the garden with a redesign, says Carolyn Groves, the owner of Carolyn Groves Design in Portland. Break up a large yard into several small, manageable areas. Put in low-maintenance patios and outdoor rooms. Add raised beds to make tending to flowers and vegetables easier.
"A lot of times people don't have a way to let out their pets safely; they have to go out with them," says Groves. A fenced pet run solves the problem and also confines the clean-up task.
Breaking up the space helps homeowners see the whole as a group of tasks and not an overwhelming project.
Hermanson gives this advice: "Slow down. Make decisions cautiously. And stay in your home as long as possible."
---
Consider these design tips for your next remodel:
Curbless or walk-in shower 
Variable-height showerheads for standing or seated bathing 
No-slip surfaces; textured tiles with lots of grout lines 
Grab bars for shower, tub and toilets 
Lever-style or electronic sensor faucets in kitchens and bathrooms 
Chair-height toilets 
Lever-style door handles and simple drawer pulls 
Lighted magnified mirrors that tilt