By Kimberlee Jaynes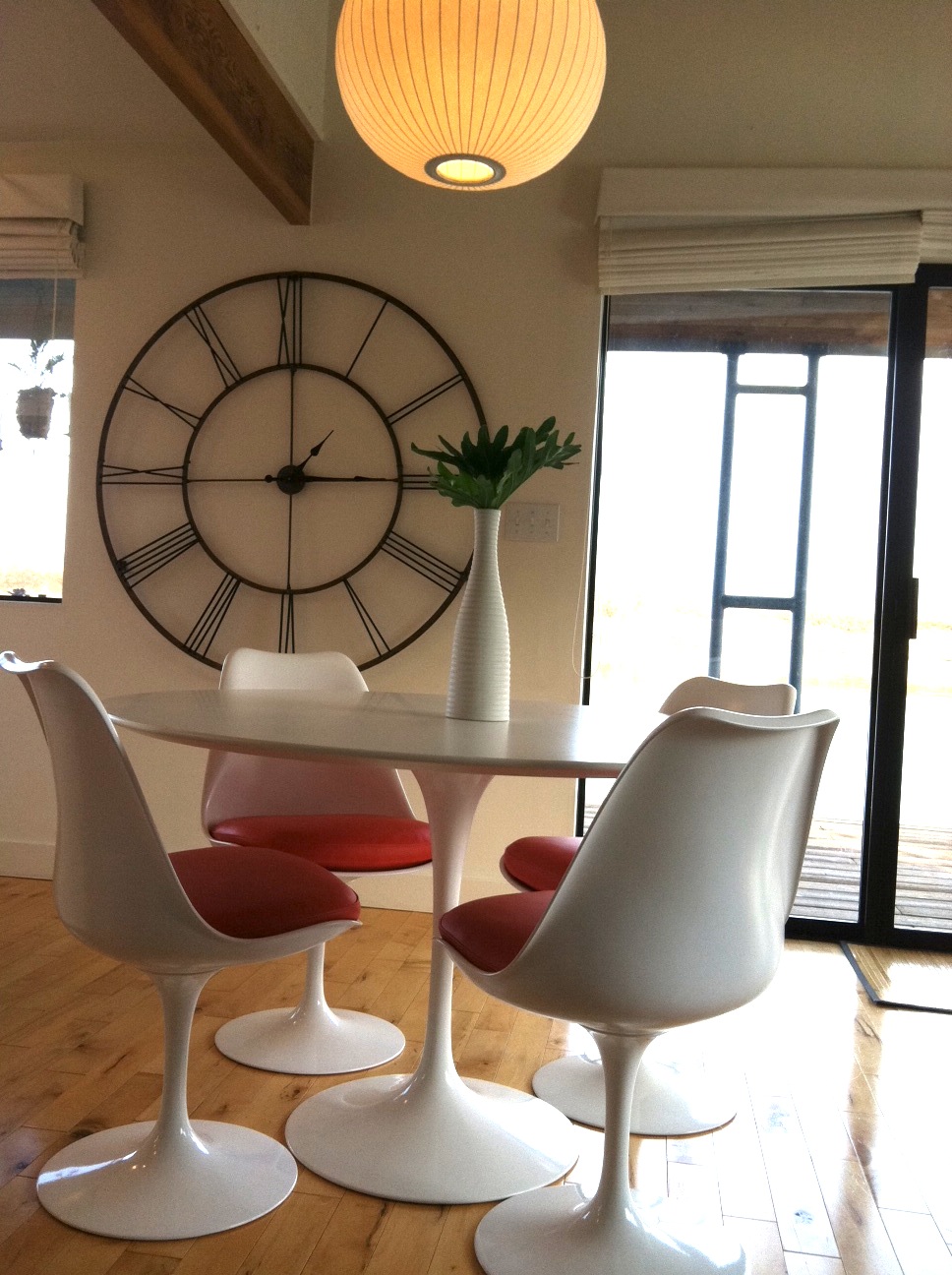 I married my husband eight years ago. At the time he lived on a floating home. "Please try living on my houseboat," he said, "and after a year if you don't like it, we could sell both of our homes and build." Well, I adore living on the water, but this home needed major updating. It was all very dark and drank up light like a thirsty sailor on shore leave. Barn wood and mirror banked one wall, the ceiling was tongue-and-groove natural wood. A free-standing wood stove and terra cotta tile hearth took up most of one corner of the living room. There was carpeting everywhere and black and white checkerboard tiles on the kitchen floor.
Fast forward to today. We now have light hardwood floors throughout the house; the barn wood and mirror wall is but a distant memory. The natural beams were spared but the tongue and groove wood ceiling is now white. We put in a new fireplace with natural rock surround and a thick fir mantel to match the beams over head. But the tired kitchen cabinets still needed a face-lift. The cabinets cried out "change me." I had one cabinetmaker tell me that to replace what I had, it would cost $30,000. Eek! We could never recoup that investment upon re-sell.
When you look into any remodel, take into consideration the value of your home and gear your budget towards that end. It does not make sense to over build any one room. It looks odd when people have one room that is all tricked out with the latest and greatest and the rest of the home feels like the poor country cousin. Also make sure you are going to recoup your investment. Talk to a realtor for advice.
I decided to have the cabinet boxes painted inside and out in high-gloss Apple Peel paint, which is a wonderful powdery white from Miller. I had a cabinetmaker build new drawers and door fronts and replace all the hardware with new full-extension glides. The fronts are bead board to give a nod to the nautical. When we are done, I'll have a "new" kitchen for one-fourth the cost of a complete renovation.
Now onto the adjoining dining room. As a designer, I have to deliver the news, the good the bad the ugly. I often encounter people saying, "They aren't worn out yet" and "I paid a lot of money for those." But if I'm going to "perform miracles," I can't just add water. I have to clear the slate of dead wood and open the realm of possibilities.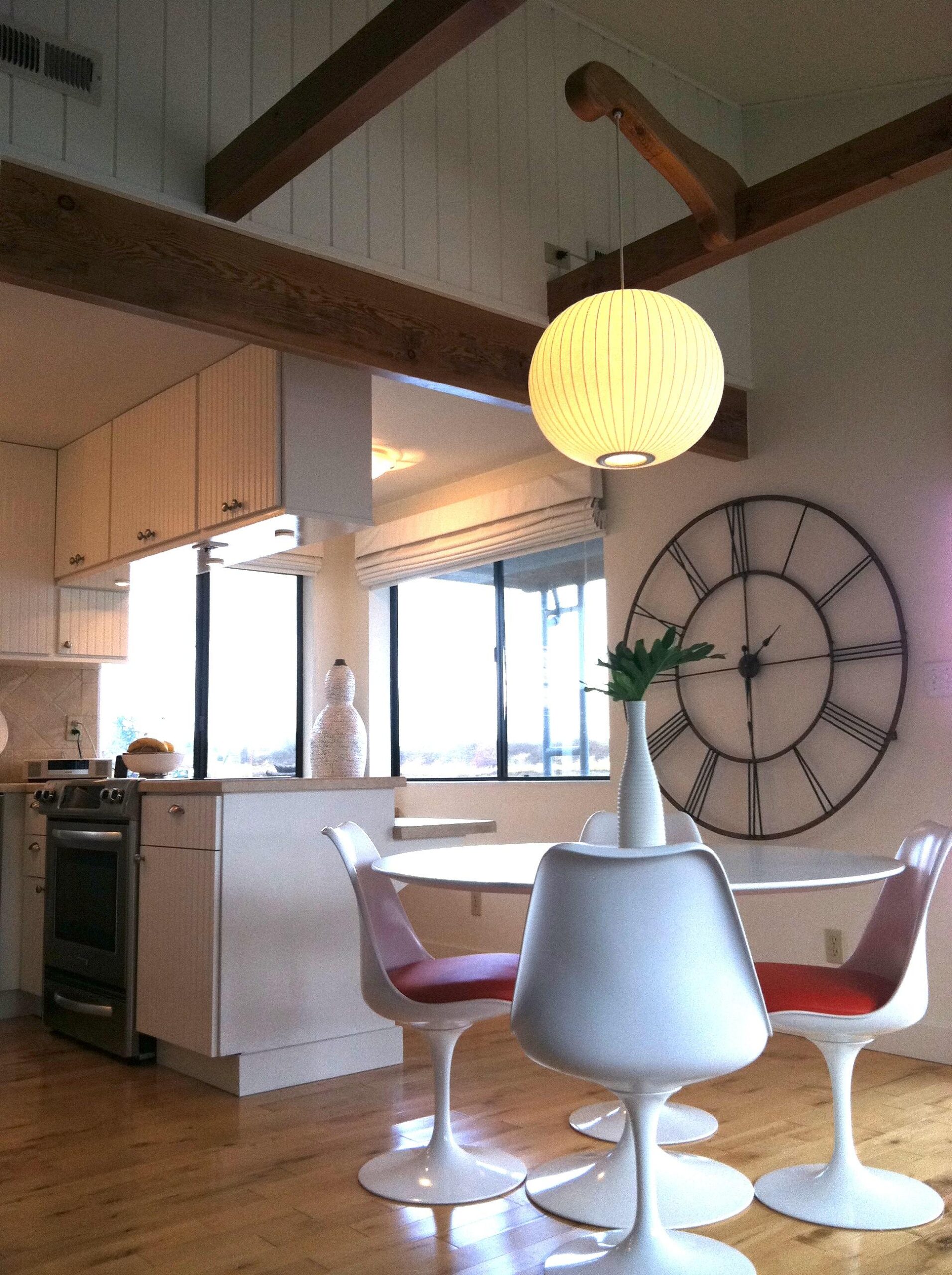 I'm telling you all this because I had to have this talk with myself. I have perfectly good regency bent bamboo Palleck chairs in the dining area that are very comfortable, were not cheap and are like new. They went with Dwight's rectangular antique table beautifully. However, looking into what we wanted to move toward (style-wise), we had purchased a round white Saarinen table and Nelson orb light. The old chairs bring the whole dining area down visually.
But it was very difficult for me to justify parting with them. The new Saarinen swivel tulip chairs that were designed to go with the table expand the dining area and energize the space. The French clock grounds the space and is visually graphic. The Nelson orb light over the table now feels at home. It's fun to see it gently sway when a boat goes by. These additions were worth the upheaval, paint fumes and the inconvenience. I now have a kitchen and dining area I'm happy with. And that's worth a lot.
Kimberlee Jaynes is the owner and principal designer for Kimberlee Jaynes Interior Designs in Portland, and writes a design blog.