By OHM Staff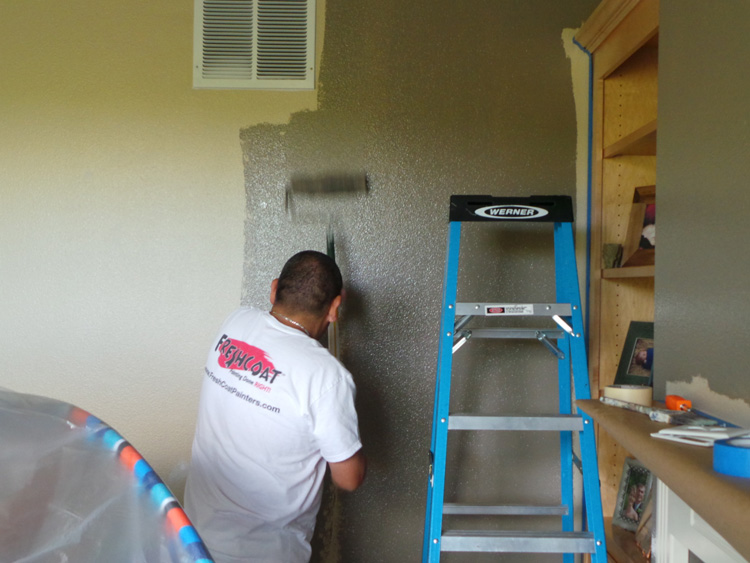 Progress is coming along nicely on the house of the Probst family in Hillsboro (the winners of the Oregon Home Free Room Makeover)!
Erika Probst, says the family hasn't been displaced by the work. Colorhouse's Puji Sherer, VP or Marketing and "Chief Color Nerd" for Colorhouse Paints, says the product used in the room makes it easy for a family: "Colorhouse interior paints are gentle on people big and small. Our paints are low odor, zero VOC, and formulated without reproductive toxins, toxic fumes/HAPs-free, and chemical solvents."
Designer John Thompson selected the STONE .06 color by Colorhouse. Puji describes the color as a "warm, rich neutral" shade. It "rides the line between casual and sophisticated, so depending on what the designer pairs with this hue in terms of furniture and home decor, it can be either dressed up or dressed down."
"The color will add the warmth I wanted to create for this young casual family. Having clients that trust me is important. The relationship between client and designer is the most important part of the design process. They are going to love it," says John.
John was right. Erika wrote us an email saying, "We LOVE it!!" And, she especially appreciated how it complemented the existing features in the room: "The color makes our white mantle pop! We had been worried that, being darker, it might make the room look smaller, but we put the furniture back in the areas John has planned out and the room looks bigger."
The helpful workers from Fresh Coat Painting did an amazing job, returning after their first round of rolling the walls to touch up areas for a meticulously perfect paint job. Randy Ramos owner of Fresh Coat Painting, Portland division says, "Our number one goal is client satisfaction. Client referrals are what makes our company successful."
One thing is for certain; everyone involved with the project is excited!
"We strongly believe in the transformation of a space through color! Our founders were both artists, so we are passionate about making the world more colorful and less volatile through our harmonious palettes and eco-friendly paint," Puji exclaims.
"Everything seems to be coming together quite nicely. Now that the walls are done, it is only a matter of time before the other items that I am having made will bring this project together," John confirms.
Erika wrote, "We are loving how things are coming together. We can't wait for the finished product!"
And we can't wait to share the final results with you! But you'll have to wait for the next issue of Oregon Home magazine before you find out. The Fall/Winter issue is on newsstands October, 10th – unless you get a premiere release at the Fall Home & Garden Show, October 2-4!