Interior designer Beth Clark begins projects first with her ears, then with her eyes.
---
Interior design is often synonymous with visual culture. But for Beth Clark, owner of Lake Oswego-based B. Clark Interior Design, the design process begins with the ears.
"A client once told me, 'You're the first designer who has actually listened to what I need and want,'" said Clark, known for her gracious and livable style, and her ability to fine-tune her clients' desired color palettes.
Clark's process was a selling point for wife-and-husband team Sarah Mensah and Eddie Martinez who hired her to turn their home into a space of tranquility away from their work-a-day lives. A Nike employee and a musician with a packed-to-the-brim life, including a teenage son and two dogs, the family was looking for solutions to meld two households from a later-in-life marriage.
"Every so often, someone comes in and absolutely gets you," Mensah said of her family's new Southwest Portland home whose living and dining rooms now bring great joy and serenity. "Beth just came in and has been an absolute master."
---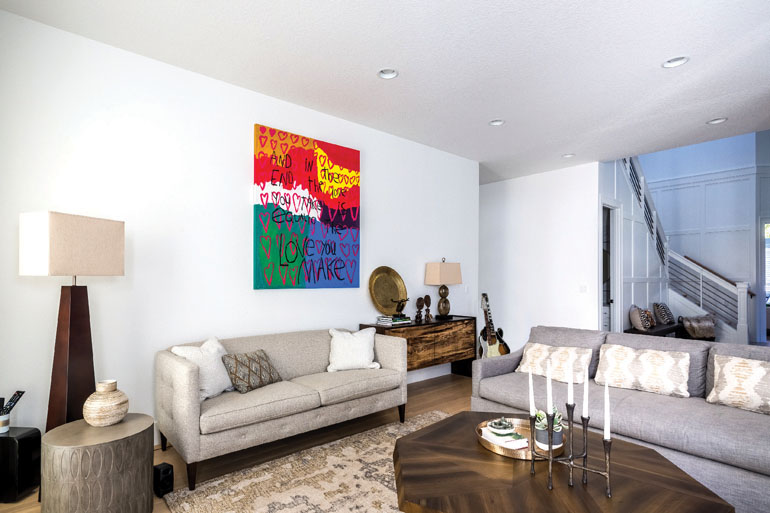 ---
Clark's years as a highly trained docent for the Portland Art Museum helped cultivate her keen listening skills and ability to ask open-ended questions, which are more likely to elicit real information.
"We all ask questions, but to actually listen and hear is different for me because of my work at the museum," Clark said.
Mensah and Martinez brought to the household a number of pieces—and colors and textures—to incorporate into their new lives. Their home was pretty much empty when they called upon the expertise of a designer, and Clark was charged with visually melding their backgrounds in sports and music.
On their blank canvas, the couple desired neutral colors to help mitigate the craziness of their days. Clark recommended reclaimed woods and neutrals in various shades of gray and taupe to compliment the bleached hardwood floors and neutral walls, as well as a hint of color to pick up on the family's bold streaks, both cultural and aesthetic. Clark also pulled a "common thread" through the adjoining living and dining rooms, educating the couple along the way about the design elements she presented as options.
Goldenrod yellows and brass run through the rooms via items like rugs, throw pillows, ceramics. She also selected pops of blues, greens and reds that sync with works of art by the couple's son. Special-interest pieces like Mensah's Akuaba dolls from Ghana, as well as the colors of the Ghanaian flag bring in echos of Mensah's roots.
---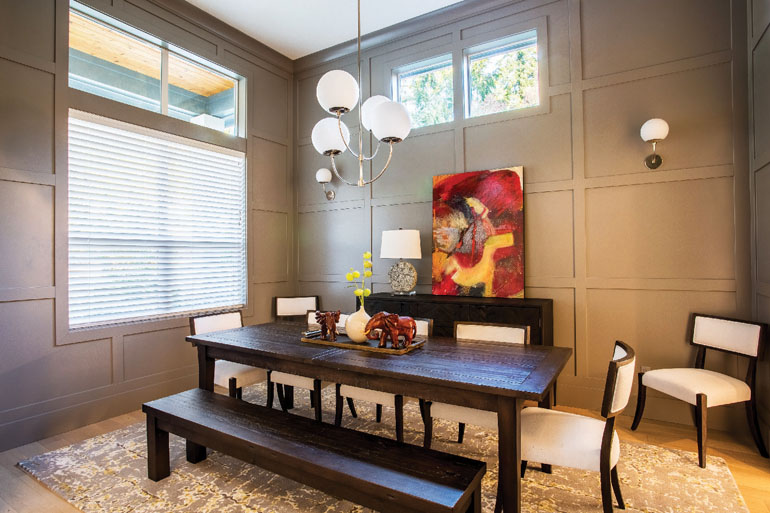 Painting by Evelin Marsh
---
Clark set to solving the challenge of the family's desire for an overall look of modern austerity and a warm welcome; they entertain a lot, and any guest always should have a place. Enter a dining bench. It anchors the family's table on one side, providing more space for diners than individual chairs can.
But for quieter evenings, the bench needs to disappear. Clark created space in the entryway where its rustic wood body is embellished with primary-colored pillows when not being enjoyed by those sharing a meal. When needed for a fun gathering, the bench seats up to six, and the pillows go into an oversize gray basket, a conversation piece itself.
"I listened to their personality," Clark said of her clients.
And also to their needs. Mensah's father—who was going to live with his daughter and family in their new home—died just weeks before the family began working with Clark.
"The design and process of creating a home can actually be healing," Mensah said.
---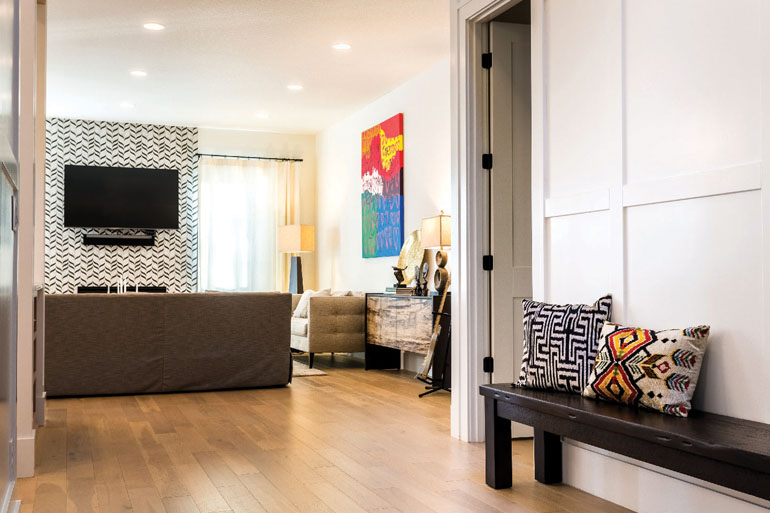 ---
For more info, visit: BClarkInteriorDesign.com