The magic of winter is upon us once again. In Oregon, that means the potential for snow and ice storms, which can result in the occasional school closure. While these forced stay-cations can feel a bit daunting, they're an excellent opportunity to engage in some creative activities with your kids. Here are a few fun ideas that involve little more than common household supplies and may even make your home more beautiful.
---
Snow Dough
Toddlers and preschool-age children have a ton of energy, as any parent knows, and require some physical outlets during times when going outside isn't an ideal option. Play dough is always fun to make, but for a fun twist on this sensory classic, why not try making snow dough with your little one? It only requires two ingredients and has a dreamy texture that will keep them busy for a while. Simply mix one box (about 16 oz.) of baking soda with half a bottle of white hair conditioner (about 5 oz.) in a bowl, using nothing but the eager hands of your child. The result is a fluffy, moldable and aromatic dough! As a bonus, it is reusable when stored in an airtight container, and it's easier to clean up than play dough or silly putty.
Growing Green
Story time is always more fun with an activity that extends the tale into the physical world. Jack and the Beanstalk is a classic that has many fun extensions. If you have a copy of the story at home, wonderful! If not, it is easily accessible online. After telling the story, grab that old bag of beans from the back of the pantry and start your own magic beanstalk. Place some wet paper towels and a bean in the bottom of a jar, and set the jar in a windowsill. Check on your beanstalk daily and measure the progress as it grows.
---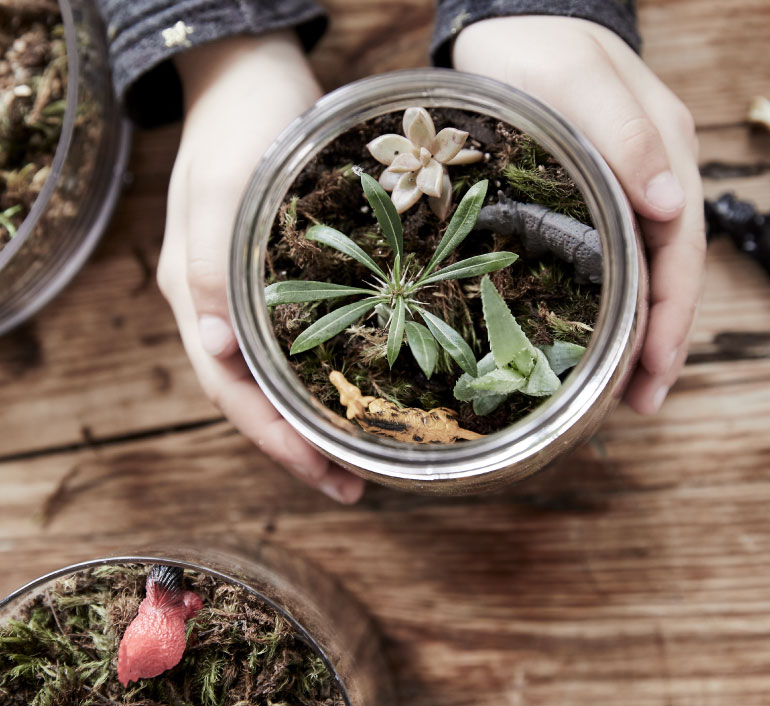 ---
The Classic Fort
Who can resist the idea of building a fort? Grab those sheets and pillows off the beds, and set up in the room of your choice! Get creative with story times, a picnic or even a family movie on the laptop, and cozy up on these chilly afternoons and evenings. As a bonus, the kids can help take the sheets to the washing machine after the fun has been had, and help make the bed with fresh linens for the night.
A Whole New World
The early grade-school years are ideal for fanciful yet mildly more involved projects. Terrariums are great ways to bring a bit of plant life inside, and can become a whole new world for children's figurines to live in and explore. They can be made from an old fishbowl, jars or even old serving trays that are no longer in use. All you need is some potting soil and either cuttings from current household plants or some seeds. Succulents work amazingly well for this, as they root quickly and have a fun prehistoric look to them. Having your child choose the clippings and design the terrarium will give them a wonderful sense of ownership of the project and a sense of accomplishment as it grows.
---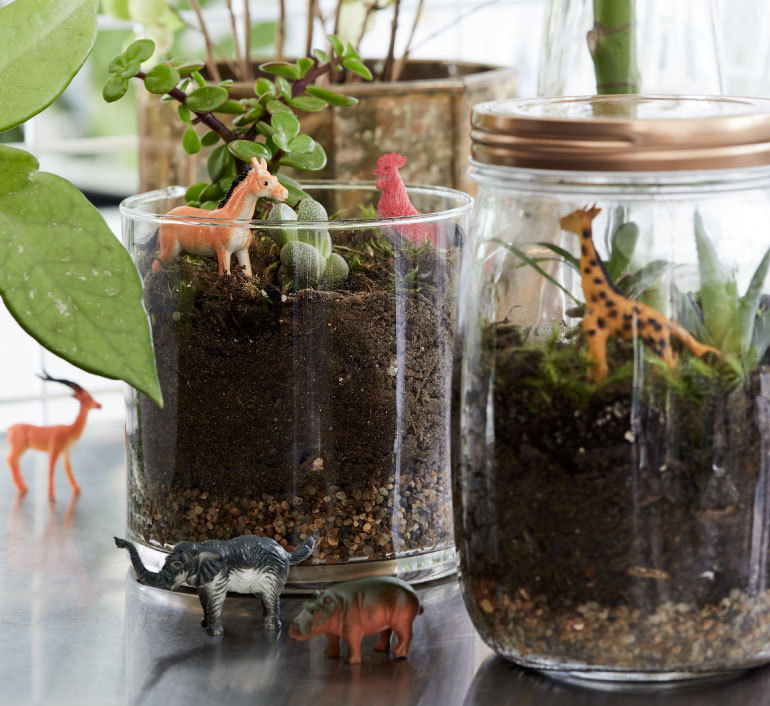 ---
Create Your Own Zoo
Older grade-schoolers are more self-sufficient and have a bit more stamina for the cold. On snowy days, rather than just building a snowman, why not make colorful snow creatures? Have each child design and build their own fanciful creature, and then decorate them with spray bottles full of water colored with food dye. Not only will your yard become a scene out of a fairy tale, but there is virtually no clean up afterward.
For Kids of All Ages
Finally pull out that slow cooker for some homemade apple cider to warm up with after outdoor play, and give your home that magical smell of wintertime holidays. You will need 8 to 10 sliced apples, ½ cup brown sugar, 5 to 6 cinnamon sticks, 1 tablespoon whole cloves, 1 teaspoon allspice and about 10 cups of water. Combine all ingredients in your slow cooker and let steep for about three hours. Mash the solids with a potato masher, and cover for another one to three hours. Then strain, serve and enjoy.