What's the best cladding for the Oregon climate? We asked exterior siding expert Matt Gibson, director of marketing for the siding products group at CertainTeed, where they've been developing durable building materials for over a century.
Wood is cherished in the Pacific Northwest. Most historic homes were built with Oregon lumber, milled from thick forests thriving just a few miles away. Wood siding retains its favored status today, characteristic of a range of heritage architectural styles, from Queen Anne to Craftsman. Wood cladding is attractive, is natural and offers a variety of textures.
However, as homeowners can attest, real wood is beautiful but high maintenance. It's prone to moisture infiltration, and it expands and contracts with changes in temperature and humidity. The resulting gaps admit water, which threatens paint adhesion and promotes rot. Ultimately, wood siding exacts a high price in maintenance, demanding repainting every five to 10 years as well as ongoing attention to caulking gaps and repairing holes. A house built in 1917 has probably been repainted anywhere from five to 15 times. Each new coat equals time and money, and a poor paint job jeopardizes the integrity of the structure while potentially interfering with future paint application.
Aluminum siding was the first big alternative to wood, but it was hard to clean, was easy to dent and required regular repainting. Next introduced was vinyl, which "started out with some stumbles," says Gibson. "The vinyl of 40 years ago only came in a few colors, was incredibly brittle and faded much faster. It is not the long-lasting and attractive vinyl that we offer today."
For those wanting the option to paint or stain, products like wood pressboard or fiber cement offered an imperfect solution. While you could put up a panel and paint it any color you wanted, you still had the long-term maintenance issues of frequent repainting and recaulking. Paint jobs didn't last because those products shared wood's challenges with expansion, contraction and moisture retention.
CertainTeed long ago perfected the vinyl siding of decades past, today offering numerous remarkably wood-like, durable profiles and up to 45 colors that never need painting. However, many homeowners still wanted the color flexibility that comes with painting or staining. This led their product engineers to tackle a new challenge.
The dilemma: how to marry the customizable, paintable qualities of wood with the impervious qualities of vinyl.
---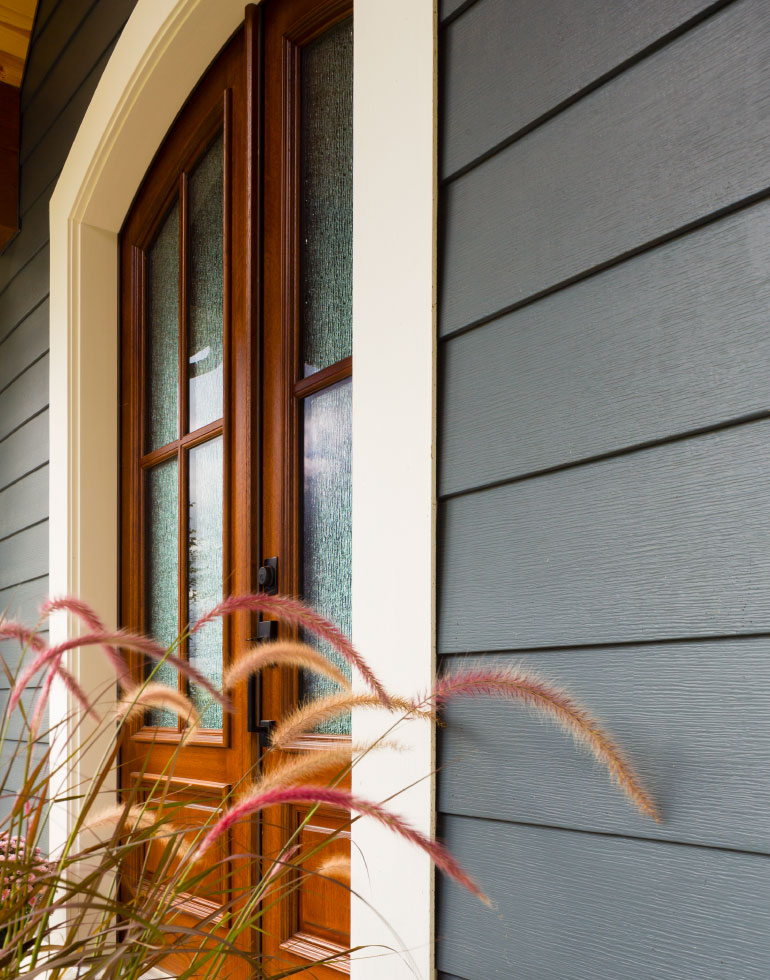 ---
Enter a new generation of durable and versatile polymers, which are engineered to be impermeable to water yet easily accept a long-lasting paint job. CertainTeed's ICON™ Composite Siding offers classic clapboard styling, allowing homeowners to express themselves in any shade of the rainbow. If they need color coaching, they can try out ideas on CertainTeed's ColorView digital design tool.
ICON is engineered to capture the aesthetic magic of authentic wood. Panels feature a proprietary TrueTexture™ Select Cedar™ wood grain molded from real cedar planks, with a squared edge and a wide, flat face for outstanding curb appeal. It's delivered primed and ready to paint, and available 16-foot lengths ensure fewer joints to distract the eye.
Installation economy is another bonus. Increasingly, building code requires that wood siding be installed over a rain screen to allow any trespassing water to drain out from behind the material, "which really doubles the amount of labor for the product," says Gibson, increasing expense. ICON's easy handling, portability and fast, precise, no-caulk-required installation significantly reduce labor during the install phase.
The traditional aesthetic of painted-wood clapboard is hard to resist, but the expense of installation, frequent repainting and regular board replacement due to rot from water infiltration can be hard to swallow. Opting for siding made of durable new composite offers homeowners the opportunity to balance classic architectural styling and the latest technology, for infrequent maintenance, much longer-lasting paint jobs and total color control.