From a small park on a bluff in North Portland, an ever-changing view of the Willamette River stretches from the port to downtown. For Piper Davis and David Rubovits, it's also the view from their home — the last house on a street that ends at the park.  "When we built the house, we wanted to take full advantage of the view without dominating it," says Davis. "We built with the awareness that this view is in a public space."  
In 2008, a friend took Davis to see that view, where she discovered the ranch house at the end of the street was for sale. Davis, a co-owner and the cuisine director at Grand Central Bakery, and Rubovits, an Earth Advantage certified contractor and the owner of DHR Renovation, were looking for a home. Originally, they planned to remodel the ranch house but decided against it. "We couldn't do what we wanted in terms of materials and efficiency," says Rubovits. "Instead, we deconstructed it, kept the foundation, footprint and firebox and designed our own house."
Davis, 45, and Rubovits, 44, worked with Portland designer Mark Annen of Annen Design Industries to plan their home. The cedar-sided contemporary home, built by Rubovits and completed in 2009, takes advantage of the site, incorporates green technologies and materials, and creates an inviting space for socializing.
---
The heart of the 3,100-square-foot-three-bedroom, four-bathroom home is a combined living, dining and kitchen area filled with light, space and color and centered by a large stucco Southwest-inspired fireplace. "I'm an obsessive cook and socializer, so a kitchen connected to the living space was crucial," says Davis. The kitchen has custom cabinets, energy-efficient appliances and reclaimed wood shelving. The countertops are made from natural or recyclable materials, such as marble, stainless steel and madrone butcher block from Endurawood, a Portland company specializing in sustainable wood. 
The dining area, which links the kitchen with the living area, opens onto a covered terrace. Rubovits crafted the dining table from reclaimed wood. "It's from a tree that was blown down when Mt. St. Helens exploded in the 1980s," he says.
Two large windows in the southwest corner of the living room frame the view and bring in light. "The light is one of the best things about the house because it has so many windows," says Davis. "Even on a dark day, it's lovely to be inside because of all the natural light."
Rubovits chose the earth-toned interior colors in no-VOC paint from Portland-based Yolo Colorhouse, and the colors reflect his upbringing in New Mexico.  "A Southwest aesthetic can work well in the Northwest," he says. "Warm woods and colors help create a house that's lively and has warmth." 
As a builder, Rubovits often works with salvaged materials, and this house is no exception. "In my remodeling practice, I reclaim wood from a lot of projects," he says. "Some of the wood from the original house was used for the interior framing, and I'm using pieces of it for other projects. The handrails in this house are from fir I salvaged from a previous project." 
---
A staircase with recycled stainless steel railings leads to a master suite, a hallway bathroom and a combined office and TV room. Davis' brother, Sam Davis, an artist specializing in architectural concrete, fabricated the master bath's concrete sinks and countertop. Both bathrooms feature recycled glass tile from Ashland-based Hakatai tile, and the hallway bathroom has unusual recycled countertops. "When we got the house, there was an old billiards table in the basement with a great piece of slate under the felt," says Rubovits. "We recycled the slate for countertops."
The office and TV room is a flexible space that can, if needed, be split into two separate rooms. This space leads to a rooftop deck with a view of the river and the park. Because their lot flows into the greenspace, Davis and Rubovits wanted to make sure the yard did not detract from the view. Instead of building a fence, they put in a small berm landscaped with native plants. "We didn't want to put up a chain link fence like some people who live next to a park," says Rubovits. "We wanted a green wall but not necessarily something that created a harsh wall."
Like many homes that use green design, some of its best features are hidden from view. The concrete floors and woodwork have natural oil and wax finishes. The butterfly roof is engineered to hide future solar panels. Flash-and-batt insulation creates a tight shell that prevents heat loss and decreases energy bills. In the basement, instead of separate boilers, a single 97% efficient boiler switches, as necessary, from heating water for radiant heat to heating water for sinks and showers. 
---
Rubovits and Davis also built green for health reasons. "I'm allergic to everything, and this house has changed my health," says Davis. "When we were building, it was nice to come over and not smell any toxic paint fumes. With the radiant heat, no mold or dust or anything is blowing through the house. It's just a constant steady heat." 
The combination of the home's siting and design helps it stay cool in summer and warm in the winter. The roof overhangs help keep the summer sun from streaming into the house but don't prevent the winter sun from coming in. "The concrete floors help maintain the temperature," says Rubovits. "In the winter, they radiate heat, but, in the summer, they hold in cooler air. In the summer, we also benefit from a maple tree that shades the west side of the house."
After two years, Davis and Rubovits find their home matches their lifestyle. "It's more than just the fact that the home fits our values," says Davis. "In a way, being sustainable is almost like a hedonistic pursuit. It's like cooking or doing something artistic. It's doing what's most pleasing and what's most comfortable, and for us, doing what fits."
---
Saving Energy

Lower cost: With the home's tight shell, Piper Davis and David Rubovits save 20% in energy costs over a home built to minimum insulation code standards.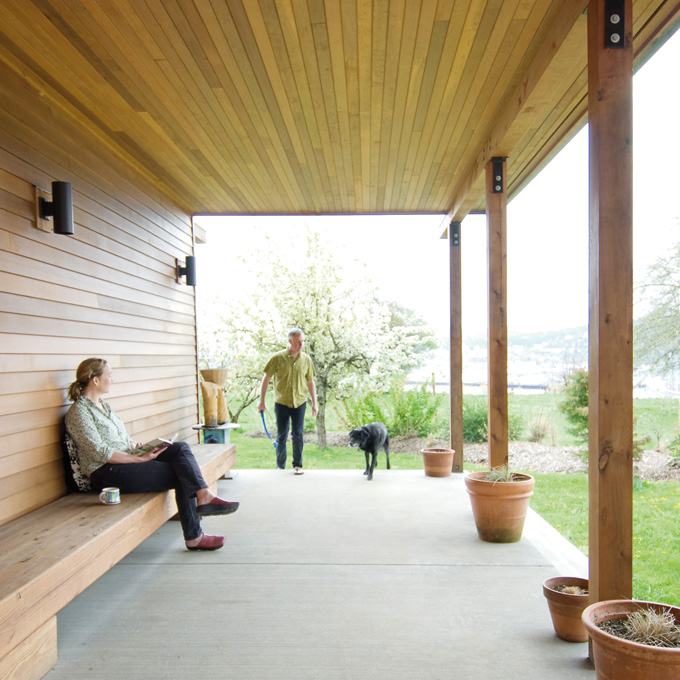 Favorite kitchen appliances: The Energy Star Miele dishwasher because of its quiet, short wash cycle, and the Liebherr Energy Star refrigerator, manufactured without hazardous materials, such as lead, mercury and cadmium.
Indirect benefits: The Buderus indirect hot water tank turns the boiler into an on-demand heat source, so energy to heat the water is used only when needed. 
Daylighting: The large windows provide passive solar heat during shoulder seasons.
Favorite green feature: Radiant heat, which allows them to walk around barefoot in the winter.