"Open house" gets a new meaning in this guest-friendly home remodeled for entertaining.
Photography: Darius Kuzmickas / KuDa Photography
General Contractor: Neil Kelly Company
Designer/Architect: Tonya Bellusci, Neil Kelly Company
Landscape Architect: Paradise Restored
---
Tulla and Mike Stocker have a lot of interests—home-based activities best shared among friends, like good food, wine, baking and relaxing. So when they embarked on a remodel of the outdoor living area of their farmhouse-style home in the woods southwest of Portland, the project soon developed into an opportunity to rethink the big picture of how they host at home.
"Even though our kids are moving out and establishing their own homes, we're entertaining now more than ever," Tulla said. "We love to gather with friends, and the kids continue to come here when they want to entertain their friends, too."
In restaurant and hotel design, it's mostly about the "wow" factor to draw people in. But hosting at home is much different, says Tonya Bellusci, a designer for Neil Kelly who completed the Stockers' whole-home remodel. In your own space, Bellusci says, great hosting is all about the ability to engage comfortably with guests while still being able to execute your host activities.
"We focused on how to make the Stockers' kitchen experience more convenient, with a good balance of form and function, so Mike and Tulla can share what they love with others," Bellusci said.
The result is a stunning kitchen and grand living room that flow into new outdoor entertainment spaces. Everywhere you turn, the design is rooted in the idea of ease and convenience for everyday living—and for entertaining at home.
---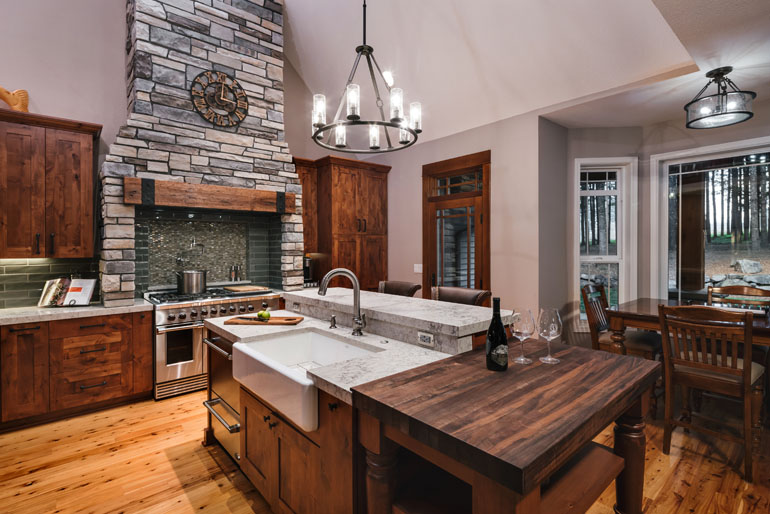 ---
Reorienting for Entertaining
Guided by the "ease and convenience" mantra, Bellusci designed a kitchen that functioned effortlessly for an avid cook, including a dedicated baking area where Tulla can make the pies and jams she's known for, from fruits and berries grown right on the property. The Stockers wanted to be able to share their passion for good food and good wine with family and friends, but the kitchen had poor flow and caused guests to get cramped and stuck while lingering over conversation. With the new kitchen reoriented to face primary workspaces outward, Tulla prepares and presents food while keeping an eye on both indoor and outdoor gathering areas. Even seemingly small details can make a significant impact on how one moves in a kitchen.
"I love the reorientation of simple things like the fridge," Tulla said. "Now when it's open, it doesn't shut off the flow of traffic around the island or out to the living areas."
---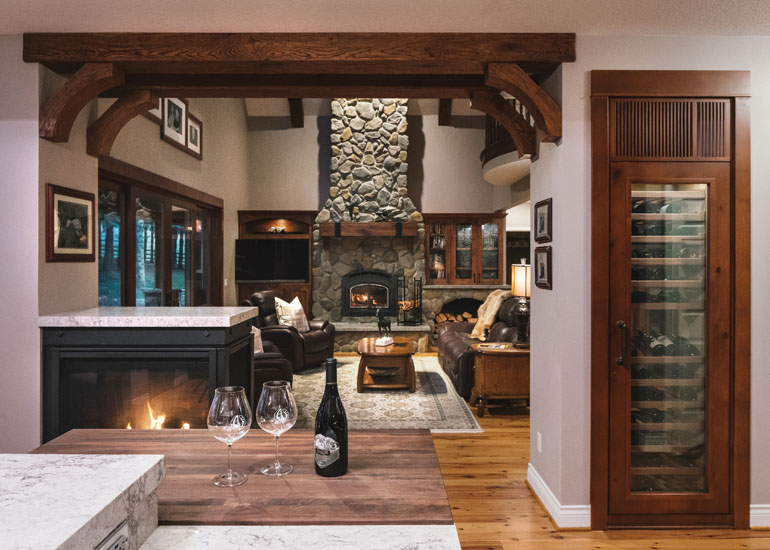 ---
Sharing Passions
The remodel allowed the home to become the geographic locus for the couple's passions. For Tulla, wine is for sharing, not to hide away like a sacred museum collection, and she has a pragmatic approach to her love of wine and its place in the family's open and inviting lifestyle.
"We collect wine to share wine," Tulla said. "I don't want to keep a $200 bottle of wine hidden away in a wine cellar. We like to enjoy it whenever a guest is interested."
Before the remodel, she had bottles spread around between an extra fridge, her daughter's house and some cabinets at her place of work. Now all the bottles are visible and at the right temperature in a new see-through wine case at the intersection of the kitchen and the living room.
"People can help themselves and leave a bottle, too, if they'd like," Tulla said.
The koi pond out back is Mike's baby. He was raised with koi ponds as a child and has always loved being around them. "Not only are they beautiful fish, but there is something very soothing about having the sound of the waterfall and water movement in the background while outside," Mike said. "Taking care of them and the pond each day is very gratifying."
---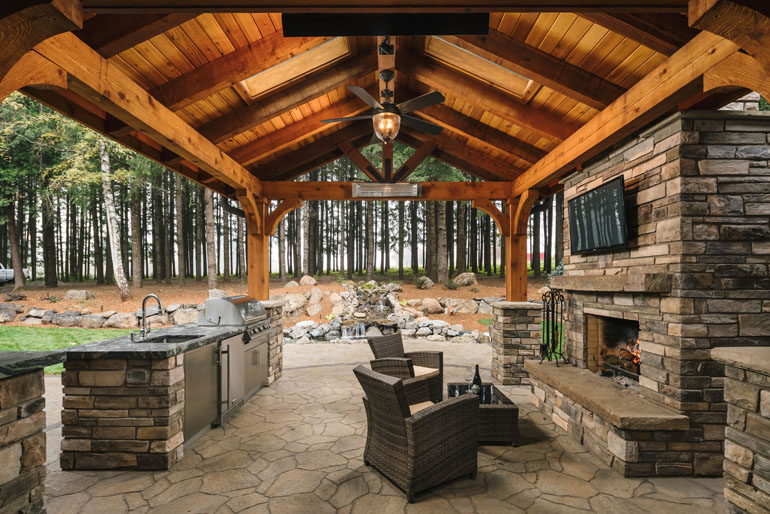 ---
Balancing space
The design plan integrated comfortable zones for guests to linger in the kitchen and the lofty living room. Bar seating and casual dining accompany working areas, and an interior fireplace adds cozy warmth to the transition between spaces. In the living room, new cabinets and a flexible TV viewing system adjust to meet guests where they are gathered, depending on what type of party the Stockers are hosting.
The new, fully equipped outdoor kitchen and lounge areas create intimate seating and gathering spaces without sacrificing flow. Now the Stockers and their guests can relax outside at any time of the day, from a casual breakfast to formal dinner parties. Guests help themselves to a glass of wine, wander to the open fire pit, linger by the bar area, relax in front of the TV indoors or out, or visit the koi pond.
---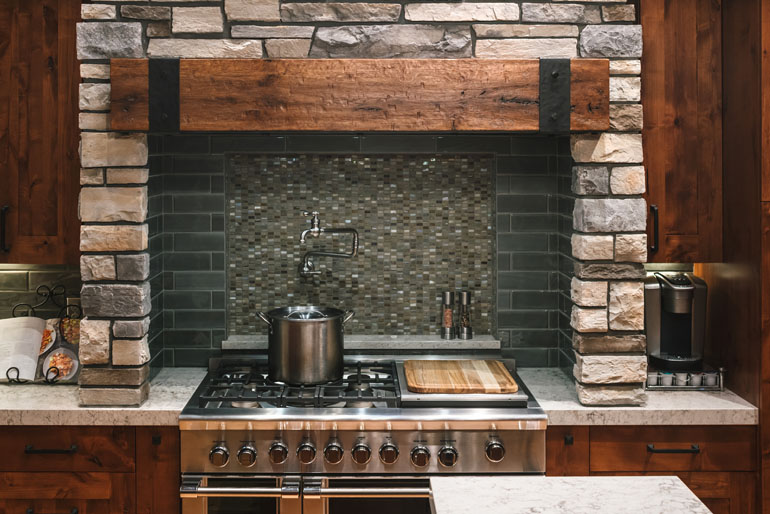 ---
Design continuity
Taking a cue from the new outdoor living space, the country home's new exterior look reflects a Craftsman style more congruent with the property's features. Warm wood touches like added timber in the vaulted ceiling and across the stone fireplace, natural stone, and earthy tile tie the home into its rural surroundings. The pole barn, which functions as a woodshop and hobby mechanics shop, has also been updated to match the house. The surrounding woods, horse barn and pole barn provide an idyllic backdrop to the Stockers' new entertainment hub.
"It's amazing that this whole thing started with wanting a covered outdoor kitchen," said Tulla. "Now it is a joy to host, no matter what the occasion."
---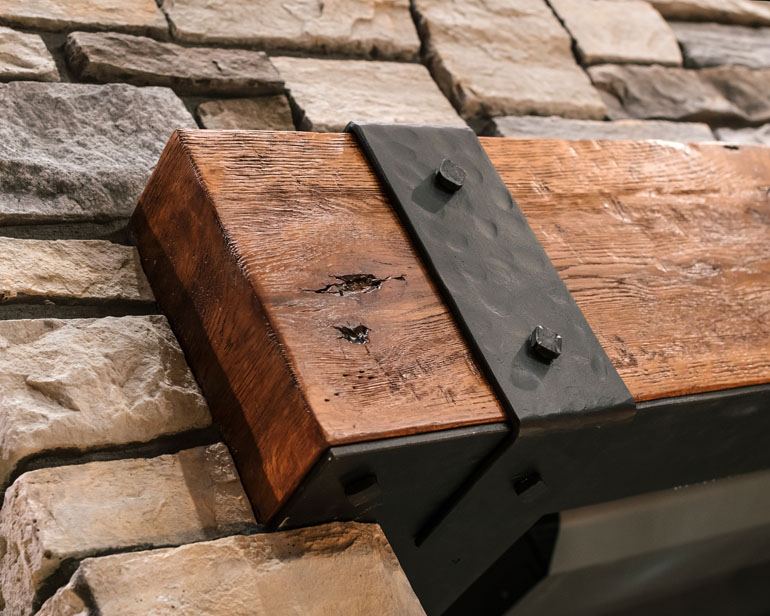 ---
Home Renovation for Entertaining Do's & Don'ts
✔ Do build in comfort: Create spaces guests can gather and feel at ease — including areas to feel private.
✔ Do provide accessibility and visual cues: Guide guests to resources they need, such as beverage stations with coffee and tea or wine and liquor bars, depending on your lifestyle—including access to the necessary supplies like ice and water, hot and cold.
✔ Do share your passions: Build in space for groups to gather around specific lifestyle activities, including sports and entertainment options, cooking together, crafting together or enjoying your wine collection. ✔ Do prioritize convenience: Consider ways to make guests feel comfortable and "at home." These can include entry-point areas for guests to shed coats and shoes easily.
✘ Don't skimp on personal touches: Provide guests with all the comforts of home in your guest room — items like soaps and toiletries, towels, extra blankets, and electronics charging stations go a long way to making your guests feel like welcomed VIPs.
---