Luisa Ponzi and Eric Hamacher's remodeled home captures the best of wine-country lifestyle.
Photography: Caitlin Murray
Architect: Emerick Architects
Construction: Cellar Ridge
Interior Design: Allisen Larson
Landscape: Aspen Creek
---
Luisa Ponzi and Eric Hamacher are a couple who take their work home with them as a matter of mission. Just a few weeks ago, the award-winning winemakers hosted more than 150 people at their home in the Chehalem Mountains. Within minutes, the guests spilled in through the couple's new entrance into an open living space, lush with couch seating and out into the back patio, which looks east out over vineyards of pinot noir and chardonnay toward Mt. Hood.
"Entertaining is just part of life," Ponzi said. "It's not: 'We are going to entertain now.'"
But after all the wine has been poured and drunk, the laughs had, the season toasted, the home returns to its original purpose: to make the couple's distinct brand of wine-country lifestyle possible for their family, which includes four children, two dogs, three pigs, chickens, goats and a host of other farm life. For Ponzi and Hamacher, living in tune with the seasons meant transforming a dilapidated 1970s property into a sensuously inviting, hard working architectural marvel that could give them the close-knit family life they desired while feeding their life's passion.
---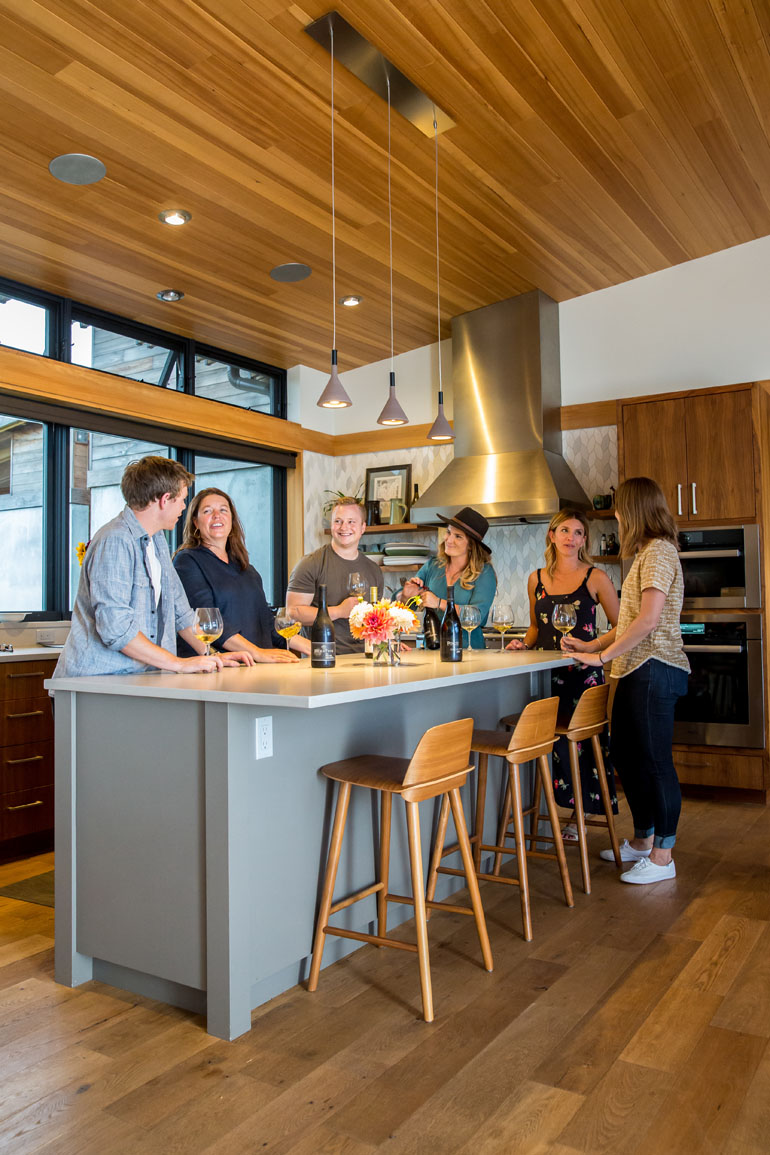 ---
The site just north of Bald Peak—with vineyard elevations of 880 feet perfect for warm-climate varietals and 830-foot elevations made for chardonnay and pinot noir—was always perfect for a life centered around winemaking. The original house, not so much. Built by a boat maker, it had a front porch shaped like a ship's bow and an entrance far too close to the road.
"Our friends called it 'The Ark,'" Ponzi said.
"The proportions were just odd," Hamacher added.
The couple engaged Melody Emerick of Portland-based Emerick Architects after seeing her work on the Portland Modern Home Tour. Initially, they spoke with her about razing the 1974 home entirely and building farther down the hill, but in the end, they didn't want to give up the home's prime positioning and the view they had lived with since 2008. The new plan would accommodate the original home's footprint while creating spaces flooded with light. Also on the wish list: room for kids Nico, Mia, Carlo and Matteo.
---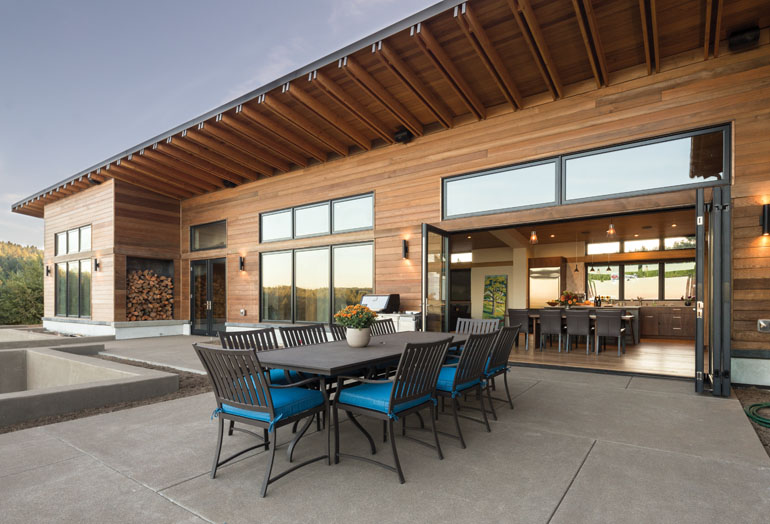 ---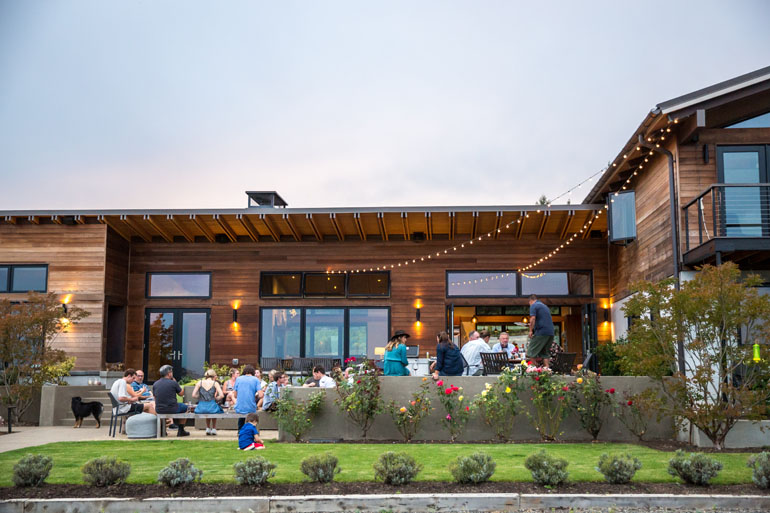 ---
"When it comes to entertaining in a home, the most successful homes are warm and welcoming, just like the homeowners," says Emerick. "Luisa and Eric are just fun, indoor/outdoor people, and the house needed to reflect that."
Cellar Ridge Construction took on the daunting task of transforming the 1970s' eclectic house into a Northwest modern estate. The company accomplished the remodel over a full year, including several months of brutal snowstorms. One of the largest jobs was removing a 35-foot steel keel from the center of the house, something Carson Benner, owner of Cellar Ridge, said he had never encountered in all of the homes he has worked on.
"Some of our most lovely projects have been remodels," Benner says. "The best remodels look like they have always been there."
---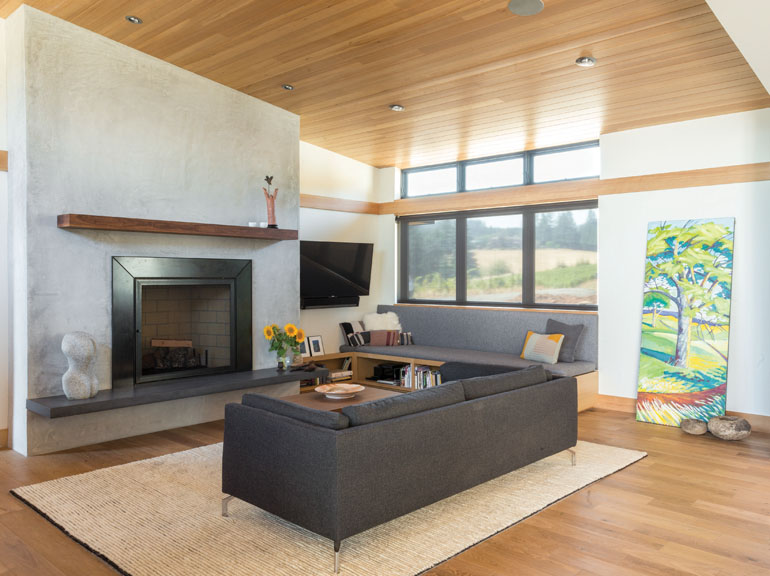 ---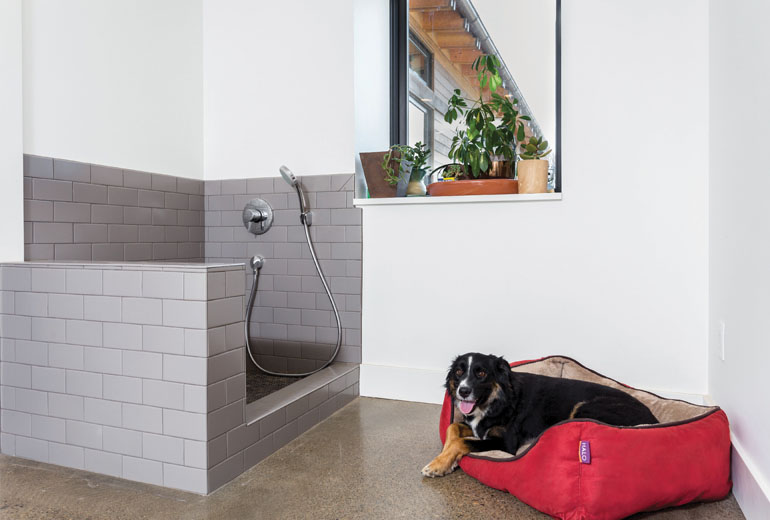 ---
Entertaining in gracious style at home is one of those goals many homeowners set for themselves. But for winemakers, the bar lifts even higher. Wine-country living is one of those all-in lifestyle pursuits, and the best wine-country homes achieve a sophisticated approach to being truly at home in the landscape. Some of the family's must-haves: an elegant entrance that would work for both formal and casual welcomes, a detached carport for rainy Oregon days, an ample wine cellar that stays the right temperature without cooling systems, a doggie wash station for pups Zola and Pippa, and a workable and beautiful wine-service room employed when larger groups visit.
---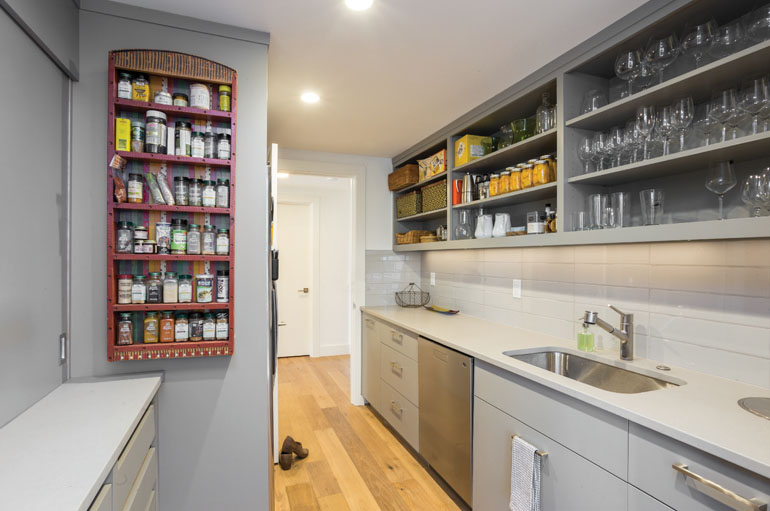 ---
"The butler's pantry allows you to make a mess there and close it off if you need to," Emerick said.
Green features like fiberglass insulation, energy-efficient windows, solar power, LED and CFL lighting, and an extensive air sealing package help the home bear Oregon winters in style. But it all opens up on a late summer afternoon, when the family can remove the full wall of windows to the patio and let in the best of the season. Two kids sprawl out after a day tending the animals, maybe a fire pit glowing on the patio. Whether he is in the open kitchen space or on the back patio, winemaker Hamacher can look out at the horizon as the sun rises and note where it is positioned in relation to Mt. Hood, which he calls "the world's biggest sundial."
"This is a seasonal household," Hamacher said. "When you live out here, you can't help but be aware of it."
---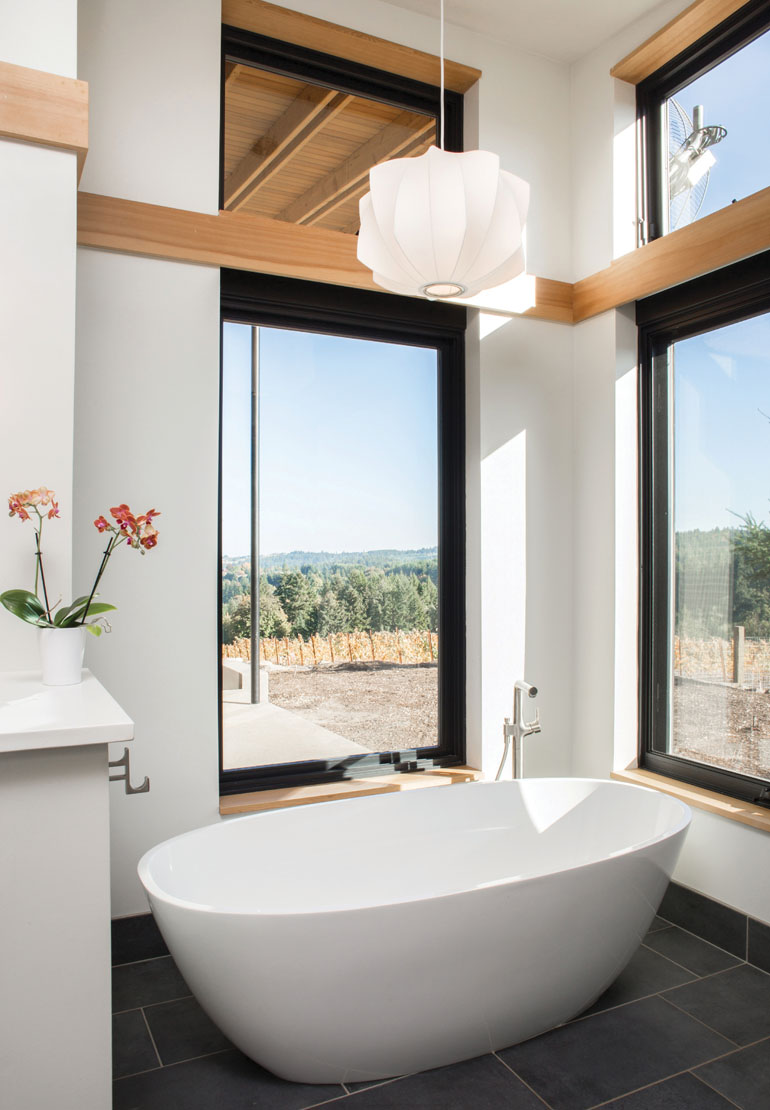 ---