Huberd Design & Construction turns a retired couple's empty nest into a launchpad.
---
Tim Huberd has had the opportunity to build some incredible homes in the Gorge. Huberd has a knack for constructing living spaces that seem to evolve straight out of the dramatic scenery they reflect and revere in equal measure. For one of Huberd's recent projects, it wasn't just the natural landscape his clients wanted to highlight. They had a more unusual request: a panorama of the Hood River airport runway.
"It's almost as if the home is modeled after an airport observation deck brought down to a single ground level," Huberd said. "There is even an adjacent private hangar for their planes."
Huberd's clients are avid airplane hobbyists who wanted their home to be oriented in a way that allowed them to monitor all comings and goings at the small airport, from takeoff to landing. All of Huberd's designs and decisions reflected these clients' passion for the air while keeping the design contemporary and focusing attention on the impressive views, including Mt. Adams.
---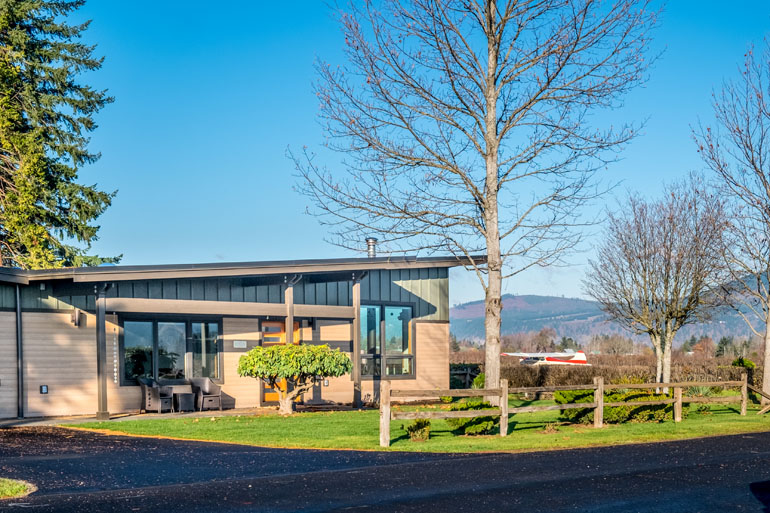 ---
Originally, the homeowners wanted to renovate an existing bungalow on the property. They soon realized a remodel wasn't going to meet their unique needs. The interior was far from an observation deck. But Huberd was able to find solutions that felt as natural and minimal as possible. Accents like a black-walnut butcher block countertop in the kitchen add warmth with matte finishes. The ceiling uses wood reclaimed from the property.
"We didn't want to over-engineer the natural resources used in the home," Huberd said. "In fact, the wood we used on the ceiling is so rough, it has the effect of looking like aged barn wood, bringing incredible warmth and texture to the home."
As outdoor sports enthusiasts and avid entertainers, Huberd's clients have a mix of public and private spaces in the home. The livable kitchen and great room layout is just right for gatherings and spills out into a protected courtyard between the house and the hangar. Guests can dine al fresco out of the wind while still enjoying the activity on the runway. After a full day of skiing, kiteboarding, soaring—or flying—the couple can unwind in a private outdoor spa area, including a hot tub and outdoor shower.
---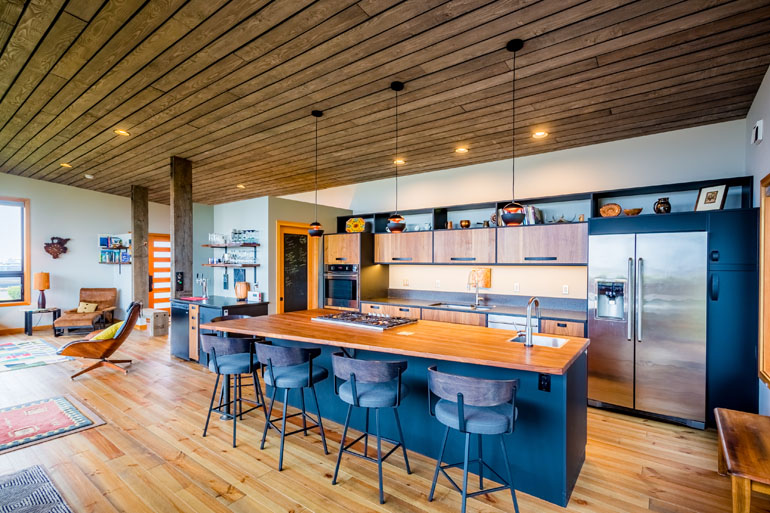 ---
Huberd, himself a Gorge resident and windsurfer, understands how to synthesize a client's passions with their living space.
"It's a dream come true for me to combine my background in architecture with my experience in homebuilding to help clients realize their own dream for a Gorge lifestyle," said Huberd.
"From conception to finished home, this project highlights what's possible when you integrate your passions with the surrounding landscape."
---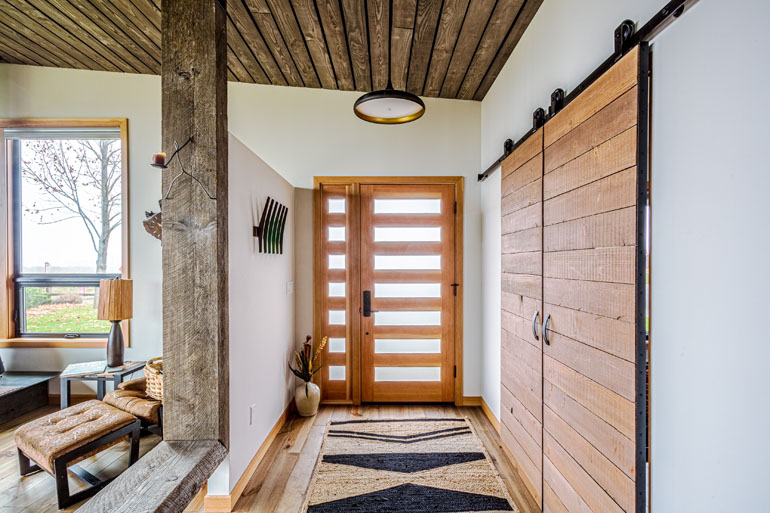 ---
For more info, visit: HuberdDesign.com