Designer Kelly McDougall brings more than 20 years of construction experience and a collaborative spirit to a midcentury-modern remodel.
Photography by Kelley Kish
---
Kelly McDougall has a knack for understanding clients' needs and for helping them see what's possible in their spaces. The interior architectural designer believes strongly in collaboration — and in giving clients a clear vision before a project begins.
"A lot of people have difficulty reading plans, but 3D renderings allow them to visualize their space," says McDougall. "It really helps them become part of the creative process with me."
---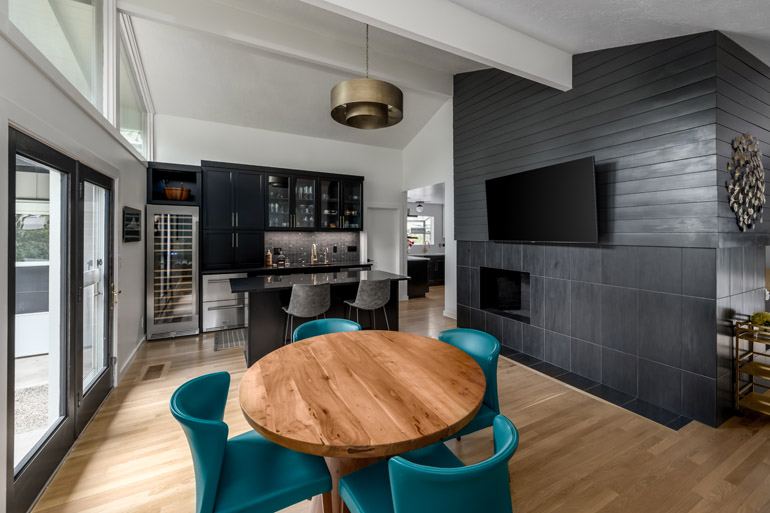 ---
McDougall trained in construction and environmental design at Texas A&M University and worked for many years on large civil projects before switching gears to residential and commercial interiors. Today she brings together ideas from homeowners, contractors and tradespeople — along with her knowledge of architectural drawing and 3D computer programs — to give clients a fully immersive experience in home design.
Recently, a realtor client purchased a 1967 three-bedroom, two-bath, midcentury modern in Southwest Portland. The 1,961-square-foot home sits on a gorgeous lot with mature landscaping and features an open floor plan, vaulted ceilings in the main living area and banks of windows that bring in natural light. The entire home needed updating to suit the owner's taste and lifestyle.
---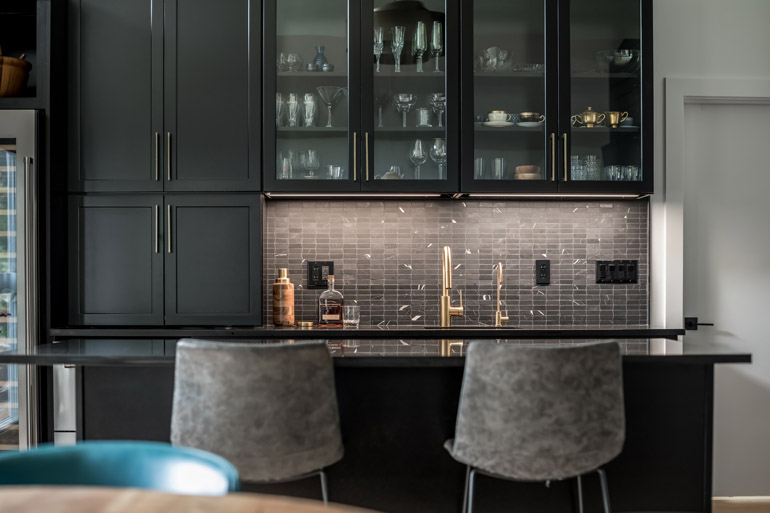 ---
"My client is a visual person and hands-on with scheduling and management," says McDougall. "As a real estate agent, she has many contacts for different tradespeople and specialties, and we worked together to compile the best project team in a very short time frame."
Two large fireplaces in the living and dining rooms were the home's main focal point. Built back-to-back but not connected, both fireplaces had limestone from floor to ceiling, but tearing out the rock didn't make sense budget-wise. Instead, McDougall designed a frame around the fireplaces, tiled the bottoms with a large-format black tile and wrapped the tops with black shiplap, connecting the materials around the corner to make the fireplaces appear as one.
---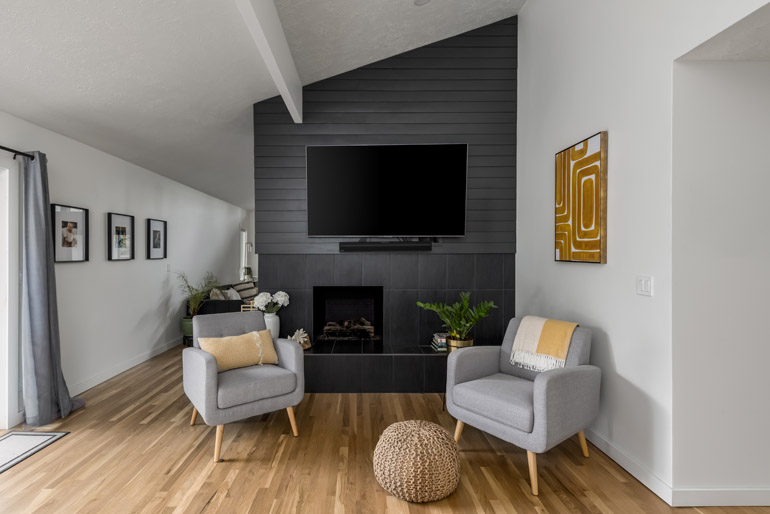 ---
The fireplace facades contrast against the newly refinished white-oak floors throughout the kitchen, living and dining areas. An updated chef's kitchen keeps the original room's U-shape and combines white-quartz countertops and backsplash with black-base cabinets, walnut shelves and a walnut stove hood. The homeowner wanted additional space for guests to gather, so McDougall turned part of the original dining area into an entertainer's kitchen, equipped with a small dishwasher, a wine refrigerator, beverage drawers, a sink and a microwave.
"Residential design is so personal, and it's important to get to know the homeowners and how they use their space," says McDougall. "People spend 80% or more of their time at home, and a well-designed, fully functioning home becomes the beautiful backdrop to their life."
---