Designer Melissia Schulz helped a client create spaces for new memories in a family home.
---
A client came to designer Melissia Schulz with a unique though not at all uncommon challenge: A recently divorced mom with two teenage daughters, the client loved the location of her 1970s home in Lake Oswego, but the home was showing its age and held some negative memories of life before her divorce. Not wanting to leave the neighborhood or house she once loved, the client turned to Schulz Design.
"The home didn't reflect her new outlook on life. It was a space that made her feel trapped in the past and it just did not reflect who she had become," says Schulz, head of Schulz Design, a design-build firm in Portland. "She wanted the space to be uplifting when she came into the house, and she wanted it to be about making new memories for her and her girls."
The main hub of the home was its family room. Schulz says the room wasn't a soft place to fall after a long day. It was filled with mismatched furniture that did nothing to bring the family together. Schulz started with a stylish new custom bookshelf — a nod to her client's love of books and past work in publishing. The custom bookcase was also designed around an existing window and the homeowner's love of yoga and meditation, transforming the space into a perfect place to quiet her body and mind and connect with the outdoors.
---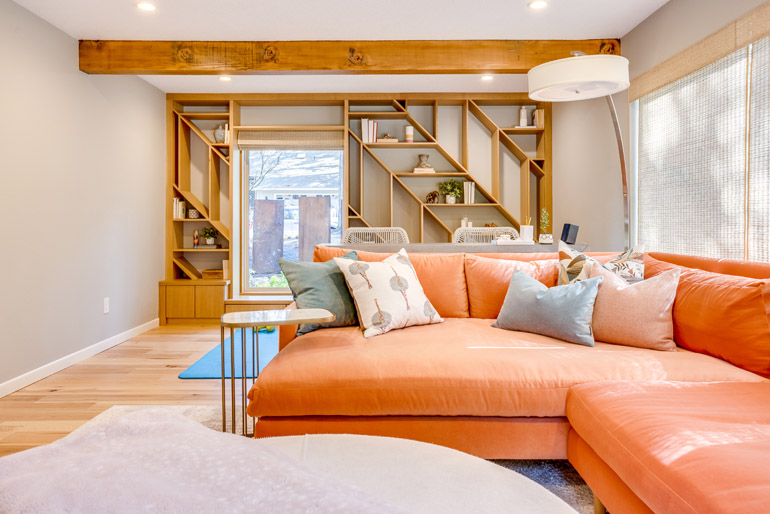 ---
All-new furniture included a custom, coral-hued sectional designed to encourage family and friend hangouts and movie nights. One side of the sectional is 60 inches deep — the size of a double bed — and the other is 40 inches.
"It's basically two people wide," Schulz says. "It's a real curl-up-in-a-blanket kind of space."
Behind the sectional, Schulz added a two-person, bar-height desk for homework, work-from-home days or a simple snack bar for movie night. Schulz's team also tackled the front living room, with its imposing '70s-era fireplace and stone hearth that stretched from floor to ceiling. They faux painted the stone using three or four colors to lighten it up while also making it appear as if the stone was always naturally that color. New furniture and finishings in this room also make it feel like a great place to unwind with a glass of wine or sit and chat with friends and family.
---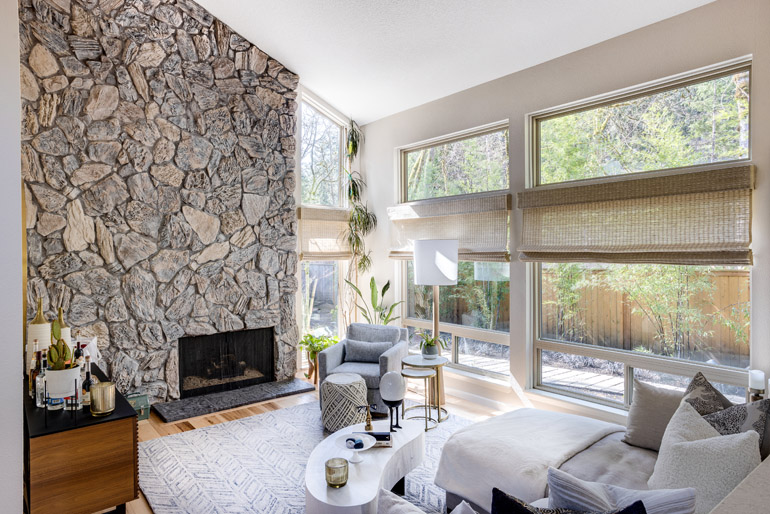 ---
Prior to the remodel, Schulz's client would keep all her wooden blinds closed because her windows let in lots of natural light but also unwanted peeks from passersby. To counter that, Schulz brought in a landscape designer, who came up with a plan that added landscaping and artistic Corten Steel panels to offer privacy from peering eyes. Now the client can let in the natural light but still have some privacy.
Matching the decorative panels are Corten Steel planters of various sizes near the front door, an area that also got a full redo. Schulz says the design included creating a new entry sequence with floating concrete stairs, a canopy over the entryway, and new modern front doors with frosted glass to let in light and welcome guests and friends.
---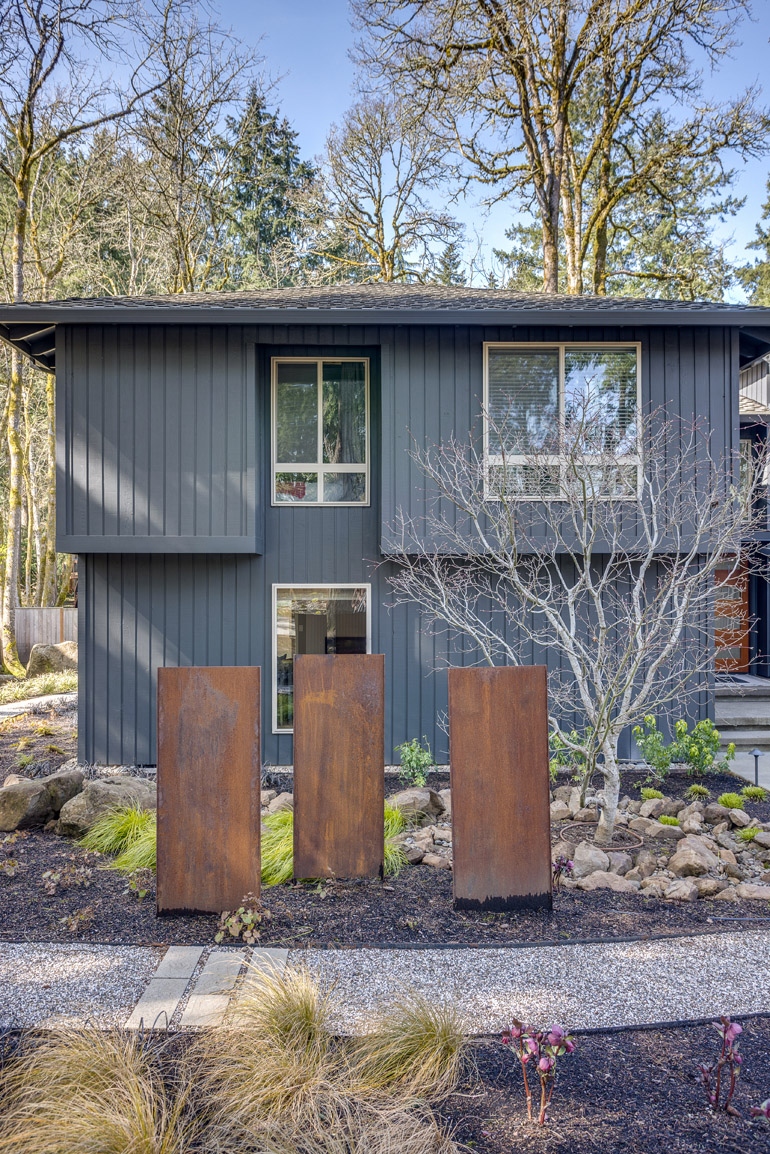 ---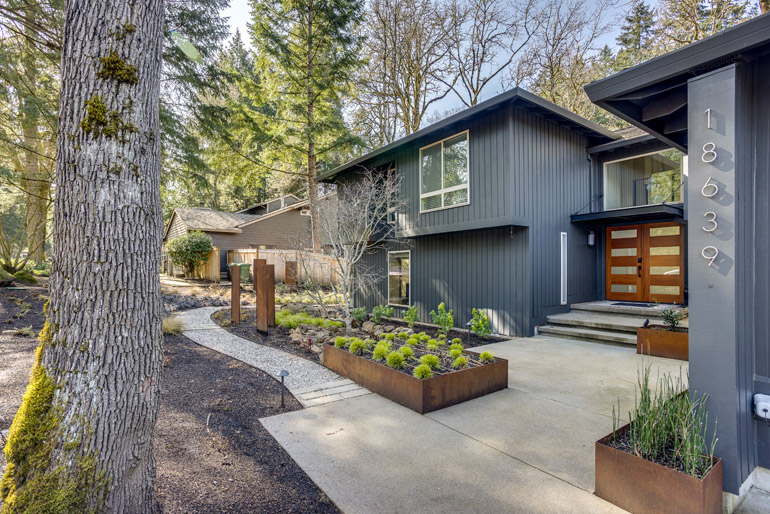 ---
Altogether, the result is a refreshed space that allows the client to stay in her beloved home, rid it of any negative energy and reclaim the space — and her life — as her own.
"Keeping her girls in the same house they grew up in adds so much stability, which is important for kids," Schulz says. "Staying in the family home but refreshing it in a way that reflects who she is now is really something of value."
On top of that, Schulz says rather than moving into a new home, updating an older home gives people the opportunity to stay in a place they feel comfortable and have built friendships but bring in new life and energy.
"I know a lot of people love brand-new houses," she says, "but there's nothing more satisfying to me than taking an old house and giving it new life and new energy when it's been forgotten."
---