Thinking outside of the building box is Build Forward's talent.
---
Build Forward owner Javier Montalvo recently worked with a client who had previously vetted two other contractors but had been told what she wanted was out of her budget or simply not possible.
"She didn't want us to tell her, 'No, we can't do that,'" says Montalvo. "She knew what she wanted and she knew it would work, but because it was complicated, the other remodelers told her it couldn't be done. That's the kind of opportunity we thrive on."
Although Montalvo has more than 25 years of experience in construction — starting with years working on high-end homes in Florida and challenging older homes in Boston before relocating to Portland — he says the company has a "young mindset." The result has been a company with great construction experience, creative integrity and receptivity to new ideas.
"We like the idea of pushing the limits when we can, and we deeply care about our customers," he says. That philosophy manifests in different ways, including prioritizing ways to save the customer money, to be innovative with materials or resources, or generally doing things in a different way. Montalvo's project managers don't explain "if" things the customer wants can get done but "how."
The King Street Project homeowners had searched for a home to buy for two years prior to embarking on the renovations, but they hadn't found anything that felt right. The 1,008-square-foot ranch home that the homeowners built in 1988 felt stifling. With few opportunities for natural light to penetrate and walls that made the space feel closed in, the three-bedroom/two-bathroom felt smaller than it needed to.
---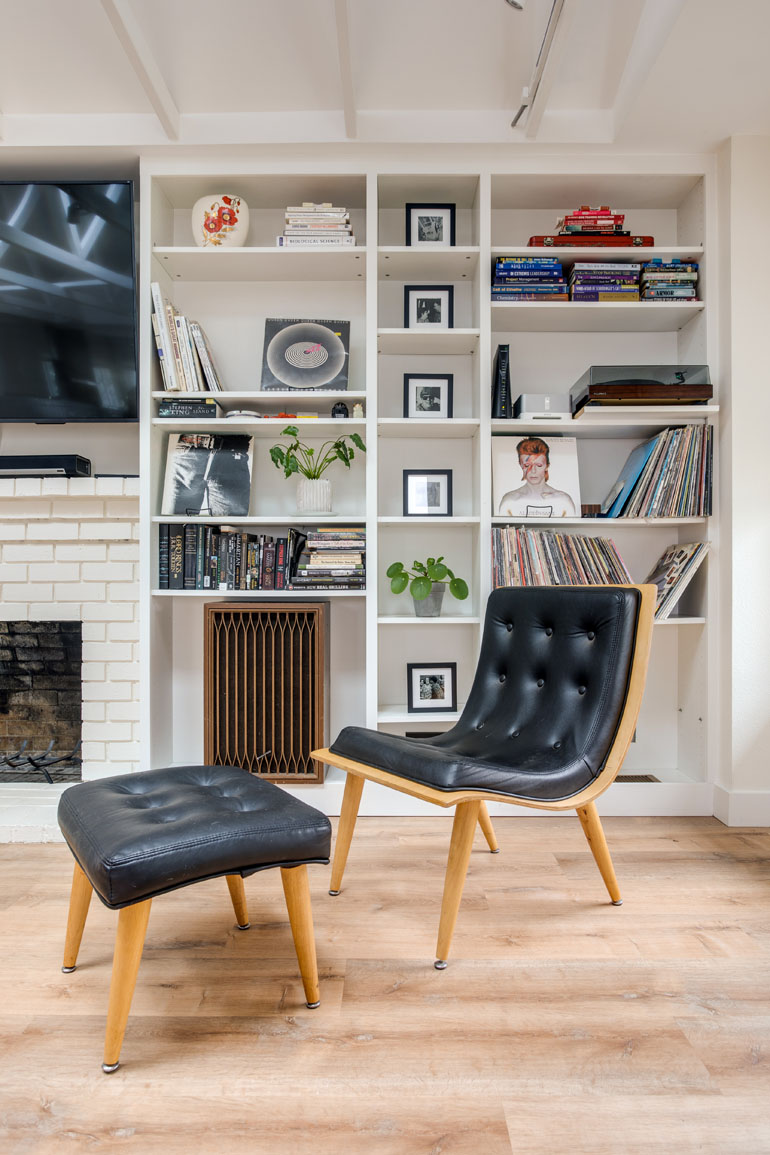 ---
They decided to stay in their space, but they needed to reinvent the space they had. The homeowners had architects and designers sign off on their idea to elevate the ceilings, add light and remove walls, but they hadn't found the right construction firm to make it happen.
Montalvo's design-build philosophy and experience on high-end remodels in homes dating back to 1700 in the challenging, narrow-lot environment of Boston gave him the skills to think outside the box, and the Knight Street Project is a great example of that philosophy in action. After renovating the kitchen — including removing a wall, adding some features to enhance light reflection and replacing the floor in a lighter color — the homeowners had the home they wanted.
How did it become reality? The team added several skylights and exposed existing 2×4 trusses to increase the height of the ceiling. Originally, the trusses were planned to be painted a different color, but Montalvo says they ended up being painted white once the homeowners saw how much the color helped to reflect natural light.
"We started looking at how we could play on the skylights and bring even more light in. As we pointed spotlights at the ceiling, that did something incredible."
Engineered-wood flooring previously installed throughout the home was still in good shape but was too dark for the brightened aesthetic. Build Forward replaced it with LVT in a lighter color. The kitchen was entirely renewed with a gas stove and an exhaust fan for more pleasurable cooking with the family's prized cast-iron collection. The refrigerator changed location, and formerly dated tile was replaced with white 4×4 tiles all the way up the wall, with black grout making it feel dramatic and contemporary.
---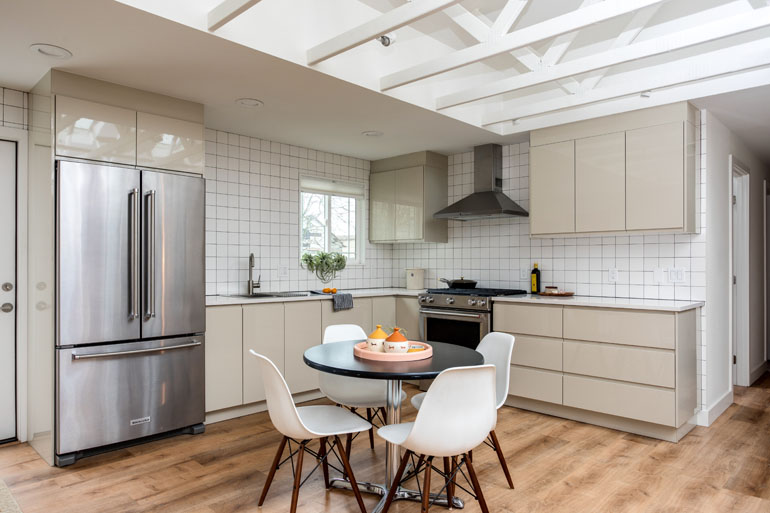 ---
"Sometimes a remodel can be challenging because you're starting with existing conditions, and they might not always be favorable," Montalvo says. "And there are so many factors that affect what you end up doing, like budget, or the things in the home that you need or want to keep."
Montalvo strives for honest and transparent communication with his clients so that they feel informed and aware. Build Forward's clients get a daily phone call from their project manager telling them what's on track for the day or what happened, if something happened, and what the team can do to overcome whatever hurdles they may have encountered that day.
"With this project, we made it a success, because everyone knew exactly the challenges that we were going to have and how we were going to respond to those challenges," he says.
Montalvo says as he was discussing his company with his employees, the term "friend" was on everyone's mind.
"We all agreed that we are friends with our clients," he says. "When you're friends, you help each other with whatever is going on. You do whatever it takes, and that's how we do things with our business, too."
---
For more info, visit: WeBuildForward.com