A perfectly designed and executed kitchen is just around the corner, thanks to SheBuilds.
---
Laurel Winkel loves kitchens. They offer so many delicious design, texture and color-choice challenges. Winkel, who co-owns Canby-based SheBuilds LLC with her husband, recently completed an entire kitchen remodel with all those challenges and more in a four-story, 110-year-old North Portland home.
"I've been looking at kitchens with a critical eye ever since I could remember," said Winkel, a general contractor for whom kitchen design is a passion and specialty, and whose clients hail from every corner of Portland metro.
"Making kitchens functional and beautiful with smart design and great organization is always something I just love."
Winkel accomplished just that for Melinda Nuñez, one of eight children who grew up in the century-old North Portland home. Nuñez had purchased the home from her parents with the intention of ultimately making possible the remodel her parents never could entertain due to financial constraints.
---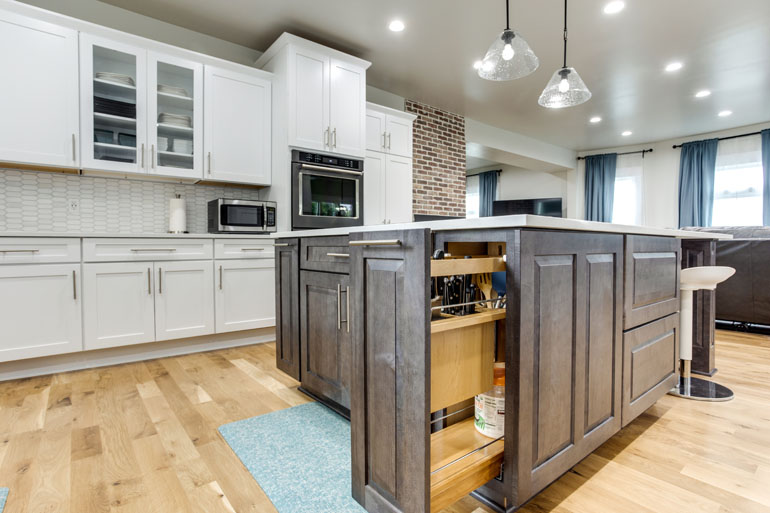 ---
"Nothing I threw at her came as a surprise, and she knew right away what sorts of things would work for me in my kitchen and my other rooms," said Nuñez, who at first considered other designers but landed on SheBuilds immediately after meeting Winkel and seeing her creative and efficient processes in action.
Winkel took on the redesign of the kitchen, as well as the mudroom, dining room, an upstairs party room and a bathroom. By the end of her three-week design phase, Winkel had designed 50 Mission-style cabinets in a variety of sizes and for myriad uses throughout her client's home. The most creative (like a corner drawer and cabinets on the diagonal) went into the kitchen, which benefited too from updated tiling, appliance placement, and bright and complementary wood stains. It took Winkel and her team two weeks to install all 50 cabinets.
As is typical of homes from the early 1900s, the home's kitchen was small and closed off from other rooms by walls — it allowed in light from exactly one window. More natural light was a major goal of the project, but Nuñez knew in advance she also wanted a larger space, an island with a 36-inch cooktop, double oven and white cabinetry.
"She just needed help bringing her ideas to life for the desired contemporary farmhouse-style kitchen," Winkel said.
---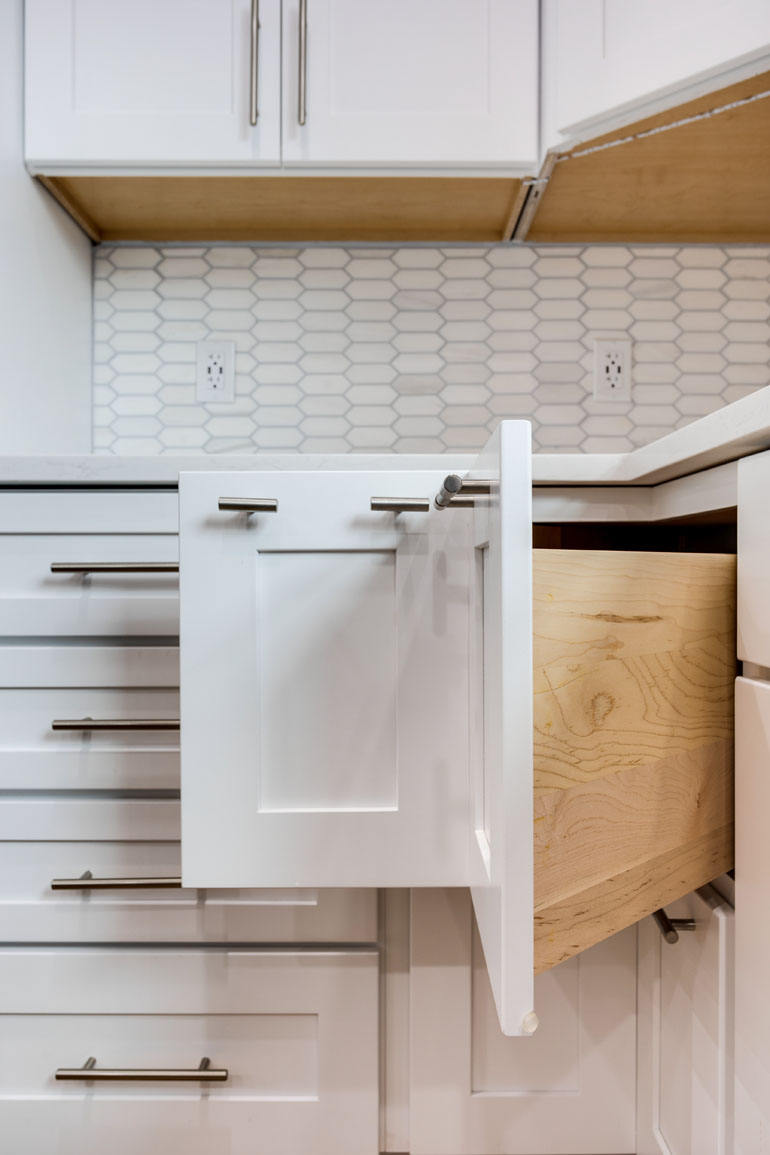 ---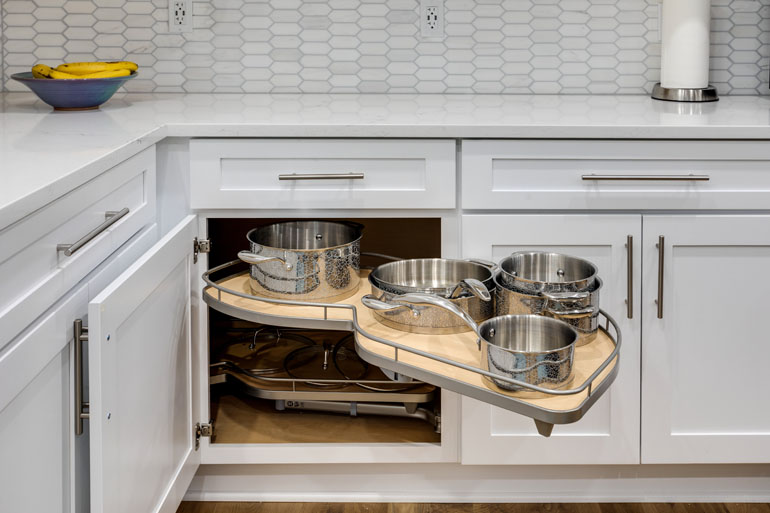 ---
Winkel spoke with her client about the use of every single drawer and cabinet and came back to Nuñez with a detailed proposal that included creative surprises — like in-island storage units for utensils, roll-out shelves, a shallow pantry, a special cabinet strictly for wine bottles and glasses, and Maplewood on the island stained medium brown as a visually striking counterpart to the white cabinets and white-quartz countertops shot through with gray.
Also typical in older homes like Nuñez's are ceilings that aren't square. To counterbalance the historic structure, Winkel chose to stagger cabinet heights "for interest," she explained, and also fashioned one cabinet around exposed ductwork.
"It was such a fun kitchen to work on because it had all these details," said Winkel, who, as a kid, began what today is a collection of 186 kitchen-design books.
"Our kitchen has been totally transformed from a tiny, un-functional galley kitchen to a big, beautiful totally functioning space," said Nuñez, who is quite fond of the corner drawer that replaced the lazy Susan.
"I believe that being a woman in the construction field gives me certain advantages, including an understanding of what a woman is looking for in a great kitchen," Winkel said. "I've done it all, from concept to completion, with my own hands, and all the details in between."
---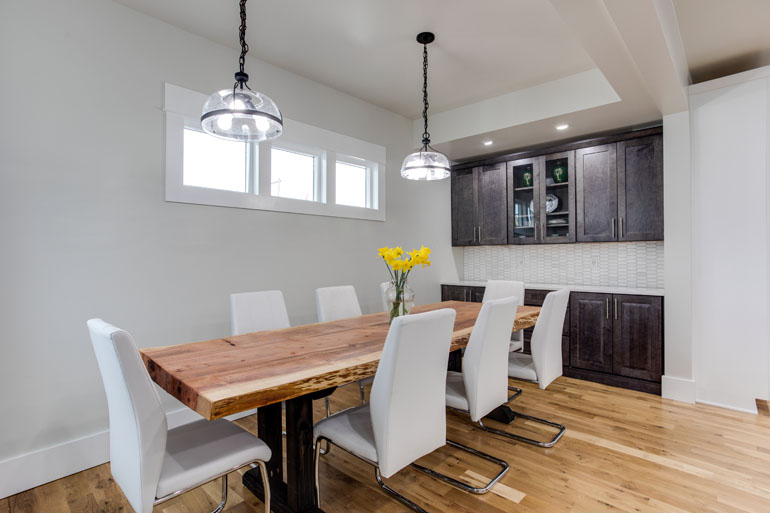 ---
For more info, visit: SheBuildsKitchens.com