Ragsdale Design & Remodel creates joy, calm and beauty in every home.
---
Not enjoying every space in your home is not an option for Ragsdale Design & Remodel, a husband-and-wife team based in Newberg. With a focus on meeting homeowners' every aesthetic and functional need, Ragsdale creates homes that are game-changers for their families and all those who gather with them.
"We want our clients to be intentional about understanding the needs their home is not providing for, so we can correct the issues and they can live in their home the way they always envisioned," said Jess Ragsdale, co-owner with her husband, Russ.
"We get joy in creating spaces in our clients' homes that bring them a sense of calm from the stresses that come into their lives," Jess said. "It's about being in that place where your most important community can gather."
---
Russ and Jess Ragsdale
---
Jess brings keen interior-design expertise and Russ a lifetime of wood craftsmanship to Ragsdale Design & Remodel, which the couple founded in 2007. Serving homeowner clients primarily in Washington and Yamhill counties, the company focuses on interior design, remodels and additions, all with an eye to eliminate stress and inspire joy. The couple adapts their process to each project, preferring the creativity of customization to alignment with trends. The company's ultimate goal, Jess says, is to deliver a design that their clients will be drawn to and love over the long term.
"We like to create a space as timeless, or classic, as possible for our homeowner clients," Jess said.
Ragsdale recently worked on a midcentury-modern home in wine country that suffered from a dark, cramped interior design. The homeowners love their spacious outdoors; the father especially spends his free time working on the landscape, a counterpoint to the intensity of his work as a medical provider. But the inside of the home felt too constricted for their family of five to spend time together, notably when guests joined. The joy wasn't there.
Ragsdale Design & Remodel set to design and construct a number of key updates, including a library space within the living room to showcase the family's love of reading; a new picture-book view of their wooded backyard; an expansion of their "pocket" of a kitchen; and the addition of a much-needed bathroom.
"There was no bathroom accessible from the main floor, so it was awkward for guests," Jess said.
---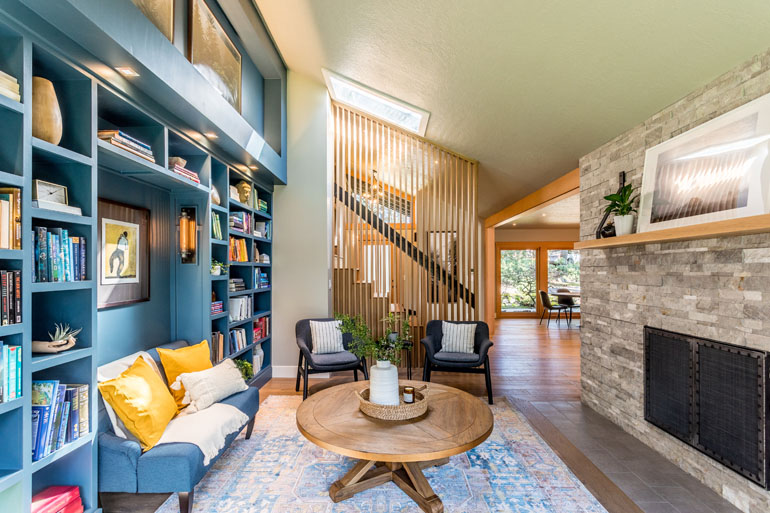 ---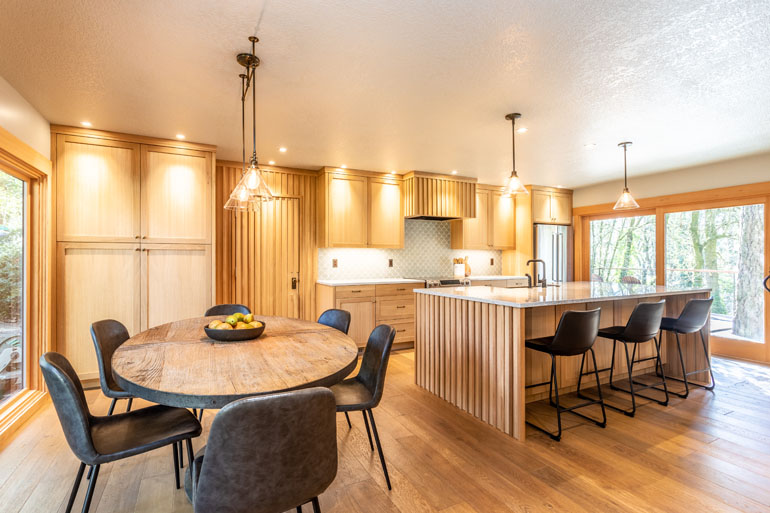 ---
Jess said they opened up the family's kitchen — making ample room for family and guests to congregate during meal prep — and relocated the staircase. She recommended its walls on either side be a slat-wood style to let light splay onto both sides. The staircase update and relocation provided a visual cue for separating the living room from the entry while maintaining sight lines to both. The newly opened-up living room allowed for the library wall and furniture to surround the fireplace.
For the required woodworking, Jess and Russ worked with the client to select just the right wood, grain and treatment to create the desired "Northwest, nature-inspired and clean lines" aesthetic and avoid a heavy look that can result from too many contiguous wood surfaces.
"We were very intentional about the stain and wood-grain pattern of the rift-sawn oak hardwood cabinets, and balancing it with a lighter-tone, matte-natural finish," Russ said. The final product purposefully avoided the '80s-inspired yellow tone that oak too often takes on, Russ added.
Russ and Jess chose rift white oak for the kitchen cabinets and slatted accents on the island and hood, as well as the slab for the fireplace mantel and the stairs. Jess explained it offered a beautiful counterpoint to the raw steel used to fabricate the new fire screens and handrail.
"The presence of that wood throughout the entire space was really crucial to lightening up the redesigned areas of the home," Russ said. "We love doing a creative design and build job, and we always do lots of problem solving — from that, creativity and joy follow."
---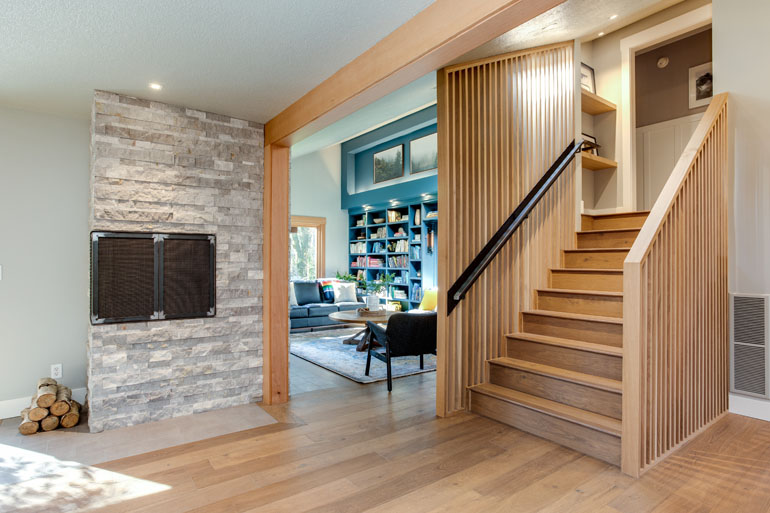 ---
For more info, visit: Ragsdale.pro