Powell Construction remodel features custom kitchen with homeowner and future buyers in mind.
Photos by Amy Dill / Hearth + VINE Photography
---
The initial task for this recent Powell Construction remodel was fairly simple: Reconfigure the kitchen to accommodate a new refrigerator and carve out space for an office. But remodels aren't always quick fixes. As residential designer Jayde Hansen outlined the possibilities, the homeowner saw the kitchen's shortcomings in stark relief: The cramped layout, awkward corner sink and dated cabinets were not only a nuisance to live with but could be a deterrent to future buyers.
"It's always helpful when the client has a vision in mind," says Hansen, a designer with the Corvallis-based company. "Then we help them through the process and nudge them to think outside the box a little."
It's no news to anyone spending a lot of time at home these days: Great kitchens make a great life. These high-traffic gathering spaces are one of the most coveted changes for homeowners, who seek both function and beauty.
---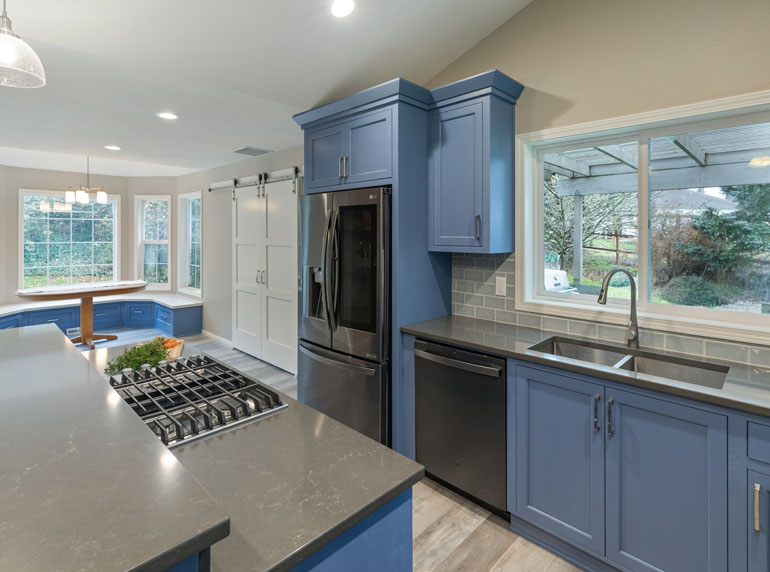 ---
Proven Process
This homeowner's first design-build meeting with Hansen and company president Tom Powell fused design and construction planning at the outset, enabling the team to not only find a unique solution but also address structural issues and provide the client with a detailed schedule for completion. In this case, the client had just one inspiration photo, recalls Hansen.
"We followed up with questions about how he used the space — does he gather all his ingredients before cooking a meal, or go back and forth a lot?" Hansen says. "His answers gave clues to the best way to lay out the kitchen."
Instead of simply reconfiguring the kitchen within the existing footprint, Hansen and Powell looked to an underutilized formal dining room to relocate the kitchen, leaving behind a breakfast nook and an adjacent multifunctional area to use as a home office.
---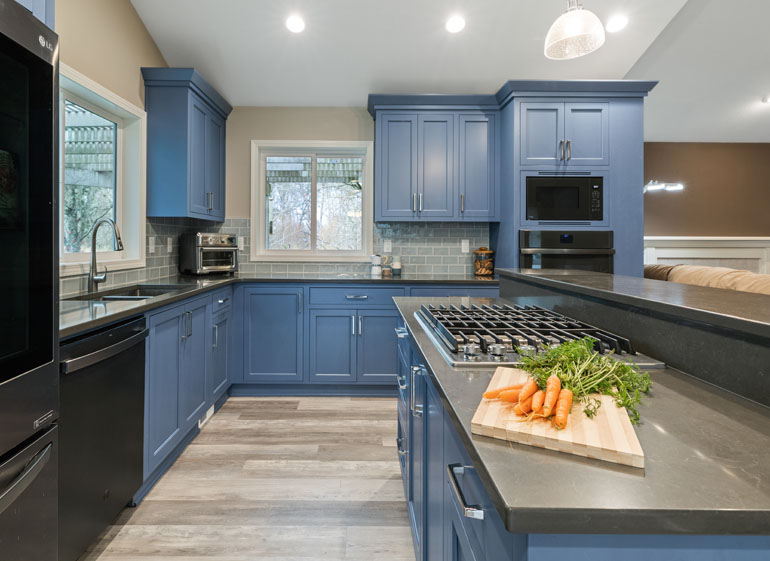 ---
Modern Materials
From there, Hansen worked with the client to tease out his design preferences, creating a modern, serene look with a darker color palette and masculine feel. With a window sacrificed to the new layout, Hansen brought the outside in with deep-blue custom cabinets; an ice-blue subway-tile backsplash with a crackle finish adds subtle visual interest and texture. A sleek barn door separates the home office and adds another pleasing detail, both open and closed.
The counters and multilevel island are topped with a warm, grey-brown "Cinza" PentalQuartz with light veining. The appliances echo the warmth and modernity in a black-slate finish. For flooring throughout the kitchen and adjacent family room, Hansen chose a low-maintenance COREtec Luxury Vinyl Tile plank that stands up well to pets and daily wear.
"The greys and browns complement the space and bring in some light," says Hansen. "And the material is a great option for those who don't want the expense or maintenance of hardwood."
Understated recessed lighting and simple pendant lights add the finishing touches. "Lighting can make or break a space," says Hansen. "With a really bold color palette like this, we wanted to keep it simple."
As is the case with many remodels, once it was complete, the client wondered why he'd waited.
"He had no idea how much it was going to change his life and the way he sees the world," says Hansen. "He said it changed the way he feels waking up in the morning."
---