When you truly love a place, there's a strong impulse to stay with it no matter what happens. That instinct turned a near tragedy into an opportunity for a couple in North Albany, who engaged Corvallis-based Powell Construction after a devastating house fire.
"The old home lacked a connection to the outdoors," said Heidi Powell, co-owner of Powell construction. "The new home has that in spades."
Little more than the garage was left of the 1911 ranch-style farmhouse when the company began the recent remodel. Today, the 4,300-square-foot home has two master suites, a guest bedroom, three baths and a half bath.
The home's connection to the Northwest served as a guiding principle for the remodel, affecting small and large choices along the way. Northwest materials such as fir beams and four fireplaces (including one built by a local stonemason) anchor the structure to Oregon. Powell always engages local craftsmen for all of their home's cabinets.
---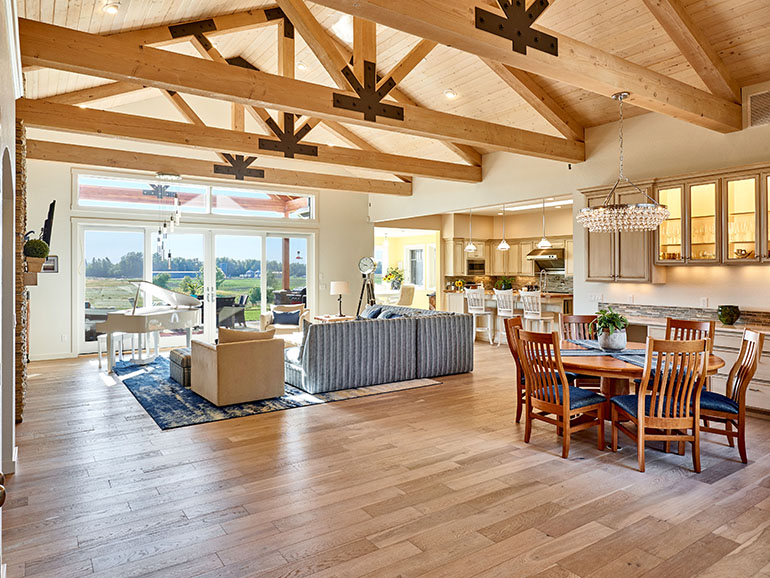 ---
"No box cabinets shipped from out of state," said Powell. "By having ours made locally, we not only reduce our environmental footprint but also provide a superior custom-built product that will last for generations."
While many modern Northwest homes utilize shades of gray for a calming, neutral feel, these homeowners chose warm beige. Warmth imbues the kitchen space with a hand-selected 9'x5' live-edge piece of birdseye maple for the kitchen island. A hammered copper sink and a mosaic backsplash of art glass from Soho Studios complements and reflects the warm tones. Just off the kitchen sits a sunny yellow eating nook and solarium. Abundant skylights provide a bright and airy feel to the whole house.
"Our clients said the more light the better," Powell explains.
The homeowners wanted to extend their living area to the outdoors while making room for the husband's mother to live with them. To give everyone their space, the design has a central gathering area with 16-foot-wide sliding glass doors connecting the great room and covered patio, where people can drift in and out. Mom has her own suite down the hall with her own entrance.
"A lot of our clients want that kind of communal space feel, with plenty of other room for people to go into their own spaces," Powell said.
---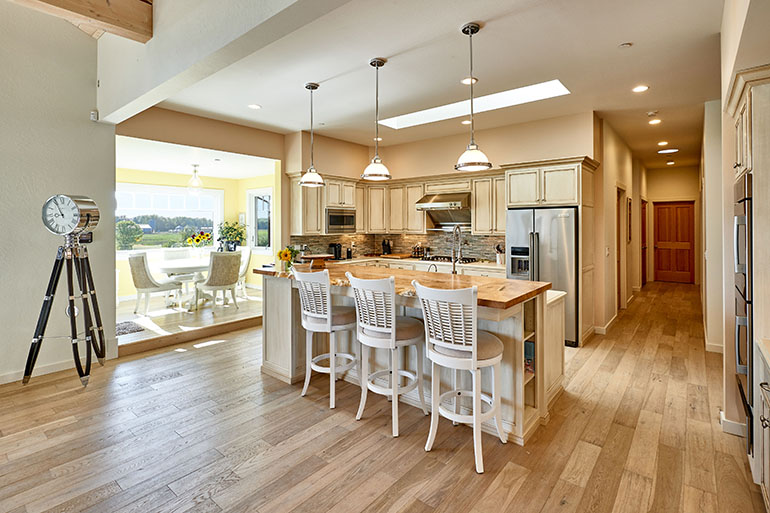 ---
Whereas the previous home was on two levels, this single-level home offers generous high ceilings that showcase fir beams and a ceiling of tongue-and-groove spruce. Flooring is a prefinished wood in a hawthorn oak, highlighted by a nature mosaic designed by the homeowner to grace the entryway floor. The family's white baby grand piano has pride of place in the main living space.
While Powell Construction made the remodel happen, the home shows the homeowners' tastes through and through.
"We are often asked if we have a certain design style, and the answer truly is that we listen closely and design to suit the clients' tastes," says Powell. "This isn't about us, it's about the homeowners and their dreams."
---
For more info, visit powellconstruction.com.