Drab, builder-grade materials and nonfunctional kitchen layouts: These are problems common to many homes.
"As a work-at-home mom with two kids under two, I needed the space to flow well," recalled Rachel Anderson, owner of Harper Rae Design Co.
To address her own home's faults, homeowner and interior designer Anderson teamed up with Brad Bowsher at Sitka Projects, a custom-construction company specializing in kitchens and bathrooms. Anderson and Bowsher collaborated to reconfigure the kitchen with an eye to improving workflow, functionality and beauty, all within the existing footprint.
---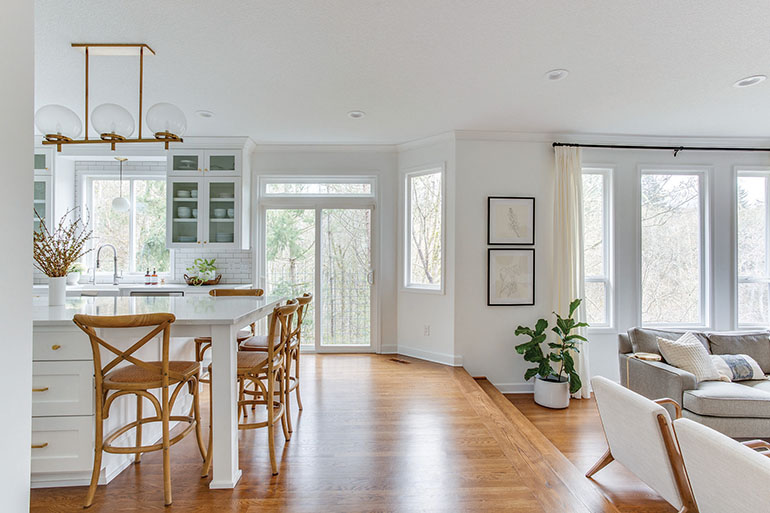 ---
PUZZLING IT OUT
Fixing a kitchen has everything to do with understanding how people use and move around in the space in real time.
"A lot of what we do is based on what we did in this project," Bowsher said. "You have a good space to work with, but everything is in the wrong spot because it was built without input from a kitchen designer. We are really involved with the design up front to make sure the space is going to function properly."
A new counter-depth fridge moved across the kitchen, out of the cook's work zone, providing more pass-through space. Instead of a wall oven and separate cooktop on the island — both of which were cumbersome and inefficient — Anderson opted for a more traditional range, slotted into the space where the fridge once stood. A custom range hood and subway tile backsplash created a prominent focal point.
The center island was enlarged, providing an expanse of functional workspace and an eat-in area adjacent to the family room, which was updated at the same time. The tile floors in the kitchen were replaced with oak hardwood planks to match the family room, creating a cohesive feel between the two spaces. To create storage space for the children's toys, custom cabinetry and window seats were installed on either side of the family room fireplace.
---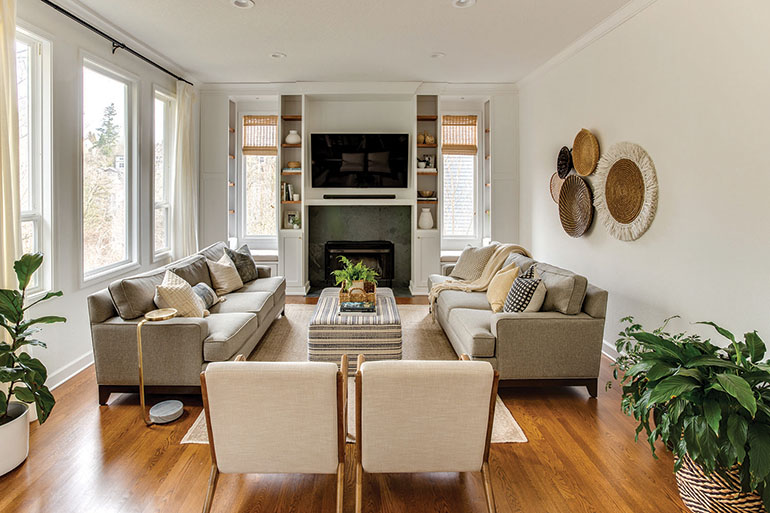 ---
CREATIVE FINISHES
Anderson really made her mark with the finishes, opting for an all-white treatment to brighten the space year-round. White, subtly patterned and elongated subway tiles and polished quartz countertops reflect light around the kitchen, while a mix of solid and glass-fronted cabinets, along with transparent lighting over the island, lend an airy feel. Brass hardware and a medium-tone finish on the floor lend warmth.
"I tried to stay true to the character of the home," says Anderson. "It's a traditional-style home, so I wanted it to be classic and timeless, with some modern flair. Before, it was dark and gloomy; now it feels so much more expansive — it feels twice the size it was before."
---
For more info, vist sitkaprojects.com.