KSW Architects Principal Raymond Kistler brings his passion for form, function and beauty to residential and commercial projects.
Photos by Brian Prechtel
---
Design is Raymond Kistler's driving force. By the age of eight, he already turned a critical eye to what he saw in the built environment. He hated cookie cutter tract houses before he even knew what they were called. He constantly examined the manmade world — then and now.
"I think of design in everything, not just buildings," Kistler says. "Everything I see and touch. I can't help myself."
He does not, however, have a signature style. Kistler has been practicing architecture for 30+ years in the Rogue Valley and beyond. He works hard to ensure no two homes look like they were designed by the same person, and is fortunate to work with Matt Small, Jerome White, Chris Brown, Ray Chirgwin, Tom Lamore, Paul Skelton, Ramon Renteria, Sierra Kistler, Colin Dean, Dakotah Schattler and Bob Shanoski, who all help make that happen.
"It takes a lot of effort for an architect to not have a stylistic type that they project onto their clients," Kistler says. "I try to be a tool to help people realize their dream of what's beautiful and to create an oasis for that family."
---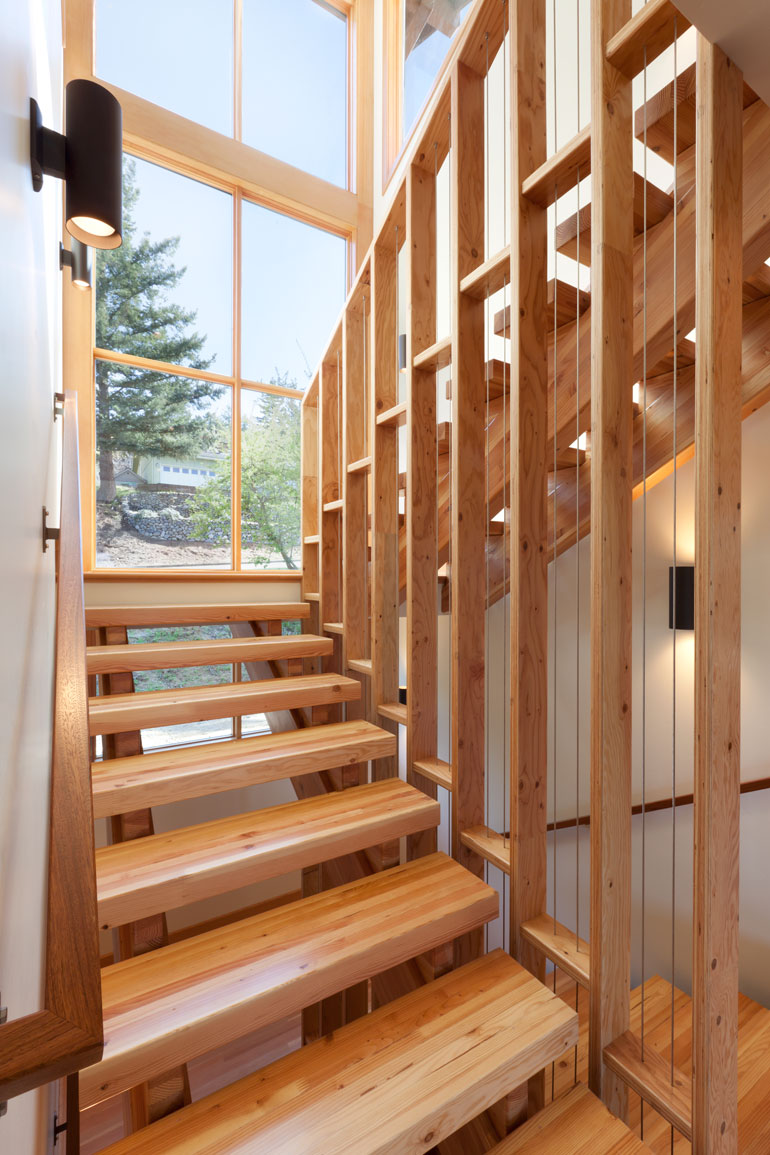 For Ray Kistler, design doesn't stop until the last nail has been hammered in. This interior stairway was supposed to be covered with drywall. But on a site visit, Kistler noticed how beautiful it looked without it, so he and the homeowners decided to leave it open. Stainless-steel cables were installed between studs to comply with building code.
---
Over the past 33 years, Kistler has moved his own family eight or 10 times. ("I've stopped counting," he says.) He has built dissimilar homes on diverse lot types and uses each as a sort of lab to see how it lives and how the design works in the real world.
Building in Ashland proper poses challenges, because much of the city falls within a historic-district overlay that limits what architects can do, and the entire city is subject to a strict solar-setback ordinance. For a recent project outside the historic district, Kistler worked with a family to build a home that blends traditional and modern. The neighborhood includes homes from the 1930s through present day, with a variety of styles.
"There are ranchers next to modern homes next to Victorian bungalows, which gives the neighborhood a lot of texture," Kistler says.
The 3,000-square-foot home on a north-facing hillside lot boasts native cedar siding, traditional gable roof forms and strong vertical concrete elements. The family wanted public and private spaces that went to the extreme. A three-story glass stairway faces the street, allows people to see in and lets the family see what's happening in the neighborhood. In contrast, a 2-foot-thick concrete wall juts out from the home's exterior to separate the dining room patio and owner's suite on the other end, giving the family privacy.
---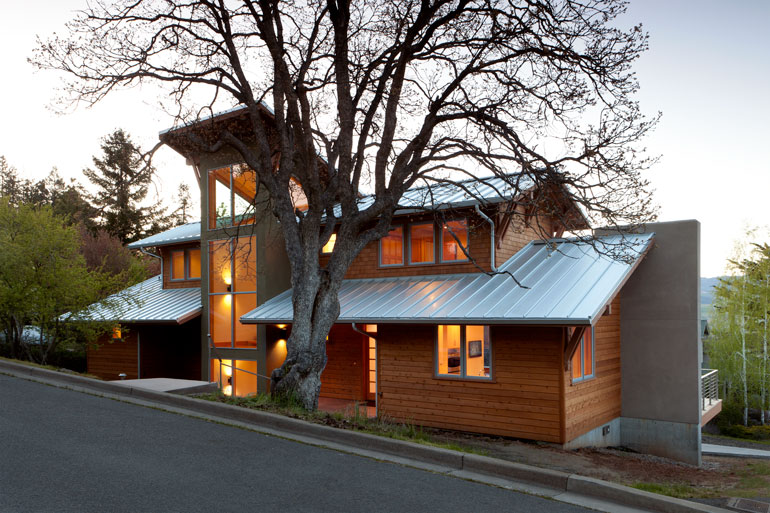 Zinc roofing is the most sustainable roofing material, especially compared to asphalt shingles that send tons of petroleum product into the landfill every 15 years, Kistler says.
---
The home's sloping roofs also showcase Kistler's one signature material — zinc, which lasts over 100 years and can prevent fire damage because embers don't melt through and get into the structure. After the 2020 Alameda Fire, no metal-roofed home designed by Kistler had burned, while commercial properties without metal roofs were consumed by fire, despite masonry construction.
From exterior building forms to floor plans, design matters to Kistler. And good design doesn't cost anything but attention, he says. He brings that thoughtfulness to every project, whether it's a commercial property, single- or multi-family residence, or Habitat for Humanity home.
"To design something correctly doesn't mean you have to gold-plate it or use a high-dollar material," he says. "A home should flow comfortably, be in the right proportions, and have rooms in the right location given the home's site and orientation. Getting that right is free; it's just taking time. It's just passion, caring and being observant of design in everything we see."