Secrets of one family's remodel.
Photography: Mark O. Rogers, MORPhoto
Interior Designer: Annalisa Peña, Cedarwood Home
Architect: Dimitri Englert, TVA Architects
General Contractor: Walker Home Improvement
---
Krista and Scott Rider lived with their son, Archer, in their 1924 home in the Alameda neighborhood of Portland for ten years before taking the big step of a kitchen renovation. Their goal? To maintain the details of their home's architectural past (it's an original Tudor design by Charles W. Ertz) while updating it with their own style: classic but with a modern edge. And, of course, it needed to have a high level of functionality for modern family life.
"It was very important to us to maintain the integrity of the old home," says Krista. "We wanted our kitchen to look like it's always been a part of the home, just updated and reflective of the current time."
---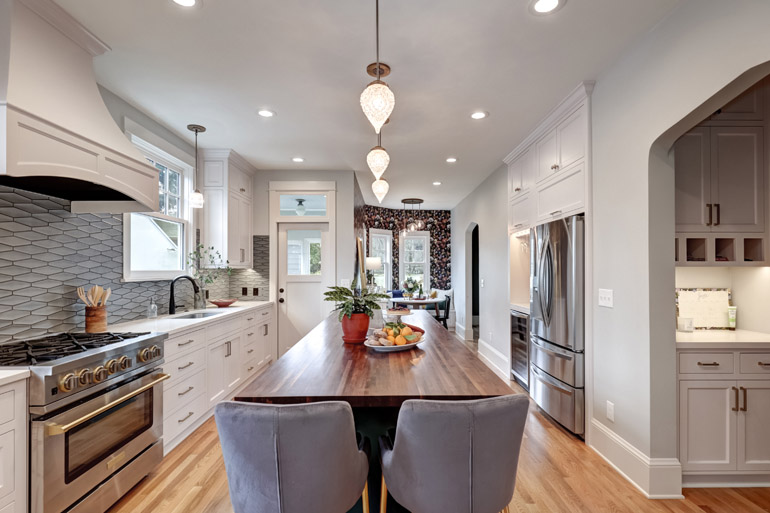 ---
Design Secrets
"The biggest impact came from extending the existing kitchen into the adjacent office space," says interior designer Annalisa Peña of Cedarwood Home. "Doing so doubled the historic home's kitchen footprint and allowed for the sweeping island."
Unobstructed views lend the space the desired expansiveness for modern family life and make it comfortable for everyone to prepare meals together. "Cooking feels fun again!" says Krista. "We can share the space without being in each other's way."
---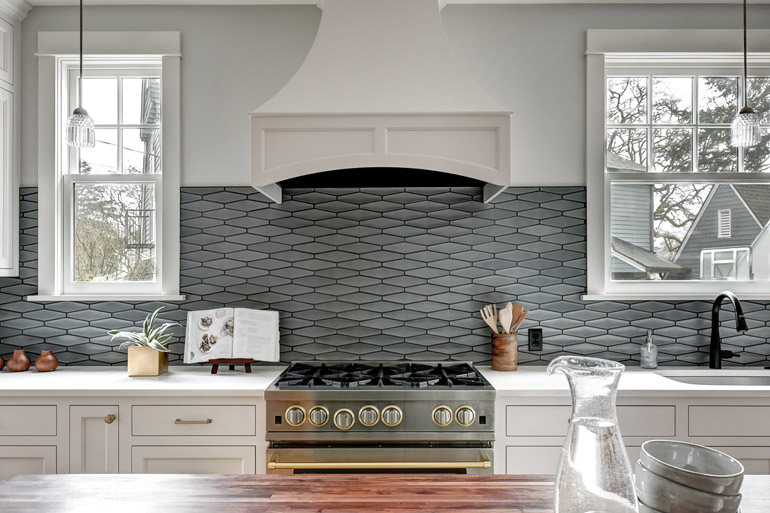 A stylish vent hood creates a focal point for the eye.
---
A cozy dining space is a family favorite for eating a meal, working on homework, or making a to-do list while still being part of the kitchen action.
---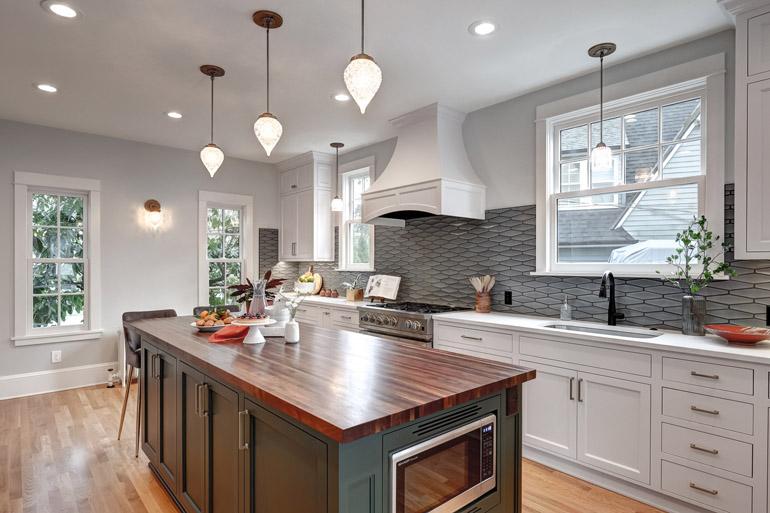 Expansive countertop space is perfect for prep and rolling out dough.
---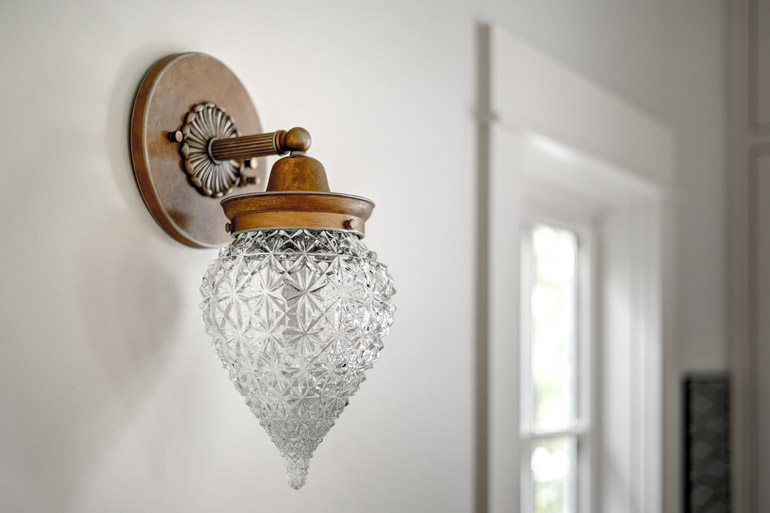 Options for soft ambient light and flooded light for tasks make every time of the day a joy.
---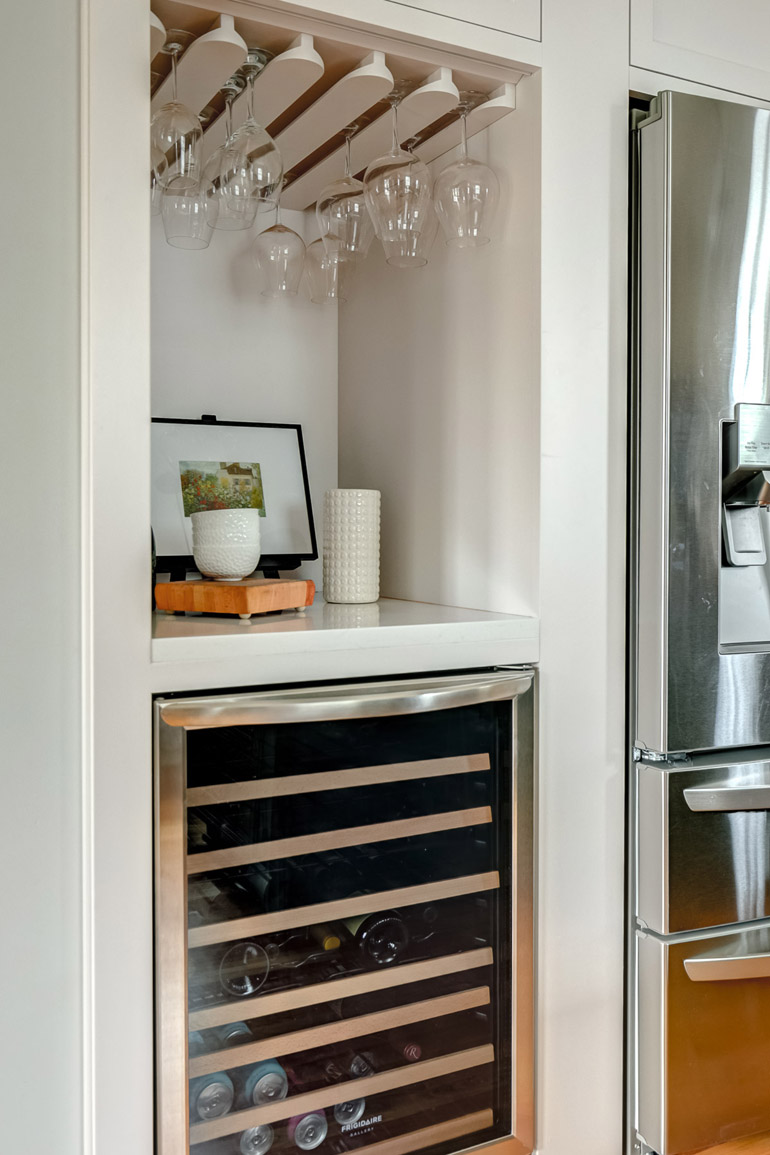 The wine fridge nook provides a landing spot for serving guests out of the way.
---
Designer's Notebook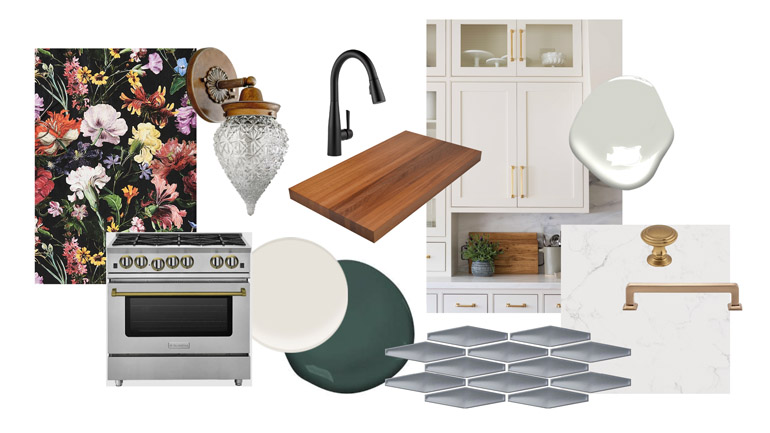 ---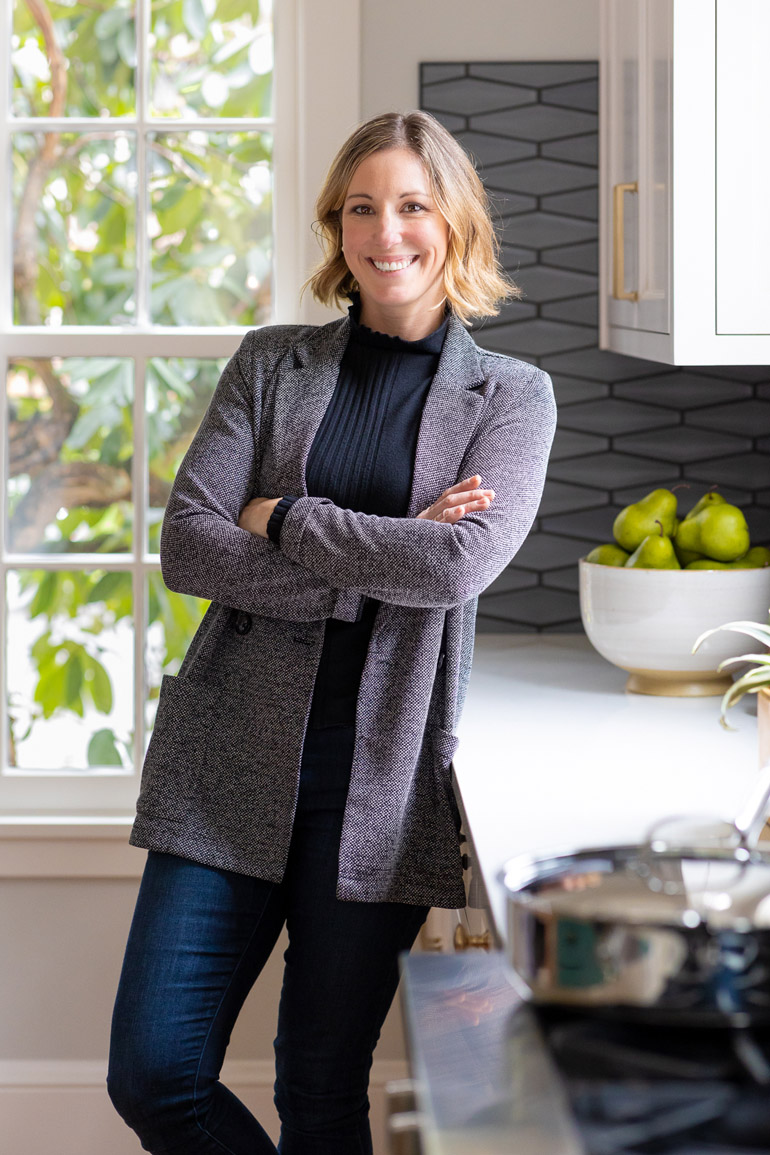 "The look has classic touches contrasted with modern pops of textures and color." —Annalisa Peña, Cedarwood Home (above)
---

---
Steal the Style: Classic With a Modern Edge
Tile: Daltile, Verdon
Wall Paint: Benjamin Moore, Gray Owl
Cabinet Paint: Sherwin-Williams, Toque
Cabinet Paint, Island: Rodda Paint, Gedney Green
Cabinet Hardware: Top Knobs, Transcend, Ascendra Pull and Chareau Reeded Knobs
Countertop: Pental Quartz, Misterio
Countertop Island: Butcher Block
Range: Blue Star
Wine Fridge: Frigidaire
Dishwasher: Miele
Sink: Kraus
Faucet: Delta, Essa
Hardwood Floors: White Oak
Wallpaper: Anthropologie, Lane Wallpaper
Lighting: Larry Shifrin, Lumen Essence Lighting
Cabinetry: MH Custom Cabinetry
---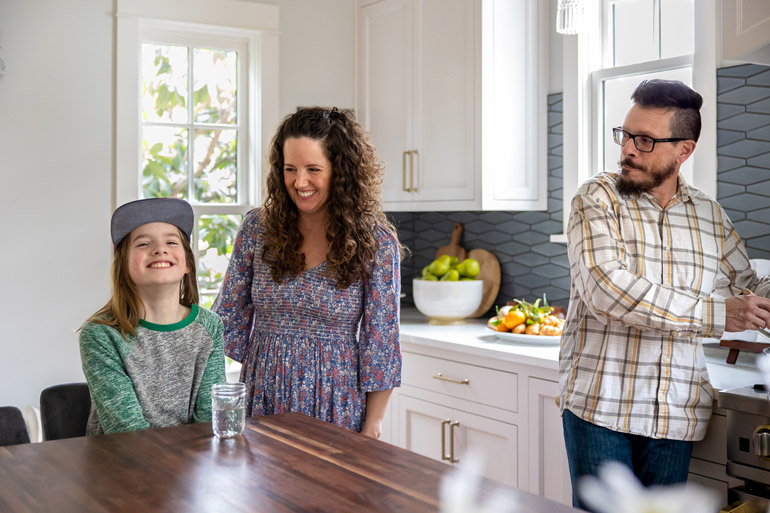 "Our 12-year-old son is much more independent in the kitchen now. While we haven't been able to fully entertain, we look forward to when the pandemic is behind us, and our kitchen is full of friends." —Krista Rider