The magic is in "The Mix" for a curated project by Anjali Interiors.
---
The stucco and tiled house was undoubtedly different. Its original rooms had no square angles and required the construction of several pieces of custom furniture. It took a special family to see the potential beyond the dated, cluttered aesthetic of the original house to create a one-of-a-kind place honoring an eclectic vision.
"My clients, the Tierneys, thrive on unique experiences," says designer Anjali Miller of Anjali Interiors. "They prefer experiences that become a story illustrated with artifacts and collections."
For the Tierneys, the home's more idiosyncratic elements ­— which could have been an inconvenience to some — were the launching pad for reimagining the Spanish vibe of the home in a fresh, new way. Miller was the perfect match to help the homeowners find a bridge between the distinctly Mediterranean-style home and the new homeowners' global arts and crafts collection.
---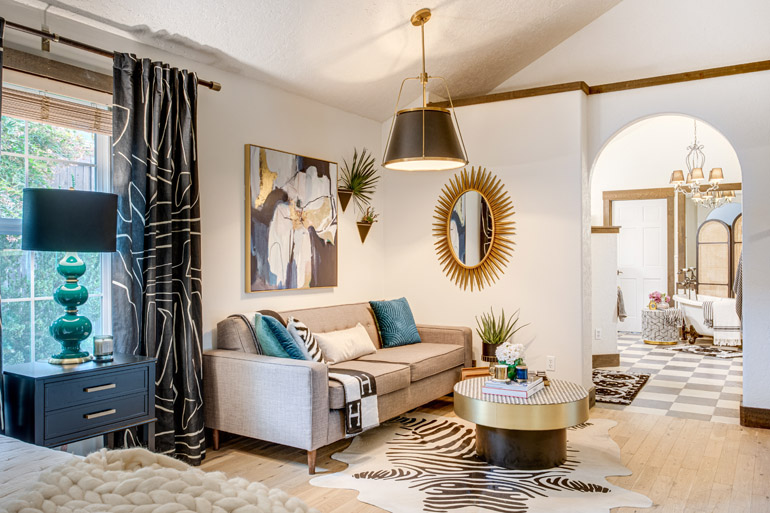 ---
Miller grew up as a global citizen, bouncing between the Sierra Mountains and India. Her design sweet spot is something she likes to call "The Mix."
"My design philosophy and process achieve a sophisticated and highly curated look that represents my client's personal story," Miller says.
In a world that has fully realized almost every design archetype, Miller's approach brings harmony to eclectic tastes.
"It's like mixing the perfect cocktail. There's an art to blending different ingredients together into something even better than the individual components."
For the Tierney project, Miller creatively builds cohesion between the many facets of the homeowners' interests, African and Middle Eastern collections (including taxidermy pieces), existing furniture and family heirlooms, and the undeniable Spanish influence of the custom home and built-ins.
---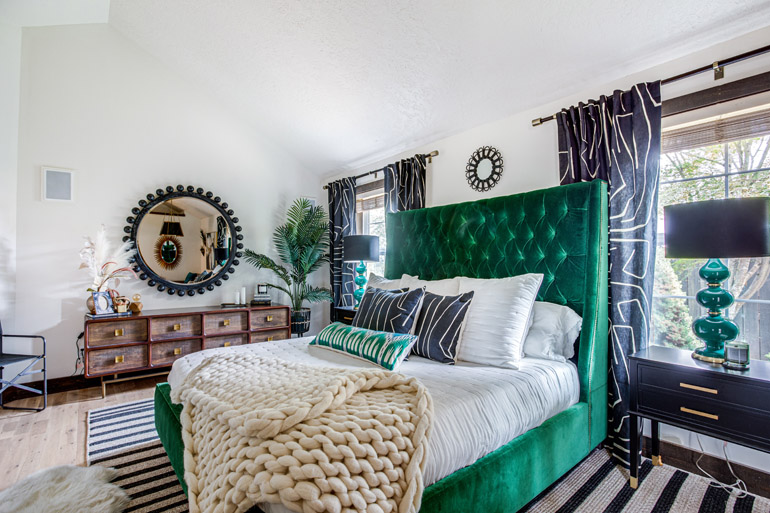 ---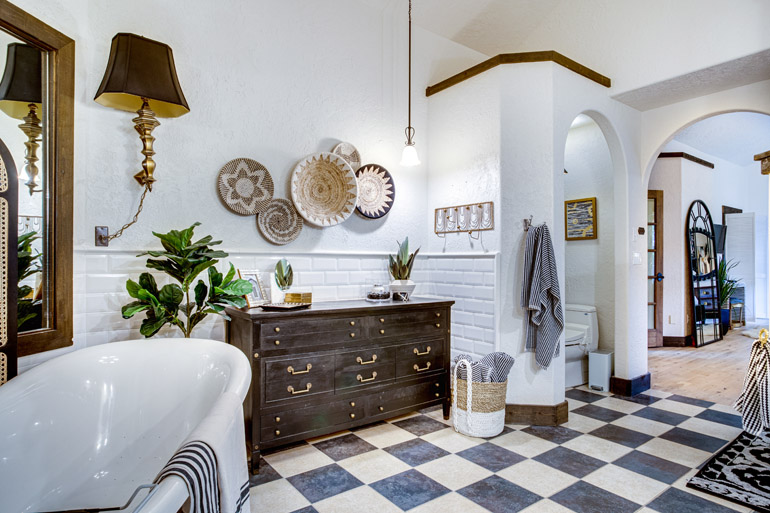 ---
Miller pulls it all together, creating the effect of a luxurious, global, new-bohemian lair. The spacious main bedroom and en suite bath beautifully showcase Miller's skill with "The Mix." Building upon the existing checkered tile floor and vintage-esque clawfoot tub, Miller layers the space with texture, bone-inlay accent pieces and brass hardware — all anchored by a rich, jewel-toned green. The effect is like walking into Gatsby's Mediterranean dream. The on-trend Kelly Wearstler "Graffito" print drapery and accent pillows add just the right amount of modern pop to balance the ode to art deco opulence.
"This home is anything but neutral," says Miller. "We created cohesion between all the factors, and from room to room, by introducing consistent elements: the bone-inlaid furniture and brass fixtures from City Home, texture layering in lieu of too much color contrast, animal prints, and artisan textiles like the towels from local Indigo Traders."
Miller offers clients a seasonal tablescape complimentary to their new decor as a special touch. "For the Tierneys' Fall tablescape, I wanted to capture the essence of the rustic stone fireplace and family heirlooms while weaving in modern and luxe components into the mix. It's 'The Mix' again. It just works. It's the only way we can all feel both individual and at home together."
---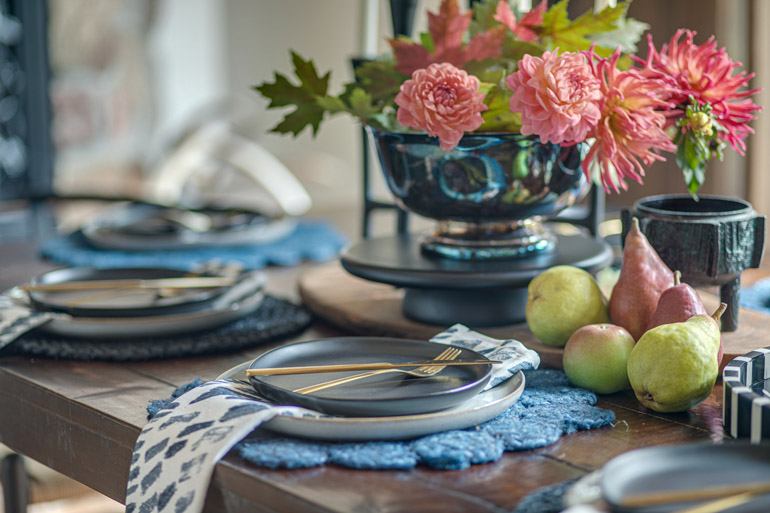 ---