A Mt. Tabor couple doubles their home's footprint with a multizone hangout space.
Interior Design: Wise Design
Contractor: Build Forward
Photography: Meagan Larsen and Jason E. Kaplan
---
DeDe and Billy Frerichs met while working at a home and garden store called The Great Indoors and shared a love of design. But over their years together, they had never lived anywhere long enough to really settle in before they moved into a 1974 ranch in the Mt. Tabor neighborhood of Portland in 2016.
"We knew it had potential," says DeDe of the home, which had a mid-century vibe.
One large moment of possibility? The basement, which comprises nearly half of the home's square footage. The multiuse space the couple eventually designed and built with Annie Wise of Wise Design over the course of 18 months confounds every description of what the word "basement" usually conjures up. Gone is the dark and dank afterthought of a storage space, replaced with a bright, ingeniously structured space that doubled the footprint of the home while making family life with three kids and 10 pets more manageable for the busy couple.
"We would not have been able to accomplish this without six sets of good eyes," Billy says.
Before the remodel, the kids — Jack, 14, Noah, 12, and Georgia, 9 — had their gaming system in the basement, and DeDe had a makeshift yoga space, but Billy rarely came down there. It was cold, thanks to old aluminum windows, and cobwebby.
Before shaping the spaces, the design team stripped the home down to cement floors, earthquake-proofed the home, and replaced the windows as well as the plumbing and HVAC systems.
Wise Design cozied it up and divided the space into different zones where the family could spend time together, they could host visitors, and Jack could have a bedroom.
"They were so good at having an eye for detail," DeDe says. "It was really a blank canvas when they started, and when we were done, it felt really lived-in."
In all, the process netted the family 10 new zones.
---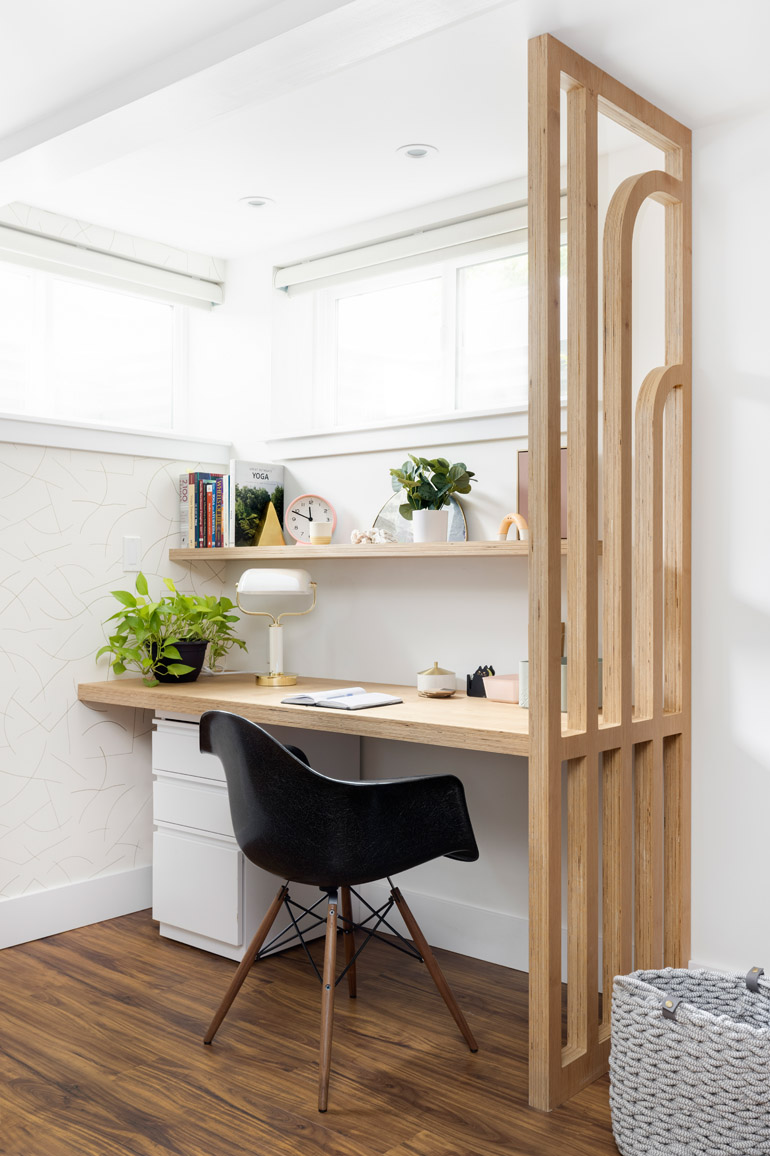 1. Home office
Tucked into a wall near the stairs, a desk and chair are sectioned off with a laminated birch privacy screen inspired by a 1970s screen print. The setup ensures that work is possible at home, but that it's not the first thing you see when you enter the space.
---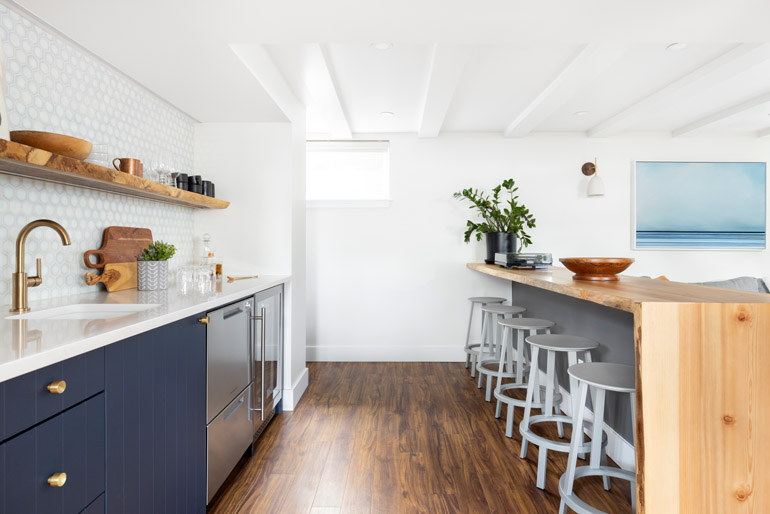 2. Bar area
A hexagon-tile backsplash from Portland's Contract Furnishings Mart complements IKEA cabinets with fronts by Semihandmade and Schoolhouse Electric hardware.
---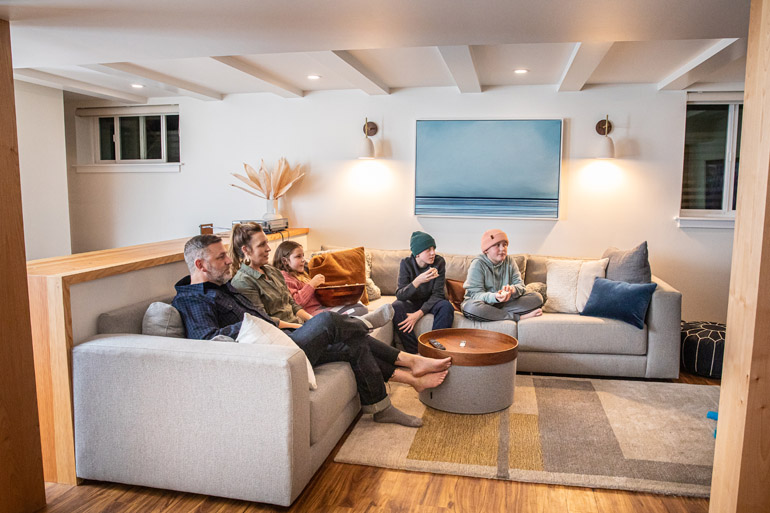 3. TV room
Everyone's favorite hangout space, with a Crate & Barrel sofa, does double-duty as sleepover central for the kids.
---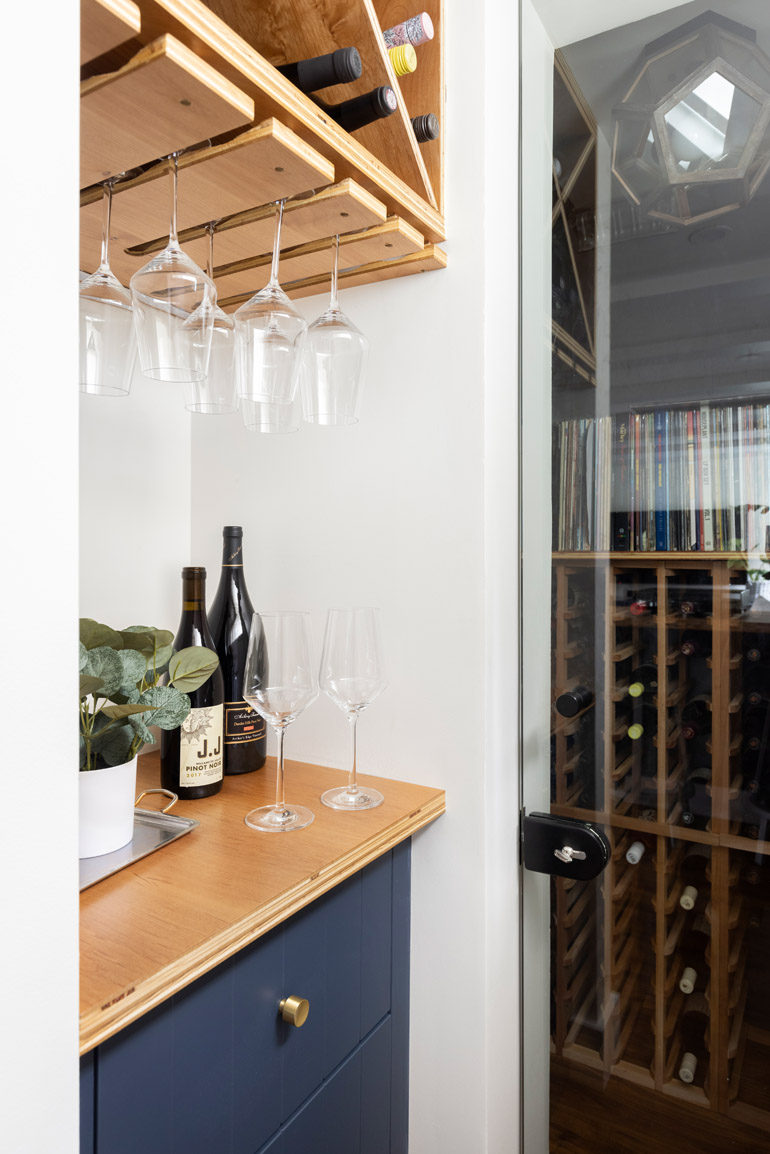 4. Collection
The couple's collections of wine and vinyl get the proper temperature treatment in a small space set off the main area.
---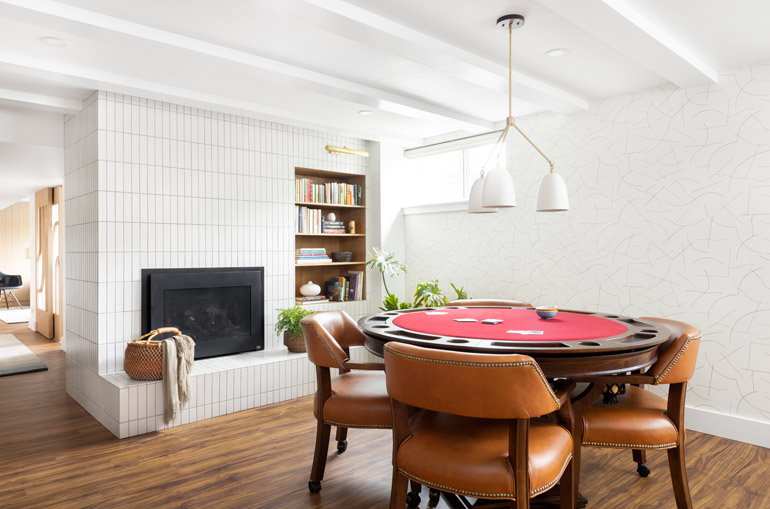 5. Card table/fireplace
Vertical white tile from Fireclay clads a gas fireplace next to a card table from Golden West Games in Tacoma (with a hidden built-in bumper pool table). Wallpaper from Portland's Manolo Walls enlivens the area.
---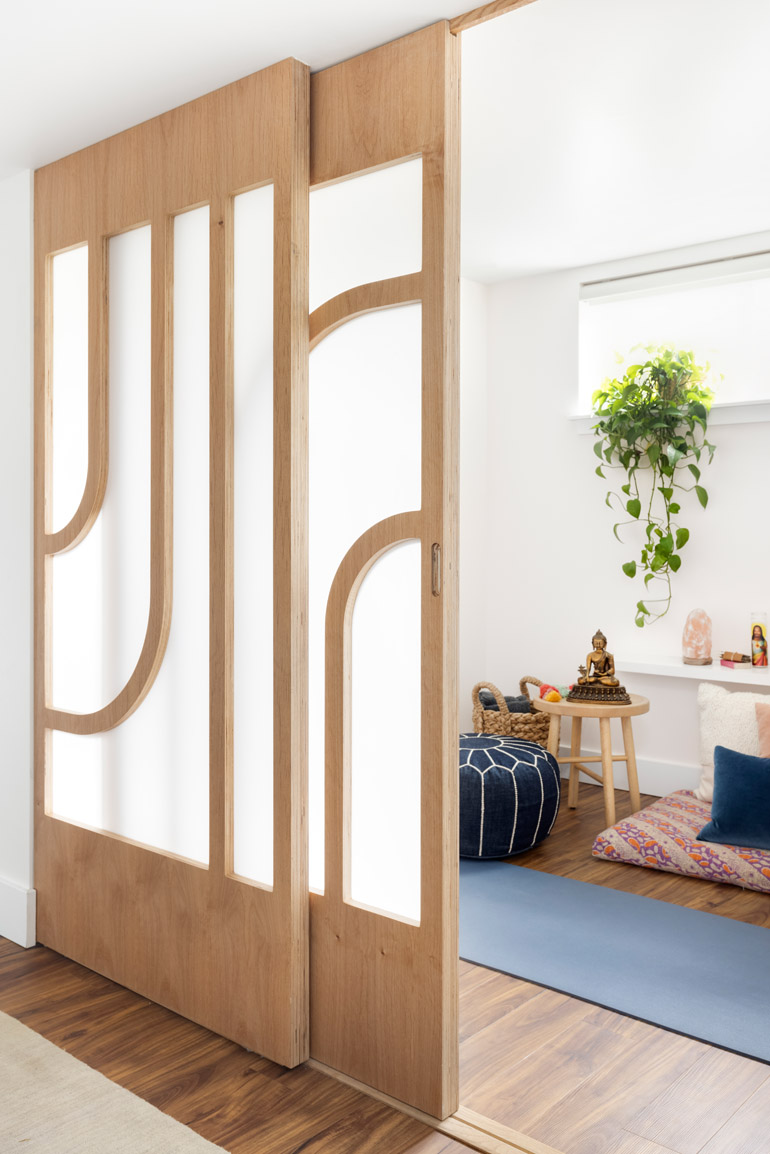 ---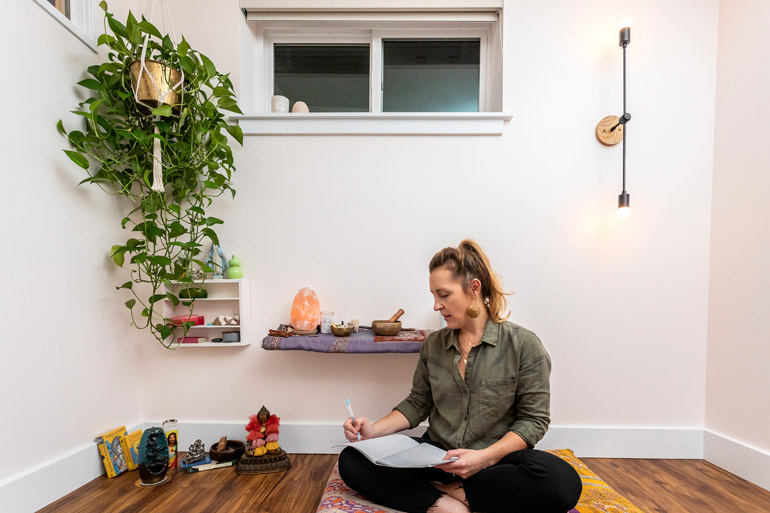 6. Yoga room
Mom DeDe can practice without distraction in a room made more open with a transom window, or can dream about the new business she is building, Nouriche Broth.
---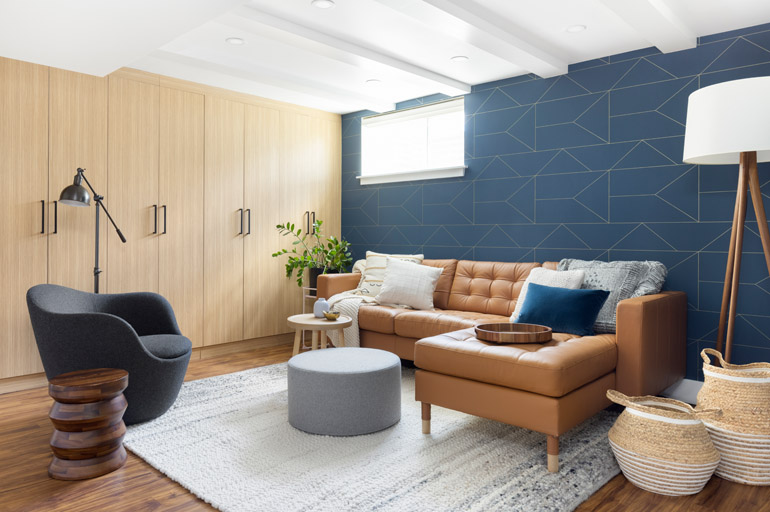 7. Flex space
Guests can visit and have their own space, while extra clothes, toys, games, linens and books stay artfully put away in an extra cabinet system by Portland Closet Co.
---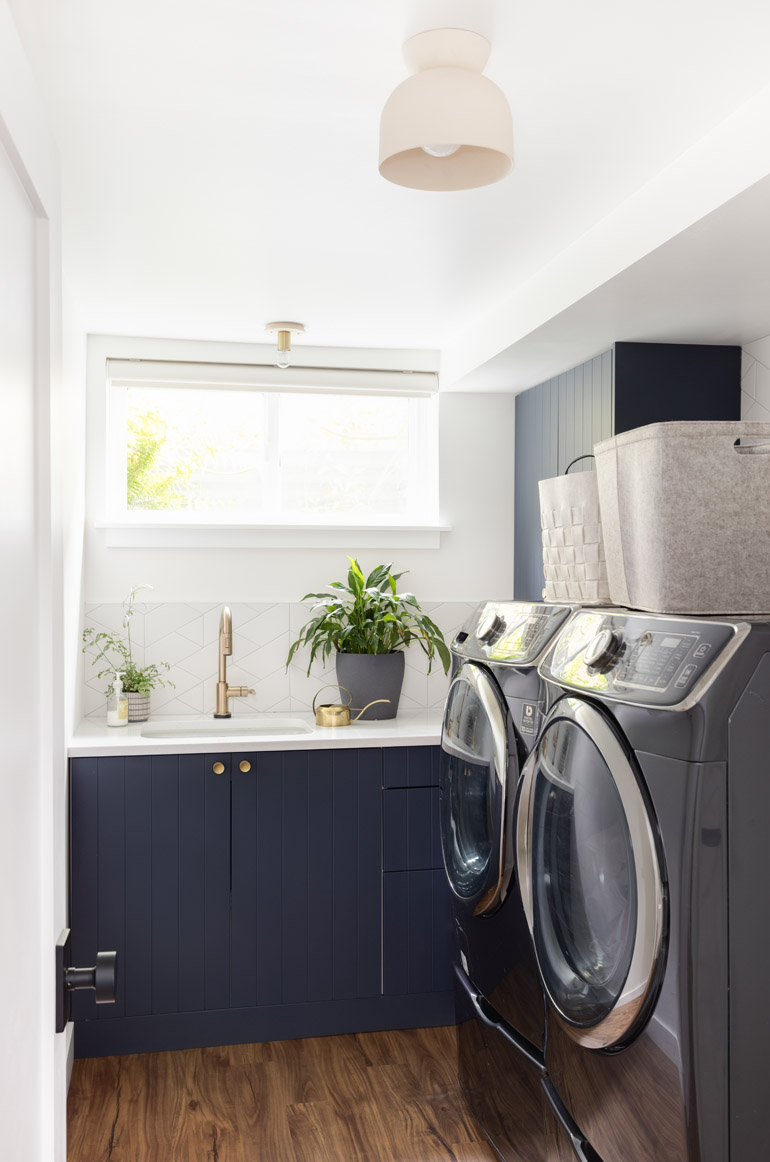 8. Laundry room
Daily chores are more joyful with enlarged windows and a purposeful layout. "It makes me feel clean just having it all organized," DeDe says.
---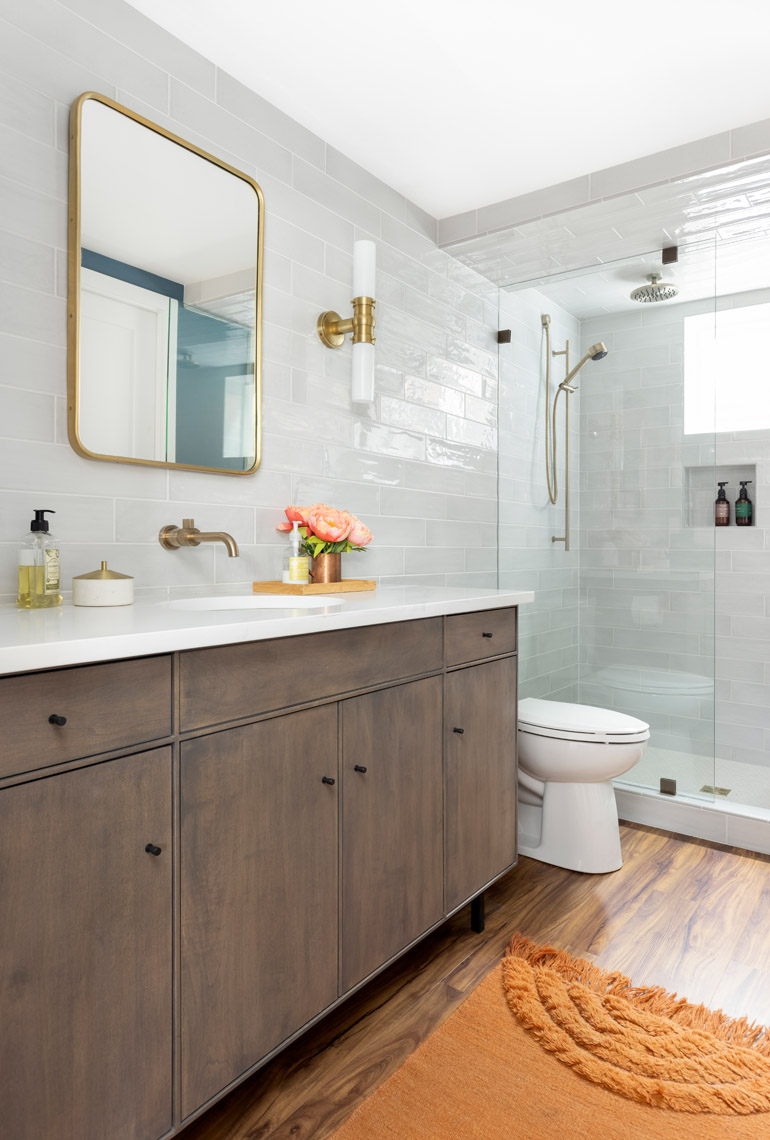 9. Bathroom
A growing teen gets his own space to primp.
---
10. Jack's room
The eldest son, Jack, has room for pets and projects, more usable storage and a cozy space to do his thing.
---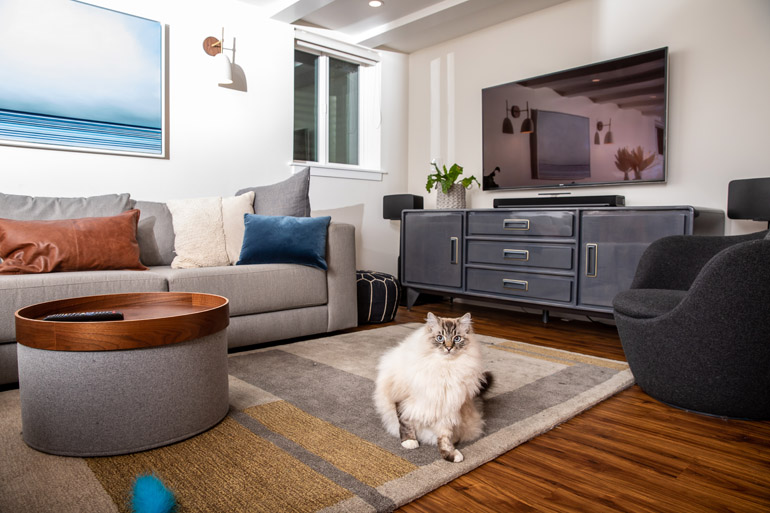 ---
The effect on the family's home life has been immeasurable, the Frerichs say, allowing the family to have twice as much comfortable, usable space as they had before, and much more functionality.
"It lets us breathe a little bit," says DeDe.
"We can all congregate together, but we can find our own space here," says Billy.