1. Not heeding the age-old mantra of "Location, location, location."
Think the condition of the house you're interested in is all that matters when it comes to property value? Think again. Sure, that restored 1920s bungalow looks incredible, but if it's right next to a busy train line or neighbors who treat their yard like a trash dump, your quality of life—and the resale value of your house—will suffer. "You can find the perfect house," says Laurie Holland, a principal broker with Windermere Cronin and Caplan Realty Group in Portland, "but no matter how beautiful the house is, a bad location will definitely affect your investment."
Solution: Research the area in which you're looking to buy a home. "I always consider whether an area is close to shops and transportation, has good schools, is perceived to be safe and has amenities like parks nearby," says Holland. "Your Realtor should also check the area's zoning regulations. If the property has a great view, you should find out if there are any projects in the works that could block it."
2. Letting your desire to build a home in a scenic location override your logic for safety.
We've all seen the news footage of hillside dream homes collapsing into a flooding canyon or a landslide. Avoiding dangerous areas seems like common sense, but judgment takes a flying leap when you're gazing out at the ocean from a cliffside lot, imagining that view through your picture window. "A lot of people buy property because it has a fabulous view," says Chris Soderberg, a principal with Soderberg Laman Designers, a Portland architectural design firm. "But they often don't realize how much money they'll spend making the site safe to build on."
Solution: Think realistically about building in a danger zone and call in experts to help. "Have a soil engineer see what kind of soil the site has and how far down you'd have to go before you hit rock," advises Soderberg.
3. Not doing your homework before you house-hunt.
You've found a great Realtor, so your work is done, right? Wrong. "Only buyers who are prepared will get the house they want," says John Eskew, the president of Windermere Services Oregon.
Solution: You have to know what's out there: On websites like rmls.com you can search listings by specific areas and price ranges. "Drive around to get a feel for different neighborhoods, look at posted flyers and go to open houses," says Eskew. "That way you get an idea of the range of values in the area you're looking at. And get pre-approved for your loan—that way when you find your dream house, whether it's the fifth or the 50th one you've looked at, you'll be ready."
4. Not being realistic about remodeling costs.
So that house you want to buy has a too-small kitchen or a dated bathroom—nothing that a quick remodel won't fix, you think. Time for a reality check! Remodeling is expensive. "I've been doing remodeling for 25 years and the most common remark I hear is, 'I thought it would cost half that!'"says Greg Olson, the president and the owner of Olson & Jones Construction in Portland.
Solution: To get an accurate idea of what home improvement projects would cost in a prospective house, call a professional. "Have a contractor come in and give you an estimate," says Olson. For about $100 per hour, you can get a handle on design costs and find out whether that less-expensive (but definitely in need of a face- lift) house really is a better deal than a more expensive one or whether, once you remodeled, you'd be out about the same amount of money.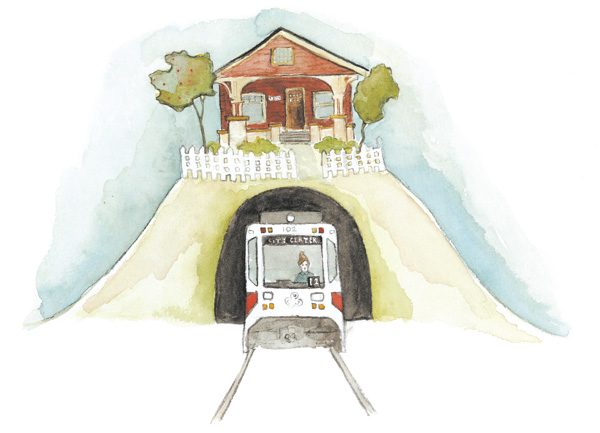 5. Thinking that condominium living equals maintenance-free living.
No yard, no roof, no siding, no maintenance, right? Not necessarily. "A lot of people think buying a condominium relieves them of all the maintenance responsibilities that come with a home," says Soderberg. "But unless the management company is really on the ball in terms of taking care of the building, there could be serious problems." And while the management's responsibility is only for the common areas, don't think that doesn't affect you: A leaky roof can mean water damage inside condos, and a shabby-looking lobby or peeling siding will affect your resale value.
Solution: Before you sign a sales agreement to buy a condo, research who maintains what and find out about the building's developer and management company's reputation for following up with repairs. "You have a responsibility to make sure your building is being taken care of properly," says Soderberg. "Be ready to get—and stay—involved with the homeowners association."
6. Looking at more house than you can afford.
Maybe you've scraped together just enough cash for that down payment or maybe you haven't gotten a loan estimate from a lender yet—either way, you're about to make a big financial snafu. There's more to a house than just the price: there's property taxes, homeowners insurance and closing costs. And don't forget upkeep. "I worry about people spending every last penny just to get into the housing market and not leaving a reserve for unexpected maintenance," says Holland. "When you buy a house, you no longer have a landlord to call when the roof leaks or the water line bursts."
Solution: Sit down with a mortgage lender to find out how much you can realistically afford to spend—and add all those extra fees and expenses into your budget, including socking money away for emergencies. "With the popularity of 100 percent financing programs, some people are buying homes before they've developed a pattern of saving money," says Holland. "Get in the habit of saving: You'll always need a little nest egg in reserve."
7. Not hiring an inspector to give you an independent assessment of the house you're planning on buying.
Just because the home you've got your eye on looks good to you doesn't necessarily mean it is good. Don't be fooled by how things look on the surface: it's what you can't see that can cause big problems. "The house could have foundation problems, leaks or eroding soil," says Soderberg. "And those things can be hard to determine without an inspector's trained eye, especially in new homes where everything looks perfect."
Solution: Get a professional opinion. Hire your own inspector (don't rely on the seller's word) and show up for the walk-through. "Go through the house carefully with your inspector," says Soderberg. "Ask what kind of insulation is in the house and how long the heater will last—you can't ask enough questions. And if you still have questions or need an estimate of how much money it will cost to fix specific problems, bring in an experienced remodeling contractor to take a look."
8. Not understanding who's representing whom.
Your real estate agent is there to help you negotiate a good deal, so what happens if the home you choose to buy is one that he or she is trying to sell? "It's perfectly legal for an agent to represent both the buyer and seller in a transaction: It's called dual disclosed limited agency," says Eskew. "But
it puts agents in an awkward position about how to help each client and keep the playing field even."
Solution: Ensure you get the representation you deserve."If you want to buy a home that your agent's listing, he or she can refer you to another agent who will be a good fit with you and who can represent you in the transaction," says Eskew.
9. Under-thinking your choice for a second-home location.
Your family loves the annual ski weekend on Mount Bachelor's slopes—snow, hot chocolate, playing boardgames by the fire. But is that enough to warrant buying a second home there? "A ski cabin is great in the winter, but is it a place you'll use in the summer?" asks Eskew.
Solution: Make a list of the pros and cons of your second-home choices. "Consider each location's distance from your primary home, the activities available and if the area is seasonal," says Eskew. "Once you've narrowed down the winning location, work with a real estate agent in that area: He or she will know about the housing prices, environmental factors and other things specific to that area."
10. Working with the wrong real estate agent.
Choosing a home is a personal experience. After all, a house is an expression of your personality and lifestyle. Your real estate agent is your partner in the process, so why settle for someone who isn't holding up his or her end of the bargain? "A good Realtor will do all the searching and weeding out for you, scrutinize property, give you advice and handle all the negotiations," says Holland. "You're going to be spending a lot of time with your agent, so he or she needs to understand your needs."
Solution: Don't just select an agent at random from the phone book: Do some research to find someone with whom you click. Get referrals from friends and check references. "Open houses are great places to start," says Holland. "Not only can you check out the home, you can interview the Realtor and watch him or her in action. And don't underestimate the value of experience. All Realtors have to study the laws and pass a test, but that doesn't teach them how to do the job. The only way you learn that is by doing it. Even after selling real estate for 28 years and more than 1,000 homes, I still find that every sale brings some new challenge to learn from."
11. Underestimating what's involved in owning a fixer-upper.
What comes to mind when you hear "fixer-upper"? If you say, "Slap on a coat of paint and screw in some new cabinet knobs," you're in trouble. Buying a house that needs improvements requires serious time and skills. "Many buyers have a lot of ambition and overestimate what they can realistically do themselves," says Olson. "If you're working full time, there's no way you'll execute a huge remodeling project in the evenings. And if you want to play general contractor for your project, as a homeowner and not a company that works with subcontractors on a regular basis, your project could get put on the back burner if those subcontractors get busy with other jobs."
Solution: Carefully consider what would be involved in renovating a fixer-upper. "Be honest about your time commitment and experience level," says Olson. "There are a lot of codes, regulations, design issues and planning that needs to be taken care of." And don't forget about cost: when you add up materials, permits and any experts you enlist, you may have been better off buying a move-in-ready home.
12. Buying more house than you really need.
Maybe the kids have moved out on their own and you're left with a big, empty house or maybe you've got a bad case of "buying in bulk" syndrome ('Why buy the two-bedroom house when I can get the three-bedroom for only $15,000 more!'). Whatever the case, your house is too big for your lifestyle, and that can cost you when it comes to things like heating bills and maintenance. "People are always accumulating more stuff," says Eskew, "and sometimes it's easier to buy a bigger house with room for your three ski sets and four boxes of mementos than to weed through your belongings and get rid of some things!"
Solution: Realize that bigger is not always better—and if you don't need a huge house, downsize! "Living small is a lot easier and simpler," Eskew says. "And there's a lot less maintenance and upkeep—especially with lofts and condos. There's nothing quite as good as going away for the weekend and knowing that all you have to do is lock the front door and it's all taken care of."
13. Not taking the time to learn the home-buying and lending process.
There's more to buying a house than home tours and moving vans, as fun as those may be. There are a lot of intricate steps (often including legal forms and complex math), and if you don't have a clear understanding of what's going on you could wind up signing papers on closing day with your head spinning. "The average home buyer won't know about things like mortgage insurance, title insurance and escrow, not to mention all the legal and real estate terminology," says LeRae Hunt, an assistant with Countrywide Home Loans in Lake Oswego, Ore. For example, many people don't understand the difference between a bank, a mortgage company and a mortgage broker—and since they offer different services and fees (banks and mortgage companies service their own loans but brokers find you the best deal and then are out of the picture), you could end up with financing that you're not really comfortable with.
Solution: Educate yourself on the home-buying process and terminology. "Some lenders require that first-time home buyers attend classes or seminars, but even if you're not required to, I'd recommend it," says Hunt. "You should also talk to your lender about what's going on. You'll sign a ton of paperwork when you buy a home, but you can't be afraid to ask questions about what you're signing at any time."
14. House-hunting at the wrong time of year.
It seems like home prices and inventory should be the same no matter what the season, but that's not the case: Just like any other industry, real estate has its peaks and valleys. And while it may seem like a good idea to house-hunt during the peak time when there are more houses on the market, you're also up against a crowd of other buyers—and that could mean bidding wars.
Solution: Try to start your home-buying search in the winter. There will be fewer homes available, but also fewer buyers, giving you the best shot at getting a great deal. "January and February are actually great times to look at houses," says Eskew. "You see the house at its worst, during the cold and rain. If it's dry and there's enough light, you'll be okay. Remember: All houses look great in the summer when the flowers are blooming, but you'll have to live in yours year-round."
15. Expecting the first house you buy to be your dream house.
Thinking that it's high time you left apartment living in the past and moved into that ultra-modern abode in Portland's West Hills that you've been eyeing? Get real. While it's smart to buy a home and start building equity, chances are your first place won't be the home of your dreams.
Solution: Be realistic about what you can afford. "You have to be prepared to buy in steps: a starter home, a second home, then the dream home," says Holland. "But do the best you can with what you've got. Buy the best-quality home in the best location you can, fix it up and build equity so you'll have a nest egg for your next purchase. Home buying is like car buying: You wouldn't get a BMW for your first car, but you can always trade up!"