For Phil Chek, going deep on historic details is worth every effort.
Photos by Cascade Aerials and Steve R. Haning Photography
---
While many of Phil Chek's third- and fourth-grade classmates were drawing cars, he was busy sketching houses. His early fascination has served him well during a 42-year renovation career focused on older homes with distinct architectural character.
During a recent renovation, Chek was tasked with putting a fresh twist on a 1929 English-style cottage in Lake Oswego, all while respecting its history and architecture.
"The goal was to make sure the house looks as good as it does now, 100 years from now," says Chek, the owner of PCA Design & Construction, based in Lake Oswego. In short, his favorite type of project: an older home just begging to be updated, loved and restored. Tudor cottages, Northwest Craftsman, farm estates, as well as all manner of homes requiring strict adherence to preservation codes—Chek has done hundreds of historic projects over his 42-year career.
"My process is to guide the client in how it should look. My clients liked the details the home had, so we just played them up," Chek says.
---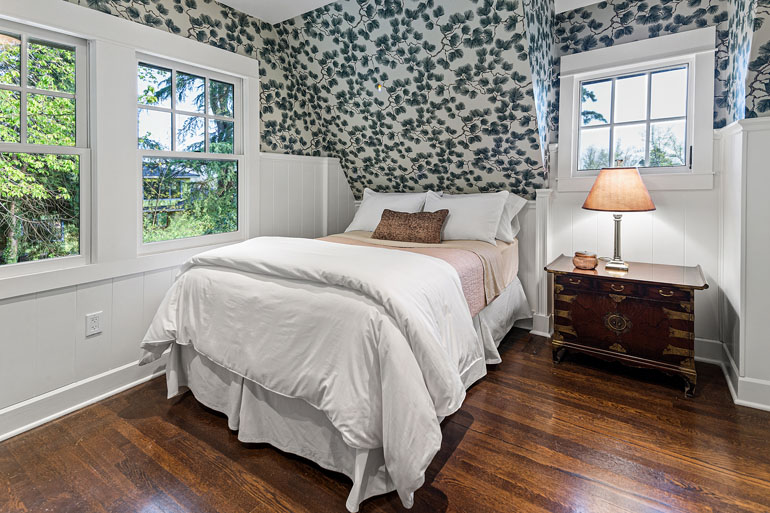 ---
The Past Is Present
Pre-renovation, Chek tracked down old photos of the home—originally called "House on the Hill"—that show the cottage during its 1929 construction and shortly after completion. While the architectural pedigree remains uncertain, says Chek, design clues point to noted regional architects Richard Sundeleaf or Wade Hampton Pipes.
These early photos and the possibility that a noted architect may have designed the home served as a guide and reminder of what Chek wanted to achieve.
---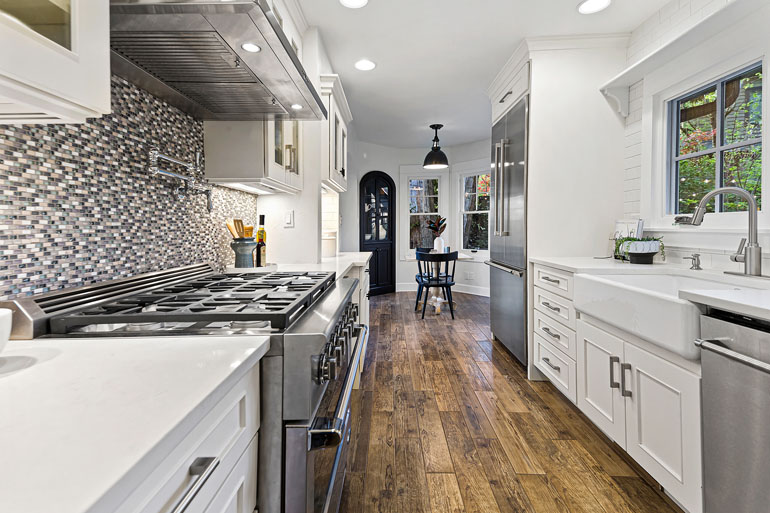 ---
Details, Details, Details
With room layouts and proportions maintained throughout the 2,700-square-foot home, Chek focused on amplifying the existing English-cottage details. He also looked for ways to incorporate new, period-appropriate flourishes as he refreshed the space.
The galley kitchen was outfitted with a period-perfect farmhouse sink, new countertops and Pratt & Larson tile. Chek repeated penny- and octagon-shaped Pratt & Larson tile in the bathrooms. In the bedrooms, he hung hand-silkscreened wallpaper the new owners sourced from England.
Some elements were left in situ, including stained-glass windows and a built-in corner cabinet in the breakfast nook, which was emphasized with a striking coat of black paint. The original front door was embellished with iron straps, and custom window shutters sport eagle-shaped cutouts in a nod to the home's street name and the nearby Oswego Lake Golf Course and Hunt Club. Cedar shingles were used over the entire exterior, and 21st-century improvements included new UV-glass windows, insulation and plumbing.
---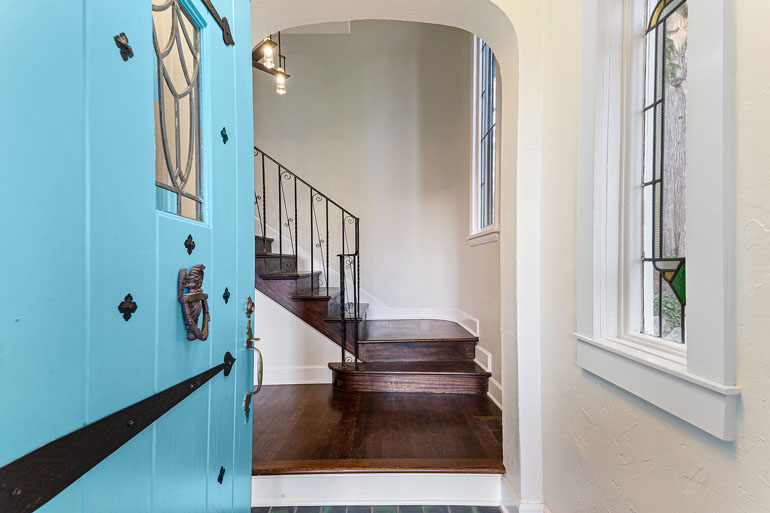 ---
ADU & Outdoor Living Add Continuity and Character
Chek reimagined an existing shop on the back lot as a fully independent living space. The 1,200-square-foot building was clad in stucco and remodeled to include two bedrooms, a living room, a kitchen and a bathroom.
With a degree in landscape architecture, Chek's expertise also extends to the outdoors. His deft touch is evident in the peaceful courtyard created between the main house and the ADU, where several seating areas and pergolas provide as much privacy or togetherness as desired.
Mature trees and original stone terraces give underlying structure to the landscape. Chek brought in native plants, St. John's wort, strawberry madrone and boxwoods, along with wrought-iron railings that conjure an English cottage garden.
"For me, it's about knowing your past and preserving your heritage," he says.
---