Garrison Hullinger Interior Design goes all out on a family's decadent bathroom suite.
---
There are luxury bathrooms—and then there are the generously appointed, shiny-fixtured, if-you-can-dream-it-you-can-make-it bathing palaces designed and created by Garrison Hullinger Interior Design.
The Portland design firm, headed up by Garrison Hullinger himself, takes luxury to new levels in its bathroom projects. So much so, in fact, that Hullinger spoke on the topic at this year's National Kitchen and Bath Association's Luxury Bath Summit, which explored how luxury bathrooms have evolved into spa-like spaces that offer sanctuary, wellness and quietude.
"I think the way that we approach it is about what you are going to experience in the space," Hullinger says. "It's about what's practical, what's livable—yes, but it's really about what you're going to experience."
---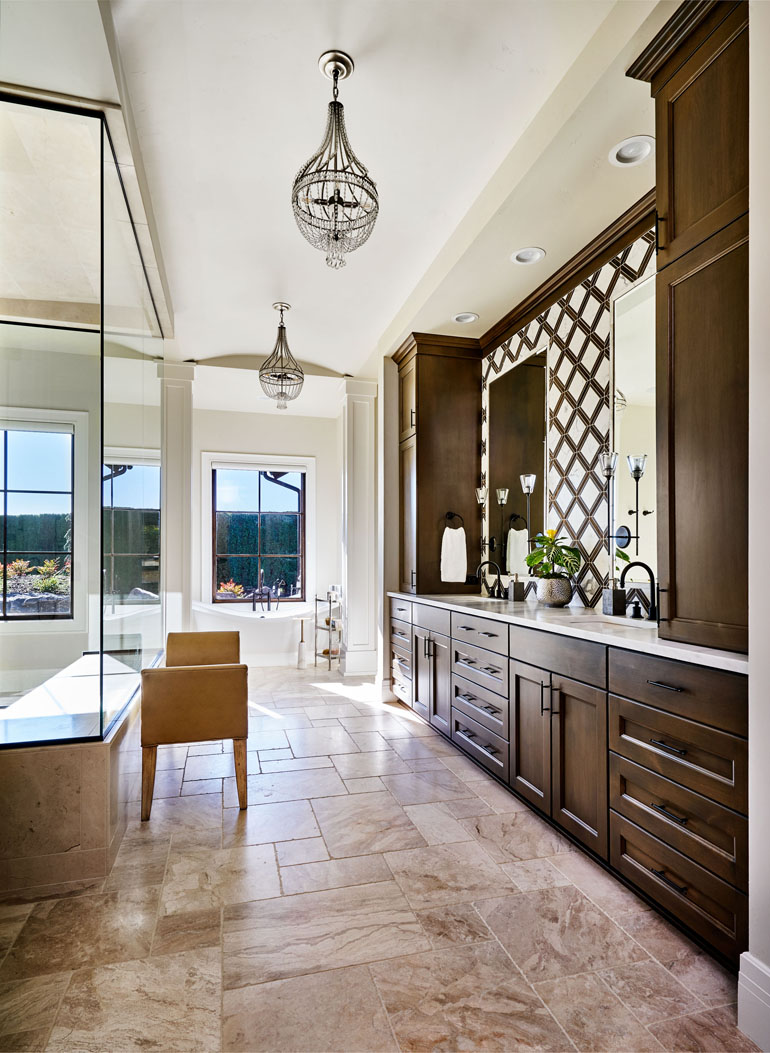 ---
For one local family who lives on a 40-acre equestrian ranch in Ridgefield, Wash., that experience included an opulent bedroom suite that tops 1,000 square feet in a home designed by GHID. The centerpiece is a glass-walled shower, complete with a steam shower and flanked on one wall by a European towel warmer. The suite features a soaking tub in a window-surrounded alcove with expansive views outside and a drying area with privacy shades and an enchanting vista of Mt. Hood off in the distance.
"Everyone wants the view," Hullinger says. "I always try to frame those kind of views as if you were on a hike and you're coming along the trail and you just see a view of a mountain or a river in a perfect frame of tree limbs."
Off the bathroom, the large suite accommodates separate closets, a private laundry, a beverage area and a fitness center.
One of the challenging aspects to the design of both the bathroom and the home, Hullinger says, was the couple's different style preferences, with the husband leaning toward the outdoors and rustic lodges while the wife tends toward elegant and soft. Hullinger says his team sought to combine the two styles to strike a balance. One example: The backsplash in the bathroom is an Ann Sacks part white-marble tile, part stained wood that creates a lattice pattern.
---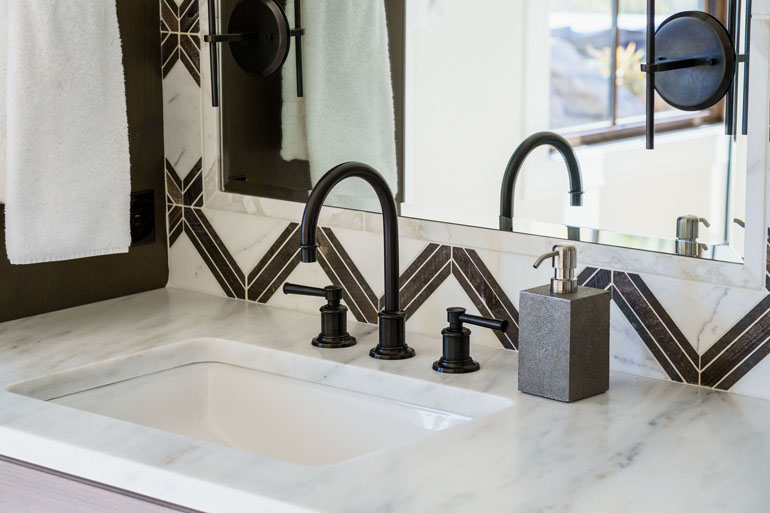 ---
"You get the rustic feeling but she also gets the luxury," Hullinger says.
Striking that balance is all part of GHID's approach to design. Hullinger says the team usually engages in several conversations with clients and surveys how they use a space before collaborating. Those observations really help inform the design and the kind of luxury that's on the table.
"I think what sets us apart is that we're really going to listen in the beginning to how the family or couple uses the space," Hullinger says. "We ask people not to tell us that they want this or want that. We want them to tell us how they're going to use it. From there, we can determine the solutions."
---