A Neil Kelly remodel creates ease and joy for a Eugene family in their home's hub: the kitchen.
Photos by Steve Spohn
---
Maureen and John Procopio had already been through the discussion of whether to move or to remodel­—and had decided to reinvest in their current home near Filbert Meadows Park in Eugene. But when the pandemic hit, Maureen started working from home in their kitchen, and they got a deeper look at how they were using their space. "The whole setup—so much oak—just swallowed the kitchen," says Maureen, a senior director of strategy at the University of Oregon. "We loved the size, but we cluttered all of the counters with stuff."
The couple's remodel wish list was small but impactful: They wanted fewer opportunities for clutter, more openness and better function. Working with Neil Kelly designer Kathy Hanson, the couple turned their dated kitchen into a combination kitchen and maker space, adding in storage that made sense—not storage for the sake of storage. The maker space itself became a flex space where Maureen could work, guests could eat or their daughter could work on school projects. "It all emerged in talking to Kathy about how we live," Maureen says. "We are a really close family. The way it turned out is really an outgrowth of what we like to do more than anything else."
---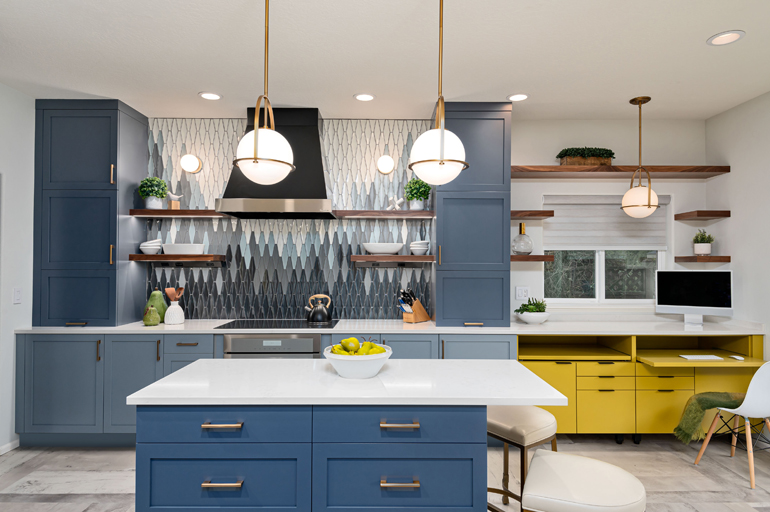 ---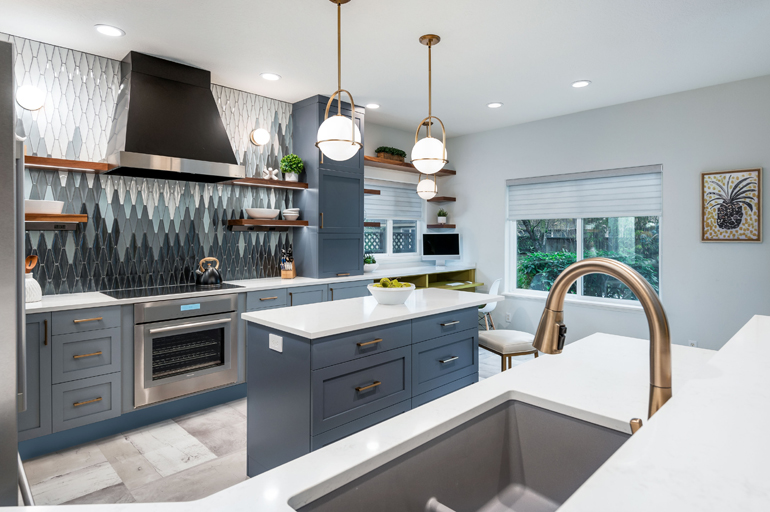 Floating Shelves
Decor Cabinets (Canada) in walnut with chocolate glaze, recessed flush under-cabinet lights
Statement Hood
Vent-a-Hood, with a custom extension to the ceiling
---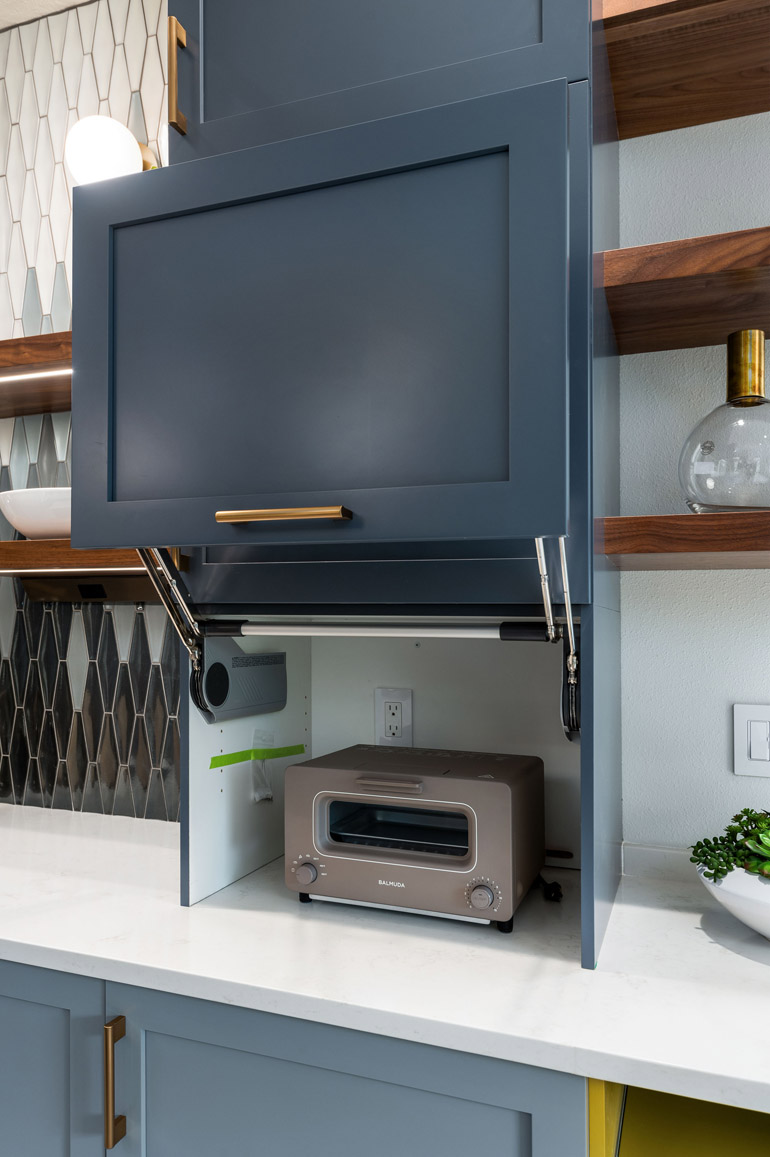 Cabinet Paint
Sherwin Williams Outerspace SW 6251
Cabinet Hardware
Amerock Versa pulls in Champagne Bronze

"The choices we made had to be surprising," says Maureen. "We're not a matchy-matchy couple, so mixed metals made sense."
---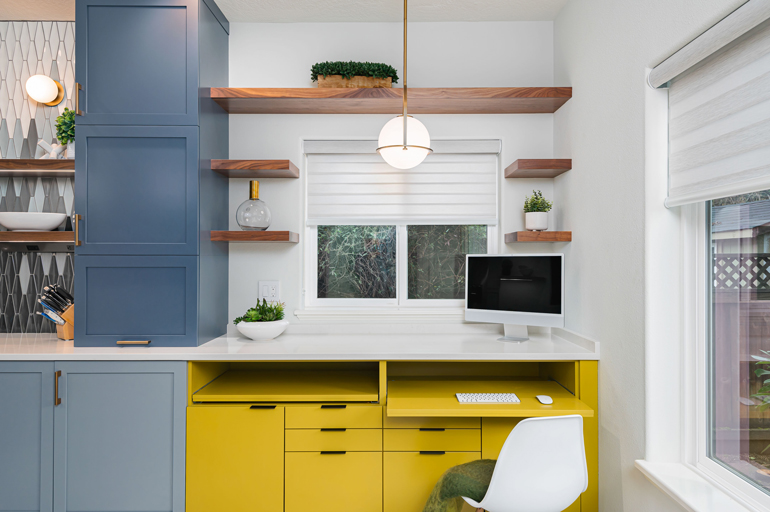 Custom Desks
Sherwin Williams Alchemy SW 6395

"These homeowners showed extreme courage in how they chose color," says Hanson.
---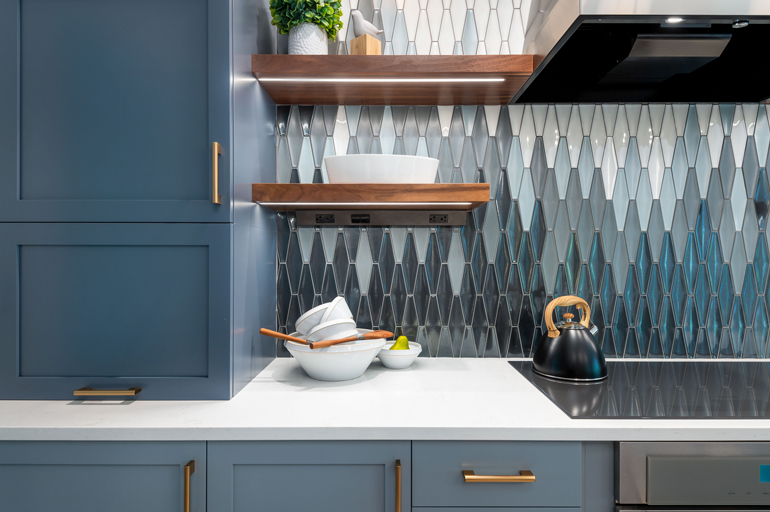 Japanese Porcelain Tiles
Cepac Verdon in colors Raven, Glacier, Dove and Rockport
"The tile is the most amazing thing. It's like an art piece," says Maureen. "We loved picking it out. We like to joke that the only thing we didn't do was taste them."
---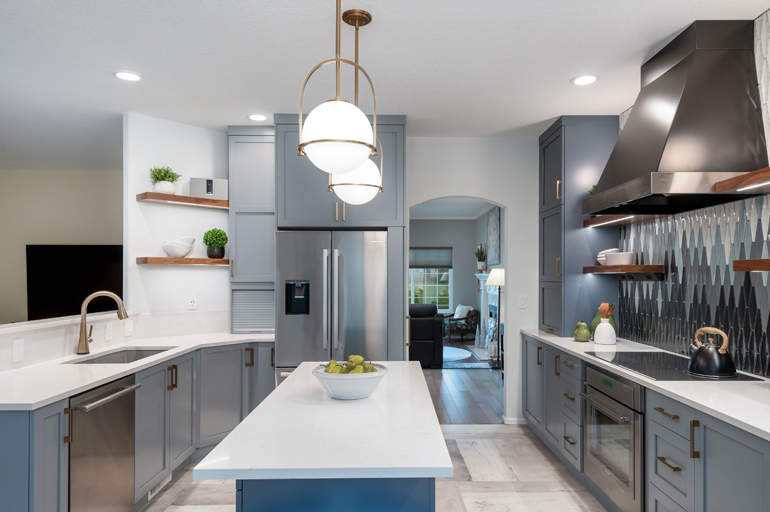 Christmas Reveal
Homeowner John Procopio loves the drama of a big reveal. So when the Neil Kelly team began the remodel, Procopio asked them to put up black drapery to prevent himself from watching the kitchen as it progressed through the phases of construction. "I loved how much they both wanted to be a part of this process," says designer Kathy Hanson. When Procopio had the urge to steal a glimpse, he would Google "million-dollar kitchens" to scratch the itch. He finally got to see the kitchen right at Christmastime. "When we dropped the drapery, he said he had never seen a more beautiful kitchen," Hanson says.
---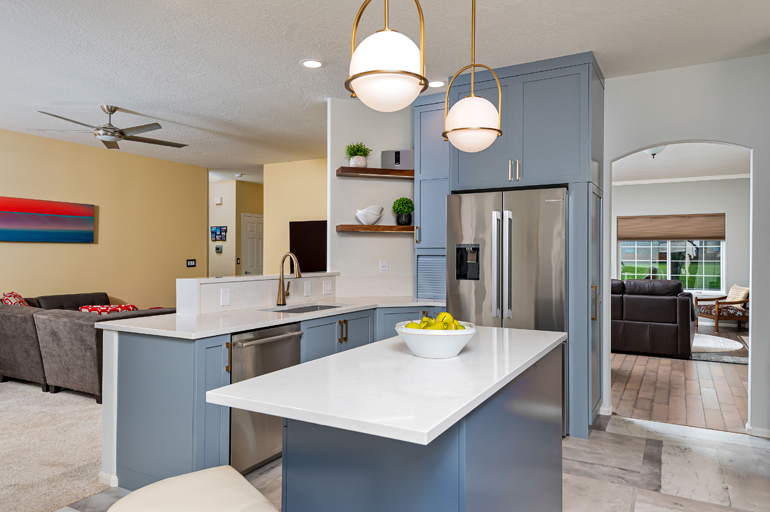 "What we really did with this remodel was make this space ageless. Before we walked in, you really could have carbon-dated this home to the late 1990s."
–Kathy Hanson, Neil Kelly, Eugene