A family finds its ideal designer for elegant family living in Bright Designlab.
Interior Design: Bright Designlab
General Contractor: Green Gables
Photography: George Barberis
---
Julie Duke and Andre Martin were just barely through a major home renovation on their first Portland home in the Southwest Hills when they spotted a house for sale on a winding drive in Arlington Heights, in the close-knit community surrounding the historic Portland Racquet Club, just outside of downtown.
"We loved the house, but we really bought it for the backyard," says Duke. "When you move to a new place, you don't always know where you want to be."
The 1931 Tudor had enormous potential for family life with daughter Ava, 20, and son Ronan, 17: four bedrooms and five baths in a serene, park-like setting, with an ADU and a swimming pool. It had ample room for Duke to work remotely for the Oregon Psychiatric Security Review Board and for Martin to consult with the world's largest companies on talent acquisition. And the couple knew exactly who to call, since they had now worked with Bright Designlab on two other house projects: their first Portland home and a new build in Bend. They were looking to replicate the specific collaborative magic they share with Alissa Pulcrano, Principal Designer of the Portland-based company, known for its design-forward residential and commercial projects.
"Alissa's a little bit of a mind reader," Duke says. "She knows what we're going to want before we want it."
---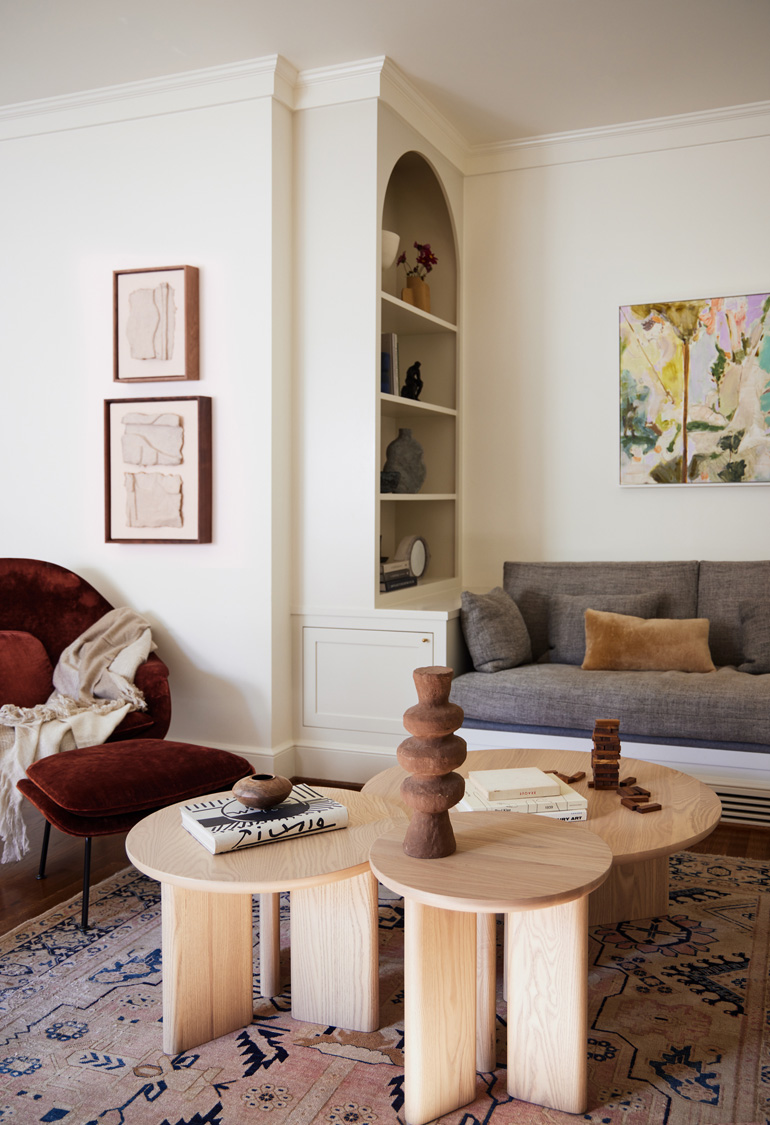 ---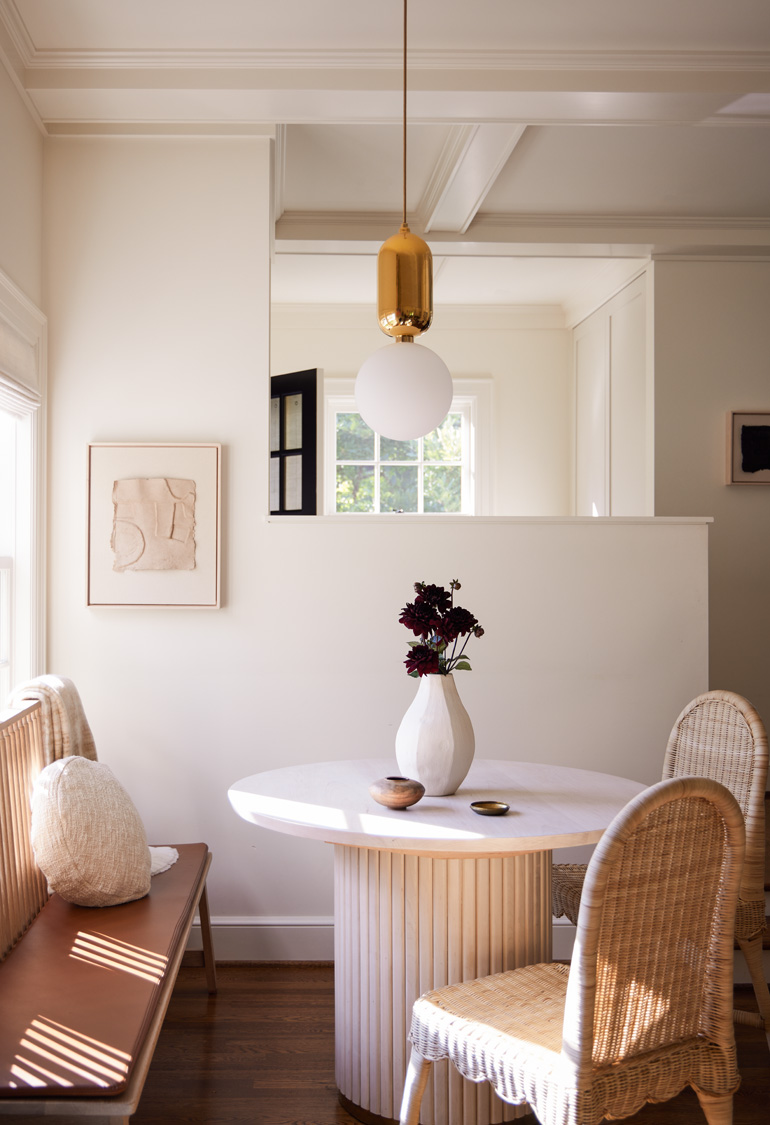 ---
The Tudor Duke and Martin fell in love with had much to recommend it in terms of layout and accommodation but had lost some of its character during previous remodels. So Pulcrano focused on the high-activity spaces that would add function and charm, reworking the kitchen entirely, redoing the dining room, improving the family's den, renovating the owners' bathroom and remaking the son's bathroom.
"I asked Julie if she was ready to do it all again," Pulcrano says. "It's not like on TV. You really have to get to know the home, but we already knew them and how they live."
One big change guided them all: the arched pass-through between the dining room and the kitchen—an opening just big enough to encourage great flow while still nodding to the home's historic past. It is bigger than one might find in a historic Tudor but still small enough to hide much of the kitchen workspace from the dining room.
"There's always this balance of wanting to make choices to complement the architecture," Pulcrano says. "It's a matter of renewing a home while being respectful of its architecture."
---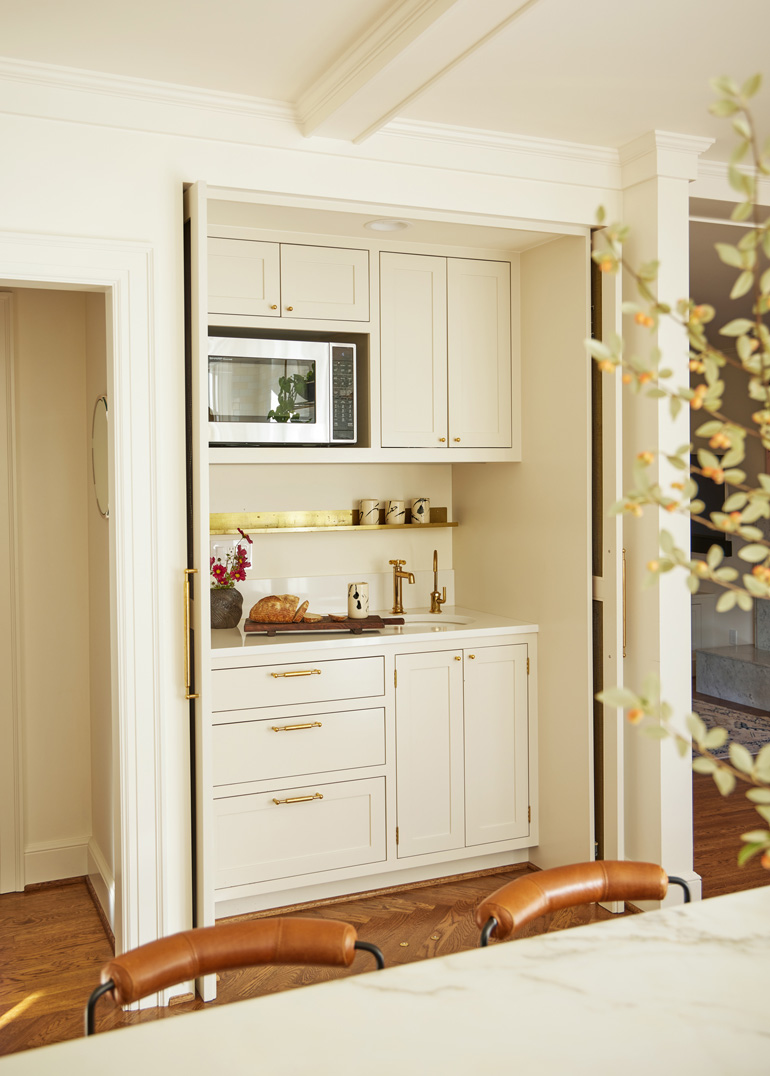 ---
In the kitchen itself, that meant a complete overhaul custom-designed for Martin, who likes to cook, and Duke, who likes to have clutter tucked away out of sight. Pulcrano pushed out the kitchen, trading some dated windows for added space, and removed all of the upper cabinetry for a lighter feel. She chose exposed hinges as a nod to the era and re-created a historic feel with completely custom cabinetry. Near the marble kitchen island, she carved out a beverage nook behind tuckaway doors that can be open for service or hidden completely, depending on the moment. Pulcrano also designed a custom brass glassware-shelving unit that functions as something of a statement piece while working for daily family use.
In the living room, the design team discovered a dropped ceiling that could be raised, and designed a custom corner sectional into two sides of the room. A smaller, more intimate gathering spot with a table and seating makes a lighter moment in a corner. Local art by Portland artist Holly Osborne adds a moment of color.
---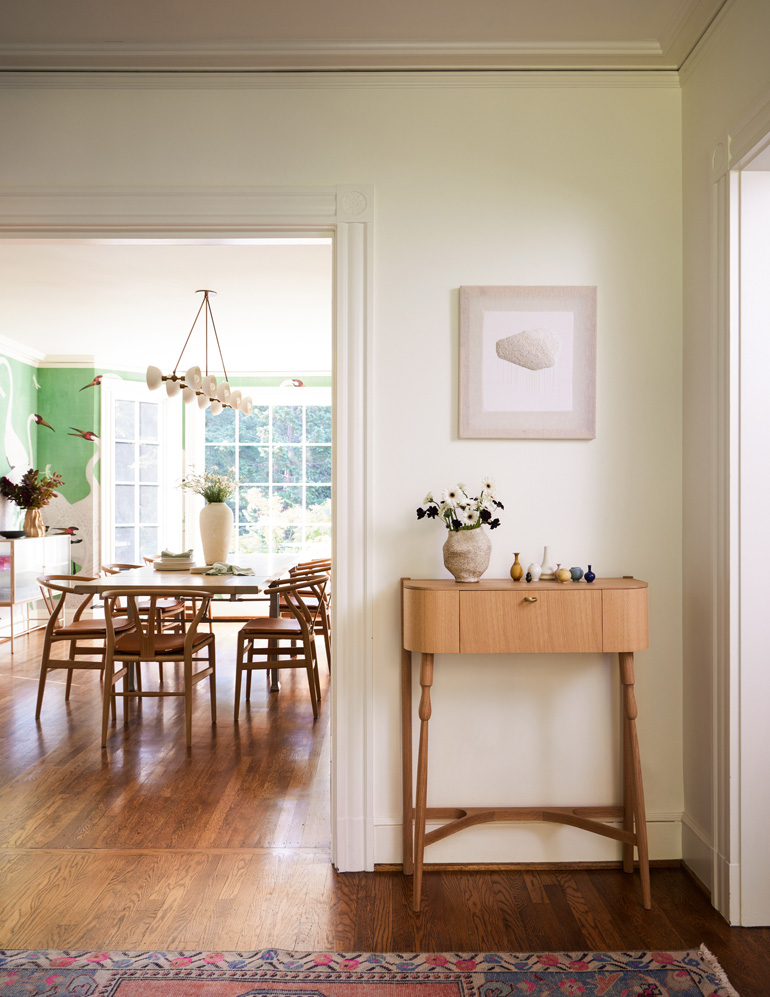 ---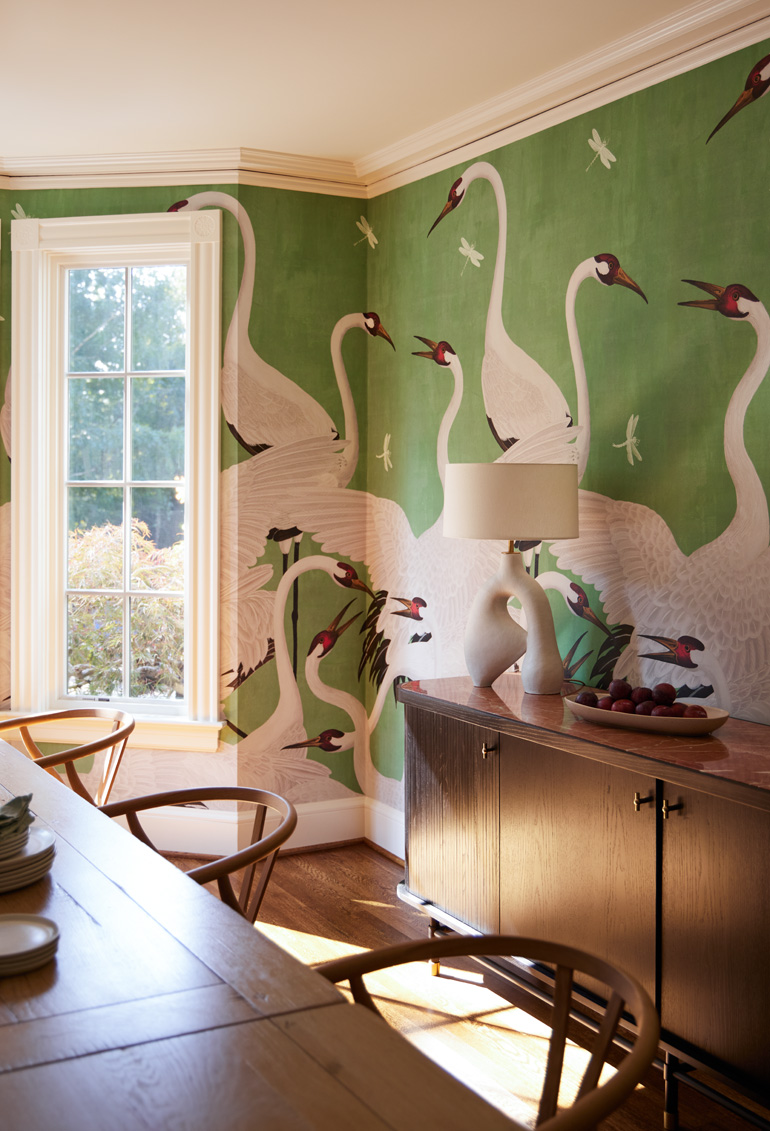 ---
One of the defining moments of the home is now the dining room, visible from the front entrance, and its exuberant Gucci Heron print wallpaper, which wraps the room in a charming cacophony of squawking birds. The bold choice creates an unexpected balance with the room's simpler furniture, including a sideboard designed by Bright Designlab.
"We must have looked at 700 different wallpapers to find this one—and it's perfect," Pulcrano says.
"Everything else in the home is really calm," Duke says. "We wanted the dining room to be about too much of everything—food, drink, talk."
---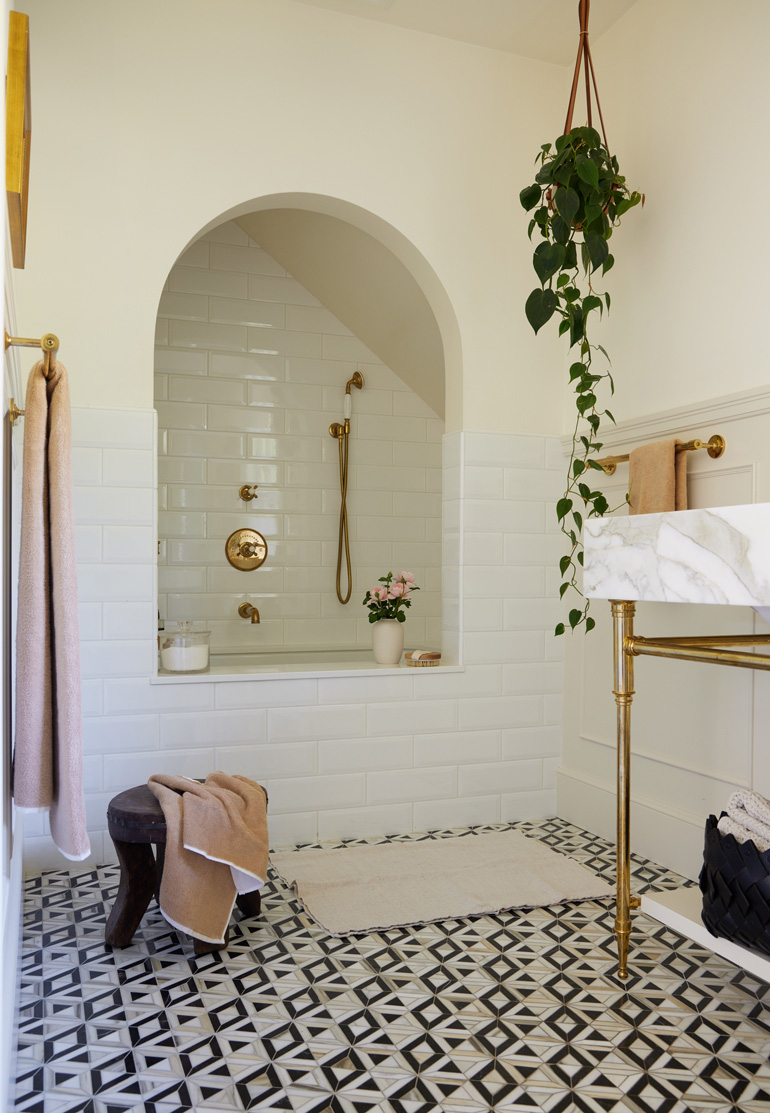 ---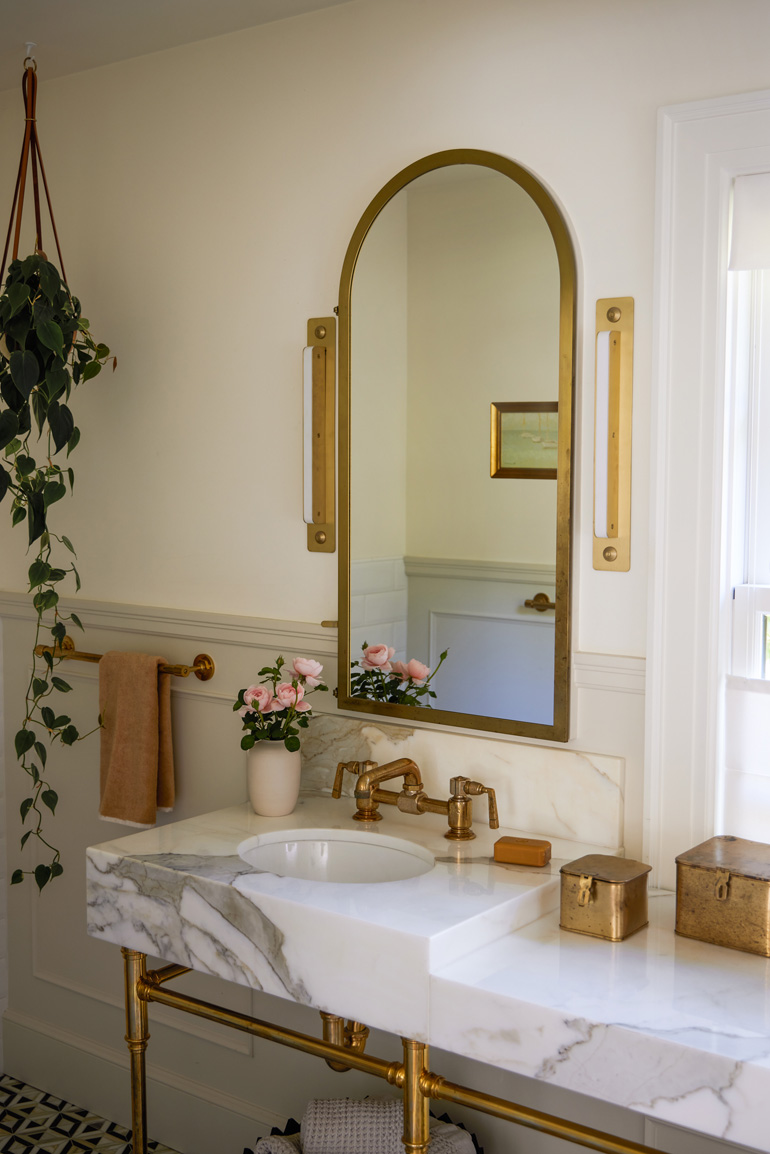 ---
Upstairs, Pulcrano carved out some space from a large shared closet to create the home's only bathtub, a small, enclosed space with an arch that feels at home within the Tudor's architecture. Here, she also worked in exposed fixtures befitting a stately home of the 1930s, pairing brass with marble in side-by-side vanities, and she added wainscoting for an additional historic flourish.
"Tudors really exude elegance," Pulcrano says. "It's a really sophisticated part of history, so there's a regalness to the home that we wanted to enhance." With a third collaboration with Bright Designlab under their belts, Duke and Martin are now looking toward their fourth—this one a new build in California. It's a Spanish-style home, near family.
"Honestly, at this point we could just give Alissa the keys and check back again in two years," Martin says.
---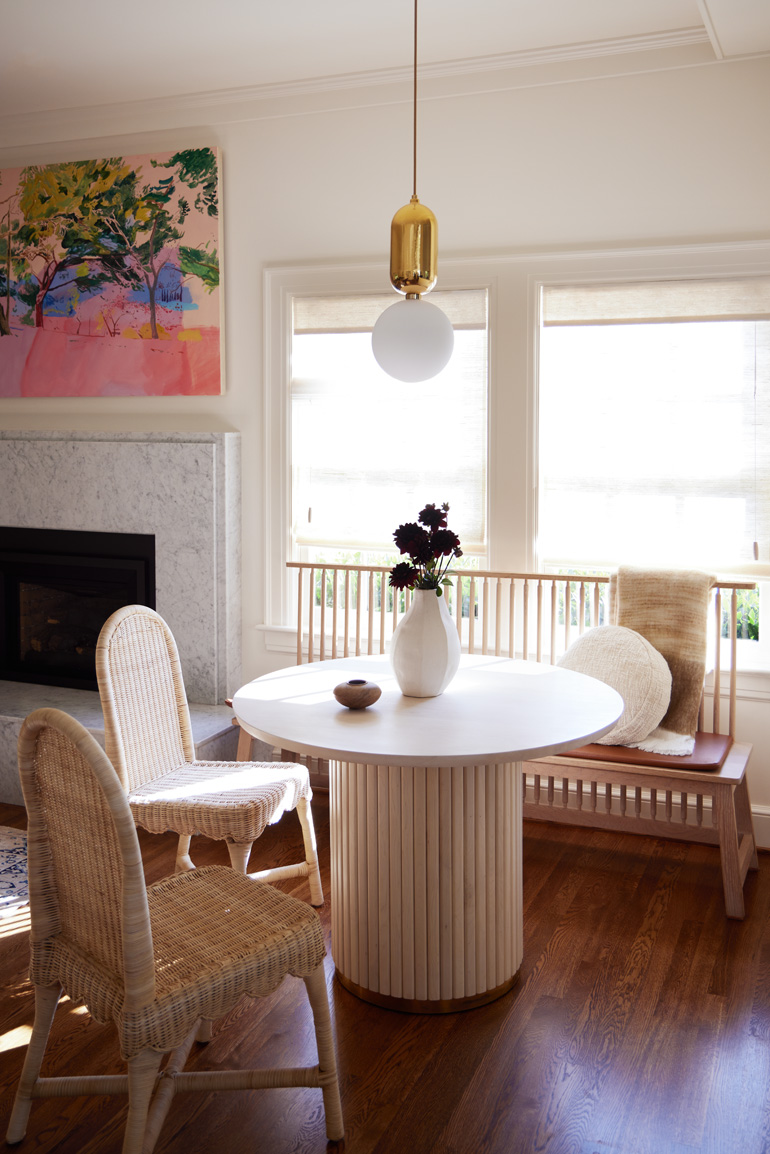 ---
Light Bright
Alissa Pulcrano and Julie Duke, both California natives, bonded over their fascination with maximizing light in Oregon's shifting lightscape. "It was never a factor where I've lived before," says Duke, who spent 20 years in Colorado. "Alissa really pushes me on the lighting choices. She really knows when to push and when not to." Pulcrano has an elevated approach to layering light in her designs, which give every room she designs a specific functional glow. She loves working with small lighting companies to create custom options you can't find anywhere else. "Assessing the light in the home is a major part of our design process," Pulcrano says. "We're very into light—it's one of the elements that make a project special."