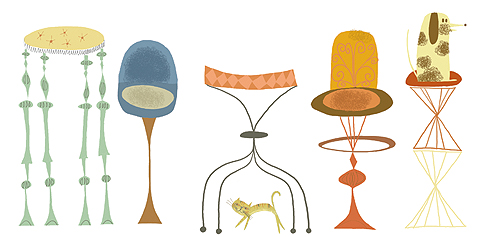 By Sheila de la Rosa // Illustrations by Matte Stephens
Are you living without stools beneath the eating bar in your kitchen because you can't decide between the LEM Piston or the Emeco navy stool? Wondering whether armrests are a must-have or an amenity to jettison? We asked a furniture maker and three designers to demystify how to end up with the right kitchen seating for your aesthetic, your space and your family. So practice saying, "Please be seated!"
1. For seating at a breakfast bar, avoid mixing and matching different chairs.
Your wife is wedded to having Lem Piston bar stools beneath your breakfast bar; you know the iconic Emeco navy stool is the perfect chair to accent your industrial-style kitchen. With the wisdom of Solomon, you offer to live with two of each! Problem solved, yeah? Not so fast, says interior designer Mark Parsons, the owner of Mark Parsons Design LLC and the in-house designer for Cooper Designbuilders in Portland. "You need six or eight chairs around a table to do the mix-and-match thing," he says. "Even then, it works best if your decorating style is whimsical such as Shabby Chic. Juxtaposing different stools and chairs when you only have three or four of them lined up simply won't look good."
2. Don't assume chairs in a restaurant are good ones to buy for your home.
As every tip-earning food server knows, making money in the restaurant business is all about how fast the tabletops turn over. A party of eight can settle into cushy armchairs and spend three hours going from salad to mousse, or, more preferable, four different parties can slide their tushes onto straight-backed, cushionless chairs and use said table one after the other, for the next four hours. Ka-ching, ka-ching. "When you sit in some restaurant furniture, the goal of the designer is to make you get out of the chair as quickly as possible, so restaurants are a terrible place to find a good dining chair," says Gary Rogowski, the director of the Northwest Woodworking Studio in Portland. "To be successful, a chair needs to feel comfortable in several different spots, because nobody can sit still for very long. You need a good seat height, seat angle, angle of the seat in the back, height of the armrests and a curvature to the back, not a straight back."
3. Think outside the dining room while shopping for the perfect dining chair.
One of the biggest endorsements I've ever heard for a dining room chair's comfort was from Portland architect Donna Wax, who uses several of Dakota Jackson's iconic Library Chairs around a beautiful hand-crafted round wood table in her dining room (see "The Modernist and the Arts & Crafts Home," Feb.-Mar. 2010). The robotically carved armchairs feature tongue-and-groove joints and a contoured seat. Wax says you can sit comfortably in the chairs for hours.
4. Don't order too tall a chair for your countertop.
Dining surfaces are all across the board, caution design pros, so you need to know the exact height of your bar—measured from the floor to the underside of your countertop—before you order your seating. "According to the National Kitchen and Bath Association (NKBA), dining tables are typically 30 inches tall; standard countertops are 36 inches tall; breakfast bars are 42 inches tall and commercial-style bars are 48 inches tall," says interior designer Kirstin Havnaer, the owner of Hearthstone Interior Design in Tigard, Ore. "But any of those heights can be customized. I tell my clients to allow 10 to 13 inches from the bottom of their countertops to the tops of the stool or chair seats."
---
5. Know that visitors read chairless breakfast bars as a visual void.
Whether your cabinetry came from Ikea or a custom cabinet shop, the run of vertical material beneath your eating bar was meant to be seen through the legs of chairs. "Today's kitchens have islands built for bar stools, so it really looks like a void without them," says designer Libby Holah, who, with her architect-husband Greg, is a creative force behind HOLAH Design + Architecture LLC in Portland. "But whether you go traditional or contemporary, don't make the seating a design focus. Aim for chairs that will remain timeless and classic."
6. Ergonomically assess famous designers' chairs.
Starchitects design chairs all the time, but that doesn't guarantee the seats will be comfortable. "Frank Lloyd Wright chairs were ghastly to sit in," says Rogowski.
7. If your bar chairs or stools will leave feet dangling, think footrests.
You've got to think form and function as you make your kitchen seating purchases, especially if you went with a breakfast bar height that's taller than standard. "The higher the chair, the more you need a footrest," says Parsons. "It's just much more comfortable on your hips and your knees to rest your feet on a footrest than to have them dangling in the air."
8. Factor in the age of your kids as you ponder your seating options.
An adults-only household can opt for seats slipcovered in Dupioni silk or constructed in a tightly woven wicker; if you live with children or pets, go for materials that you can easily wipe down. "If you've got young kids, who tend to be messy eaters, you shouldn't go with a wicker or caned seat," says Havnaer, who has two boys in grade school. "It's just not fun picking out macaroni and cheese or flakes of fish sticks from between strands of wicker."
9. Don't blackball vintage stool styles.
It's easy to feel like an exclamation point in an unpunctuated world if you love a retro look but you're living in these Mid-Century Modern Times. "I still love the old '50s chrome soda fountain stools; they're so much fun," says Parsons, who just wrapped up a two-year-long quest to find the original chairs that match his 1959 Haywood-Wakefield dining table (thanks to craigslist). "And I like the Asian-style stool with the rushed seat in a slight curve. The trick is to integrate the right chair into the right kitchen."
---
10. Avoid buying seating with pads tied to the chairs.
Even if you love Farmhouse Chic style, think twice before you tie on seat cushions to your chairs. "Those chair pads that you tie to your chairs in four places don't give you a neat and tidy look," says Havnaer. "They give you a look that's too countryish. If you want more cushioning, go with a well-made upholstered seat."
11. If you love to shop online, work with your designer, not against her.
Designers are on to your late-night Googlefest after the kids are in bed, but they also know that just because a client can source something doesn't mean they should order it without seeking their designer's counsel. "I find it helpful when my clients shop online," says Havnaer. "I want them to see what's out there, but once they find something they like, I want to help them fine-tune whether it's the right size and the right chair for the space. It's such a hassle to package up three bar stools and mail them off to get your money back, so I want to save my clients from that."
12. Bone up on basic chair construction.
Since the proper back angle is crucial to a comfortable chair, know what the optimal seat back angle is before you pull out your plastic to buy a four-seat set. "Every body is different, but most people find a 105-degree seat back pretty comfortable," says Rogowski. "If you go 110 degrees, then it's not a chair you want for dining because you're too relaxed in it. The most critical thing is spinal column support—where the chair is supporting you. You really need lower back support, so if you've got a chair that has a beautiful curve to it but it only hits you at the shoulder blades, it's not going to feel very good."
13. Know that, with chairs, you get what you pay for.
Prices are all over the place with seating, so don't expect to buy an iconic stainless steel chair for $50. "Think about how durable you need the chairs to be and how often you plan on replacing them, because you use kitchen chairs daily and they will get trashed," says Havnaer.
---
14. Opt for seating that's in proportion to the rest of the finishes in the space.
"When it comes to finding the right chairs for your kitchen, it's all about proportions—the size of the chairs to the island and to the room, the height of the chairs to the countertops, the visual weight that the chairs have in the room," says Parsons. "To me, not finishing off your kitchen with the right chairs is like wearing a great dress with the wrong jewelry."
15. Shop Target to Design Within Reach.
For modern chairs, try Design Within Reach and Hive. Traditionalists  may find what they need at Crate & Barrel or Pottery Barn. Got a lower price-point in mind? Check out the wares at Ikea and Dania. And don't forget catalogs such as Room & Board (roomandboard.com), Frontgate (frontgate.com) and Ballard Designs (ballarddesigns.com).
16. Add pads to chair legs to protect your floor.
Before you put your new chairs in service, flip them over and add felt pads to the bottom of each leg to protect your kitchen floor. "Home Depot has a great child-proofing section where you can find things like felt pads to keep chair legs from ruining your floor," says Havnaer.
17. Buy seats that are the right depth for your bar.
Seat depth is another dimension that can make sitting in a chair a nonevent (as it should be) or a minute-by-minute annoyance that will wreak havoc on your knees for days to come. "I like to allow six to 10 inches of space between the bar and the edge of the chair seat," says Holah. "That way, you can cross your legs without hitting the island beneath the eating bar or hold a child in your lap."
---
18. Research how an upholstered dining chair has been put together.
You can't really see how well an upholstered chair was made. "If the framework that's holding up the upholstery was designed more for economy of scale than for bodies, you'll end up with a chair that's uncomfortable to sit in," says Rogowski. "Chairs that are screwed together don't last long. Joined mortise-and-tenon construction is your best bet for longevity."
19. Don't buy too few—or too many—chairs for the length of your eating bar.
This is where a designer can save you money. "The NKBA recommends at least 24 inches 'per butt,' but I like to give diners 30 inches per place setting so they have a little elbow room," says Havnaer.
20. Don't assume that a chair is a chair is a chair.
If you find an off-the-shelf chair you like, sit in several of them before you buy the quantity that you need. "I bought some outdoor mesh chairs at Costco, and I had to sit in a dozen of them before I found four that worked for my body," says Rogowski. "Even a mass-produced chair isn't exactly the same as the one next to it."
21. Be open to feedback.
What to do if your designer doesn't like your chair choice? Man up! "If a client has clearly selected the wrong style or size chair, I'll say, 'I want this space to look like you, but to look good, too,'" says Havnaer. "My philosophy is that it shouldn't look as if I was ever there because, really, I've got my own house to play around in!"