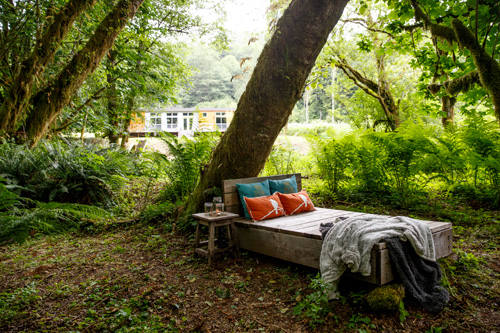 Cheryl Janis and Philip Morgan let their values of simplicity and tranquility guide their design process. Morgan built this outdoor bed platform as a birthday gift to Janis. It is the perfect place to commune with nature on a coastal property filled with old-growth trees.
// Photos by John Valls
Cheryl Janis and Philip Morgan tried not to laugh every time their coastal construction crew made reference to their cutting-edge, eco-friendly modular residence.
"It is a pre-fabricated home, but they would call it 'the mobile home' or 'the trailer home,'" recalls Janis, an interior designer and feng shui consultant. "So we started doing that too. If we said, 'Our pre-fab is on the way,' they would just give us a blank stare."
The finished product, a beautifully constructed, energy-efficient home made by ideabox in Salem, is hardly the stuff of trailer parks. Nor is the location — pristine, creekside acreage in an old-growth forest near Pacific City.
On first glance, the 875-square-foot orange rectangular house seems dwarfed by the huge trees. But inside, white walls and deeply contrasting coffee-colored floors and slate ceilings lend an air of expansiveness that is further enhanced by south-facing floor-to-ceiling windows and glass doors that take in the hills, creek and big trees.
"That one we call Grandma," Janis says, pointing toward a gorgeous moss-covered maple. "We had an arborist out here and that tree is about 165 years old. She's very vibrant and healthy, like the matriarch of the land. And then Grandpa is over there by the pump house."
Janis, 44, and Morgan, 38, made the jump from Portland to coastal Cloverdale thanks to a serendipitous chain of events over the past several years. A love of nature and travel was part of what drew them together in the first place — and they both gradually realized they were growing tired of too much stimulation in the city. They also realized they could do their jobs from pretty much anywhere. Janis does her consulting over the phone and Internet and drives to Portland for certain clients. Morgan, a technical writer, works almost exclusively from home.
"We are both very sensitive," he notes. "And after five or six years, the city turned out to not be the greatest. We love being in nature. Now, when I think of living someplace else — and having to drive to get to this kind of place — it feels like something I don't want."
Janis had a field day turning a hard-edged, modern structure into a softer, feng shui-inspired retreat. She describes herself as a "modern feng shui consultant" who eschews the clichéd approach of using lots of gold and red accents with Chinese statuary. Many of her clients in Portland are owners of holistic clinics for humans and pets.
---

The 875-square-foot home features a floor plan with a master bedroom and an office on either side of an open kitchen and living room
The fact that the house is energy efficient and "green" also connected it to the world of feng shui, which places a premium on the beauty of nature and preserving the natural world.
The ideabox home was manufactured in such a way that there is minimal waste, a limited amount of transportation involved for labor and materials, and minimal impact on the environment during construction. Recycled and renewable materials are used in all of the exterior materials and most of the interior materials. Appliances, lighting and air conditioning are all energy efficient. Paints are free of VOCs and there's a whole-house exhaust system for clean indoor air.
With the green factor under control, Janis was free to focus much of her design attention on the feng shui principle of mixing the feminine (yin) with the masculine (yang) and keeping energy flowing. That meant ditching some of the customary ideabox features, including an island and closed overhead cabinets in the kitchen. She also tweaked front door placement and cabinet heights and turned to specialty interior design shops for window coverings, light fixtures and other unusual elements.
"This is the first ideabox that looks this way," Janis says. "There are just so many things about it that they had never done before. So at first, when I was picking all the finishes, the company owner thought I was a little nuts."
Case in point: Billowy, feminine curtains hang from a single 36-foot rod that runs the length of the big south-facing windows and glass doors in the main room. Most ideabox customers go for clean-lined blinds.
While most ideabox homes have the floor-to-ceiling windows on two sides, Janis opted to put windows only on the south side in order to provide a more protected feel and limit exposure to the road to the north. The curtains provide additional protection from errant energies that are rampant in the world of feng shui.
Janis has also mastered the esoteric art of making a small space feel bigger. For instance, along with the expansive paint colors, she placed bamboo cabinets under the kitchen counters and opted for open shelves higher up to keep things airy.
Though the couple first considered building a house from the ground up, those plans did not pencil out within their budget. The idea of a weekend home was dropped when they discovered the property was zoned for a permanent residence.
| | |
| --- | --- |
| | > |
| | |
---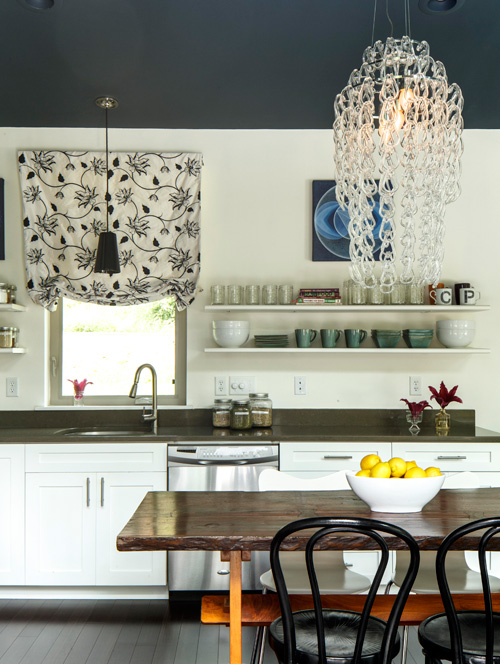 Working with ideabox, the couple was able to choose all of the finishes for flooring, cabinets and trim as well as colors. Within the framework of feng shui, the custom chandelier in the kitchen brings a touch of feminine to the more masculine farm table beneath.
// Photos by John Valls
When a friend steered them to ideabox, they met with company owner Jim Russell and noticed he was open to feng shui and other design idiosyncrasies. And the price was right.
"Jim didn't have this big ego," Janis recalls. "He was like, 'Feng shui? Totally! He said that I could do whatever I wanted and he would work with me."
"Cheryl really knew what she wanted in terms of her finished product and a lot of it was worked out in her mind before we even started," says Russell, whose family-run business is eight years old. "She came in with a specific design solution that included feng shui and a lot of other preconceived concepts. And the result was pretty cool."
Together they overhauled Morgan's office using principles of feng shui and design psychology and Morgan credits those changes with giving him the confidence to start his own business. Among other things, they made sure his desk was in the "power position."
In the new home, Janis was equally vigilant about placing their furniture in the "power position," which in feng shui means orienting it toward the front door and the views. This helps ensure prosperity and personal power.
"For me, this was a dream project," Janis says, noting that both of their companies have taken off since they made the move to this isolated place and included meaningful design elements in their interior.
"People in our culture don't include intentional things in their spaces, and it really contributes to quality of life."