Produced by the marketing department of Oregon Home
While you probably don't spend a lot of time thinking about cardboard moving boxes, try to remember your last move. Did you have to find, assemble and eventually get rid of piles of cardboard boxes? There's a better way.
// Photos by Eric Näslund
AlienBox is a new Portland-based company that rents reusable plastic moving boxes. The company delivers the boxes directly to you and picks them up after you're unpacked. "Moving is all about renting," says AlienBox co-founder and owner David Fleischman. "You never buy a moving truck. You rent a truck, rent a pod, and now you can rent boxes."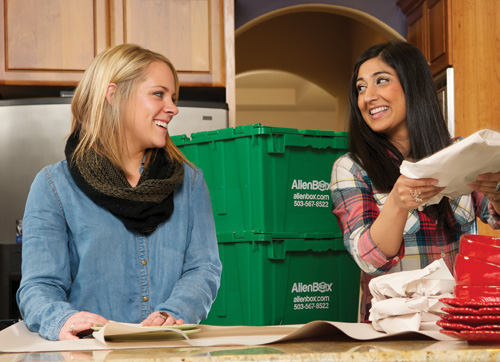 The idea isn't new in many East Coast U.S. cities, but AlienBox is the first to offer the service here in Portland. In fact, many people who move to the Rose City from elsewhere are familiar with renting moving boxes and know to Google for the service. When they find AlienBox here in Portland, they're thrilled that the service exists.
AlienBox works with residential and commercial customers in the five-county area surrounding Portland and Southwest Washington. AlienBox doesn't employ movers. That part is up to you.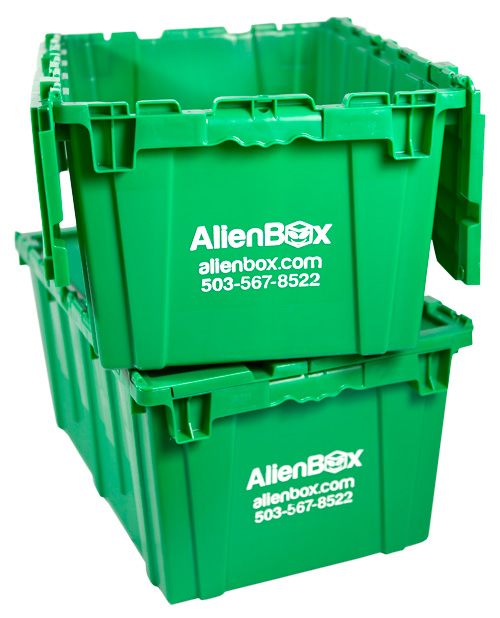 The boxes have handles and are stackable, which makes moving easier, faster and more ergonomic for you, your brother or a professional mover. And they're sturdy. While a cardboard box degrades quickly and can only survive a few moves, these plastic boxes have an expected life cycle of about 300 moves —which means they are incredibly strong and durable to protect your most treasured items.
People who use AlienBox live in all kinds of spaces, from apartments and condos to four-plus-bedroom homes with two-car garages. The service works for everyone, because no matter what, the reusable boxes save time, money and stress. "I can't tell you how many times someone has said to me, 'Why didn't I think of that?'" Fleischman says.
AlienBox prides itself on top-notch customer service, starting with determining precisely how many boxes you'll need for your space. Estimates are accurate, and boxes arrive clean and on time. To see their packages and prices, be sure to visit their website at alienbox.com. When you add up the time it takes to buy cardboard boxes, tape them together and break them down, renting starts making sense.

Want to find out more? Call 503-919-1022 or visit alienbox.com to schedule a package or, for commercial clients, an in-person consultation. 
Each AlienBox eliminates 200 cardboard boxes from the waste cycle, making a move with AlienBox an eco-friendly one.