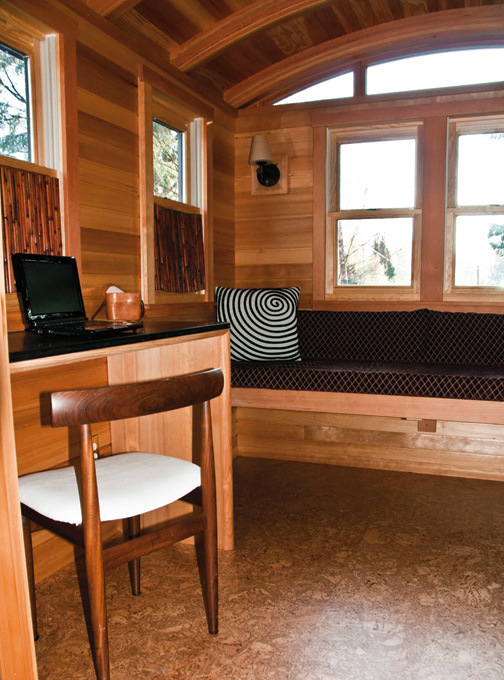 Photos by Teresa Meier
What's fire-engine red, has wheels and is utterly fantasy inducing? No, not a sleek Euro sports car but the Don Vardo, a 7-by-10-foot mobile structure with French doors, a tiny cedar deck, radiant-heat cork floors and hemlock walls.
Built by Portland Alternative Dwellings (PAD), the Vardo represents a new way of looking at living, says Dee Williams, one of the owners of the Portland-based company. "We work with dreamers, people who are realizing they'll gain greater liberty and clearer thinking by living in smaller spaces," she says.
Because the Vardo doesn't have a full kitchen or bathroom, it's not suitable for a full-time dweller. But with a desk, pullout bed and nook for a hotplate and water vessel, the mobile room would be an ideal guest room or writing studio, the kind of place Thoreau might have chosen to park next to Walden Pond. In modern times, parents facing a returning college grad or a novel-in-progress writer might revel in the Vardo's flexibility.
Williams says the Vardo, and similar types of mobile spaces, was born from tenets of sustainability. The structure can be moved (at speeds up to 60 mph behind a moving vehicle), which makes it more enduring and cheaper than any home addition or new structure with a foundation. It doesn't require utility hookups and was hand-built with eco-friendly materials.
The Vardo is a manifestation of what some call the "tiny home" or "small house" movement — the idea that people can rejigger their lives in order to dwell in uber-small structures. Williams intimately understands the idea; she lives in an 84-square-foot bungalow that runs on solar power and is currently parked in a yard in Olympia, Wash. "The Little House," as she calls her home, features a tiny sleeping loft and a kitchen nook without running water.
Building the home inspired Williams to form Portland Alternative Dwellings with finish carpenter and designer Katy Anderson in 2009. While the duo has only completed two structures top to bottom, they've worked on bits and pieces of three other tiny homes and drafted many plans for future structures.
If going small helps you think big, and the Vardo doesn't meet all your specifications (it's currently for sale for $16,000), learn to craft your own tiny home from scratch at one of PAD's one-day building workshops.
---
Portland Alternative Dwellings
Creates custom tiny homes and structures, teaches building workshops and sells a how-to manual and Don Vardo plans.
Tumbleweed Tiny House Company
A California-based company that sells finished houses, plans and The Small House Book by Jay Shafer.
Tiny House Blog
A hub for the tiny-home community. Stories about living in small homes, and listings for parts, homes and more.
Little House on a Small Planet
By Shay Salomon; Lyons Press, September 2006. A book featuring essays, photos and advice about building and living in small dwellings around North America.
Tiny House Design
A blog offering free tiny-house designs, links to companies offering small-house kits, an extensive blogroll of people living in tiny homes, builders and other resources.