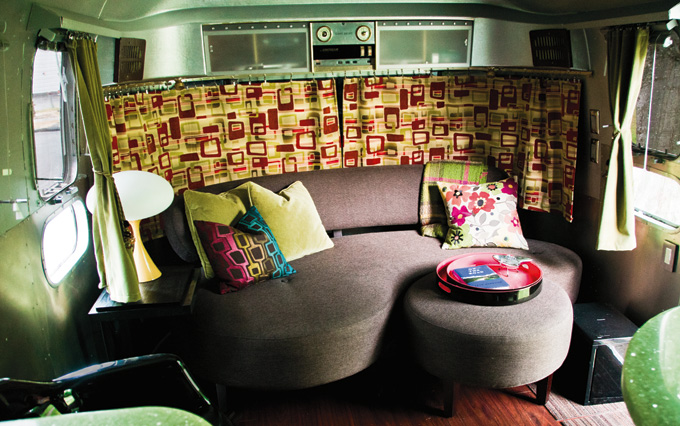 Colorful accessories with shapes and designs that reflect the Airstream's curves add pizzazz. "We wanted to give the inside a sense of fun," says Mona.
// Photos by Teresa Meier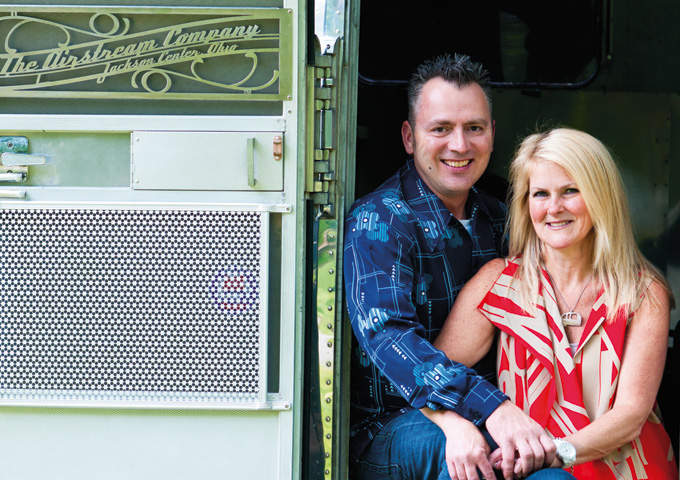 When Mona and Doug Heath paid just over $3,000 for a 1969 Airstream Tradewind, they knew rehabilitating it would be a big job. The 25-foot trailer, damaged in the 2007 Vernonia flood, was still full of water when they purchased it six months later. It needed a complete overhaul before they could contemplate redoing the interior. "We had to dry it out and set off a lot of bug bombs," says Mona. "I don't even remember how many layers of [primer] we applied inside." The Heaths did some of the initial work themselves, gutting it, replacing interior skins and installing a floating mahogany floor.
They modernized the Tradewind's traditional floorplan by designing a logical flow through the space and opting for electricity instead of propane as an energy source. A lounge area gives way to a cooking and eating area defined by two counters with rounded ends topped with Avonite, a material made from recycled acrylic. Under the eating bar, a wine rack and 12-inch-deep cabinets provide additional storage. The back, which traditionally held a bathroom, was transformed into a sleeping area, or bedpod, with built-in shelving. A small closet functions as an as-needed lavatory. "Most of the places we go have facilities, so we decided to increase the living space," says Mona. "We like to meet people wherever we go, and this layout works for socializing. We can have about seven people in here without it feeling cramped."
To remodel the trailer, they hired Greg Simons, the owner of Buildesign in Portland, who worked on it from late 2009 until summer 2010. "This project had so many interesting dimensions," says Simons. "I enjoyed the challenge of building in a space with curved walls. I couldn't work with standard measurements. Everything was scribed by hand."
---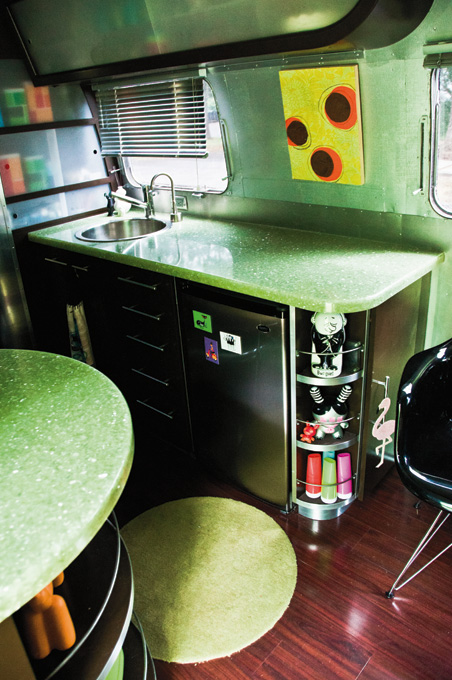 The kitchen's well-designed storage system includes space for dishware and utensils and a display area to showcase vintage figurines.
// Photo by Teresa Meier
Given the tight space requirements, Simons laid out the design with blue tape to be certain it was workable. "Everything had to be assembled in the Airstream," he says. "It wasn't like working on a house where you build cabinets in your workshop and then install them."
The couple, who own Vintage Fusion, a Hillsboro company that sources mid-century furnishings, gave their Airstream a modernist look. A curved couch from Kitchen Kaboodle, lighting from Lux, and retro-patterned curtains and accessories from their collection, such as a Nelson clock and colorful dishes, create an inviting vintage vibe that won them the "People's Choice Award" at the Palm Springs 2011 Modernism Week trailer show. "We've always loved that 1950s and 1960s ranch style," says Doug. "We wanted to have the interior reflect the Airstream's time period but in a way that worked for us."
The Heaths have taken their Airstream to California and throughout the Pacific Northwest. They belong to several Airstream clubs, attend rallies, camp and find that owning one has brought them into a community of Airstream and trailer enthusiasts. "When you have an Airstream, you take its whole cultural history with you," says Doug. "You pull into a campground and sooner or later people come up and start sharing stories of a trip they took in one."
---
The Oregon connection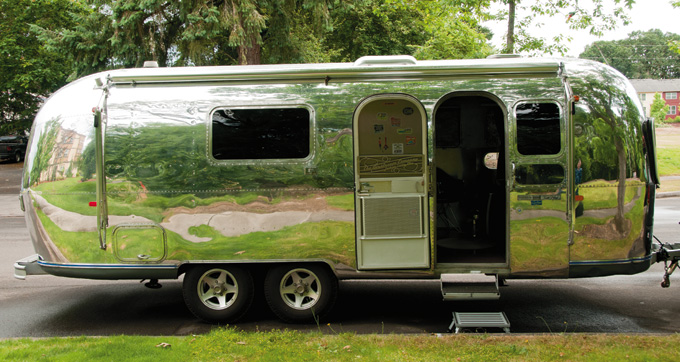 Photo by Teresa Meier
The inventor of the Airstream was Oregonian Wally Byam (1896-1962), who was born and raised in Baker City. As a teenager he worked as a sheepherder, living during summers out of a compact two-wheeled wagon that provided a well-organized cooking, cleaning and sleeping space, an inspiration for the Airstream interior. An Airstream rally in Baker City to celebrate Byam's July 4 birthday this year attracted more than 60 Airstream owners, including Mona and Doug Heath.