Melodie Chenevert lives in a museum. That's not a metaphor for a stuffy, formal house. The retired nurse and self-proclaimed packrat filled her Cannon Beach home with nursing memorabilia and had it zoned last year to function as a museum, which officially opens in May. And there is absolutely nothing stuffy about it or her. 
"I'm so old now I belong in a museum," she says. "So I opened one."
Chenevert, 70, bubbles with energy and laughter. She wrote several books on nursing — one was in print 30 years — and led lively nursing seminars across the U.S. and Canada, sometimes showing up dressed as a bee or a queen. She used her down time to scour flea markets and antiques shops for books, posters, calendars, sheet music and magazines featuring nurses. "The focus of the collection is the image of nursing," she says, "and not so much the tools of nursing."
When she and her husband, Gary, retired, they packed up the collection and moved from the East Coast to the Oregon Coast, "a plan 47 years in the making."
"Cannon Beach was the first place I ever saw the ocean," says the Iowa native. She was smitten. But jobs for nuclear physicists were rare so they followed her husband's career path around the country including 24 years in Delaware. In 1982, the opportunity for Chenevert to establish a nursing school in Astoria arose, so she and their then-school-age sons spent a year in Oregon. Chenevert was eager to reunite the family but she never stopped talking about the Oregon Coast. 
"Gary said, 'You know, Mel, there is an ocean on this side of the country,'" she recalls with a laugh.
---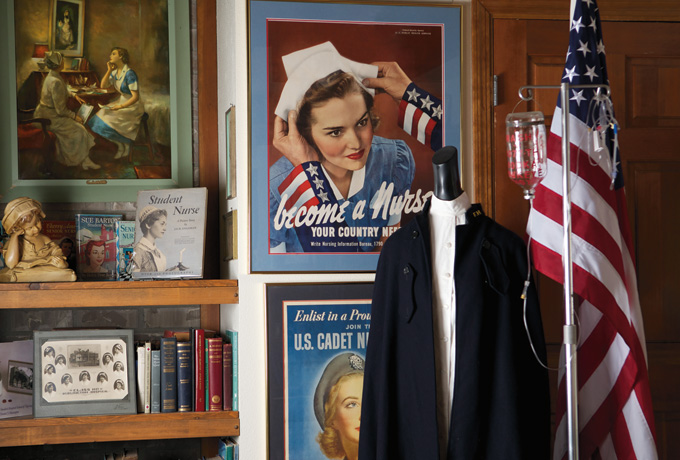 A uniform and cape hangs in front of WWII recruitment posters and books about nurses.
Photograph by Eric Näslund
Oregon won. The couple bought a craftsman cottage a few blocks from the beach and live surrounded by patriotic nursing recruitment posters, an antique wheelchair, glass cases of toy nursing kits and nurse dolls, and even a candle-lit Red Cross lantern used by nurses in WWI to find the injured on darkened battlefields.
"When I graduated from nursing school in '63 we weren't interested in the history of nursing," Chenevert says. "We were interested in keeping people alive."
Gradually she became aware of the rich history of nursing and was intrigued. She says 150 years ago, women who broke the law were sometimes given a choice between jail time or tending to the poor in hospitals. Many chose jail. After Florence Nightingale, nursing became "almost elevated to sainthood." 
"Now we are at the point that when a little girl says she wants to be a nurse, she'll be corrected. 'No. You mean you want to be a doctor,'" she says. "We need balance."
That perception of nursing is what drives Chenevert's collection. She first was drawn to the bright colors and melodramatic image of a WWII nursing poster but also has a weakness for goofy things that make her smile such as the vodka IV like the one from the set of M*A*S*H, a "Guernsey on a gurney" cow sculpture, and what could be a fantasy hospital bed made of  musical instruments scattered with band uniform pillows. 
"Sometimes," she jokes, "I wish I'd collected salt and pepper shakers." 
---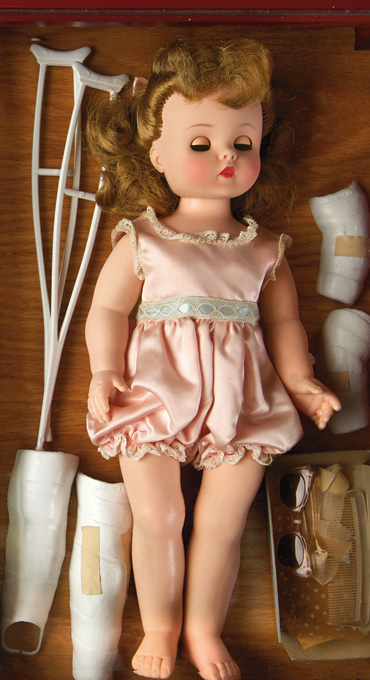 Marybel the Doll That Gets Well, circa 1960, came with casts and chickenpox.
Photograph by Eric Näslund
After visiting a nursing exhibition in Philadelphia and the Florence Nightingale museum in London, Chenevert realized the rarity of her personal collection and found the determination to establish the museum. 
"Do you squirrel it away in some archival safe for future generations to look at? Or do you vote to take it out and look at it now?" she asks. "I vote for now." 
The Cheneverts live comfortably amid the kooky collection, even when their five young grandchildren visit from Portland and New York. Most of the memorabilia is on the main floor. The master bedroom, TV room, and home office are upstairs. If a tour group comes through, "Gary can escape out the back and go for a walk on the beach," Chenevert says. The museum's visitors tend to be school groups, nursing students and established nurses looking to "get their batteries recharged." Other than special window blinds that filter UV light to protect archival items, the house has all the comforts of home. 
People often ask her what will happen if a tsunami comes."Well, it's just stuff," she says. But the stuff of Chenevert's home just happens to be museum worthy.
The Lost Art of Nursing Museum is located at 3285 S. Hemlock St. in Cannon Beach. The grand opening is May 6-12, and it will be open on Saturdays during the summer and by appointment. There is no admission fee.