Creating new design to match existing architecture is an important element of remodeling any older home. For this Richmond neighborhood homeowner, running a business from her home meant that functionality and comfort were essential elements in her intention to remodel the attic level of the home and create a new master suite upstairs. "When working from home, you need a space that's all your own, a space that gives you enough pleasure or room to unwind and disconnect so you're not always working." With three levels, one of which is used entirely for running her business from home, she needed a space she could retire to at the end of the day and have it be completely separate. 
In order to create this space she wanted to convert the upstairs attic nook into a full master suite.  She called the professionals at WILLCO to turn her idea into a reality. WILLCO's design-build team worked with engineers and the city's permitting department to extend the home with a dormer addition, creating a living space and making room for an upstairs bathroom and master closet, as well as adding height to the existing space.
She knew she wanted the perfect space in her home and WILLCO's team was able to create a design giving her the much needed expansion without disrupting the existing architectural elements.  WILLCO's design build team, through thoughtful consideration, collaborated with their client to help her realize her dreams of gaining a walk–in closet, a gorgeous master bath, and additional storage. WILLCO created a design which perfectly matched the style of the original home. "This project was done so well you can't tell the original siding from the addition." WILLCO'S carpenters really did a great job, they were able to remove and then reapply the original siding during the remodel for a seamless finish.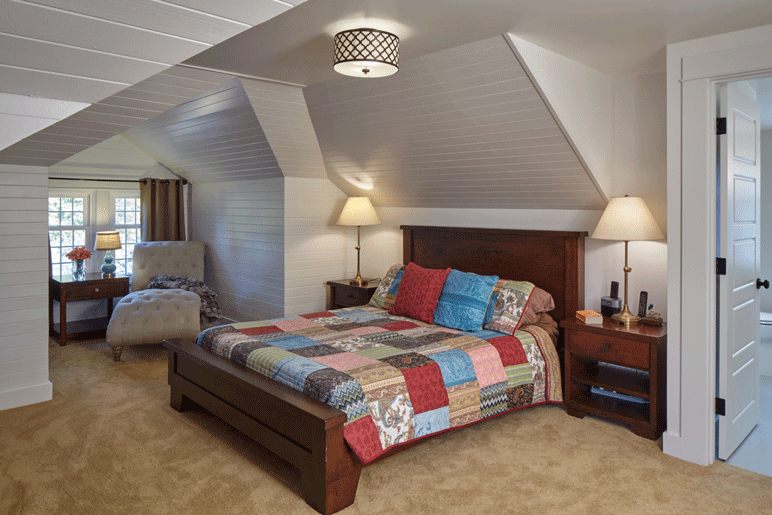 WILLCO assisted her entire design, from the conceptual spacial planning to the finer details of the project, like selecting the dark grout to pair with the lighter tile used in the shower. The detailed craftsmanship and planning that went into every aspect of the project created a polished functional space that maintains the original feel of the home and ensures long term enjoyment. WILLCO also helped this homeowner gain fun and functional features that utilized the space gained by the addition; like the built in shower shelf and seat, and a walk-in storage closet in the entry hallway.
"This project was done so well, I sometimes wish I could never leave my new master suite." WILLCO helped their client create a perfect space to suit her needs and help her unwind in her home after working. She feels more comfortable now and settled into her home and "my neighbors love the renovation. That's all thanks to the efforts of WILLCO's team, paying attention to details from design to construction."