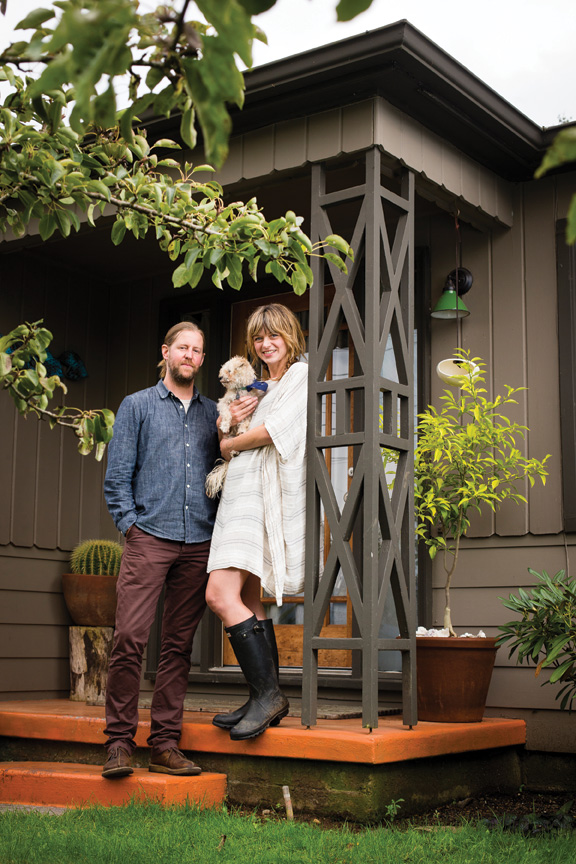 BY ELISABETH DUNHAM
When homebuyers talk about finding the house after a long search, they invariably get to the part where they describe something about the place that hooked them. It might be an inviting open floor plan or the way light shone through the windows or just a sense of coming home.
 For Kevin Atchley, co-owner of Portland's Pine State Biscuits, there were no such moment. The way he tells it, he had only a sense of grim determination when he walked into the 1949 bunker-like ranch that would become his home. "I think I was exhausted and regretting the amount of financial investment I had put into the search for a house," he says. "But I realized, 'Well here I am and I'm going to have to make the best of it.'"
Four years later—with a lot of help from his partner Laleña Dolby—he has done a lot more than that. 
One of many nearly-identical homes built for returning World War II veterans in the Cully neighborhood near Northeast Fremont, the house has gone from bland to bold. Its rustic yet modern interior combines elements of nature with artwork that seems to tell stories of weekend road trips down dusty country roads.
It is a huge departure from what Atchley recalls seeing that first day. "At first it was like, 'This place is so horrendous I don't even want to invite people over,'" he says. "It looked like it had been dipped in taupe."
---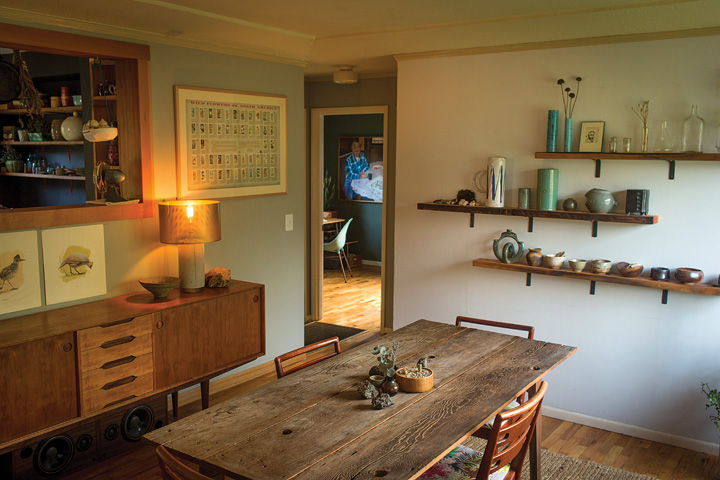 // Photos by Leah Nash
The drabness inspired him to act quickly. Atchley began putting together ideas for structural changes that would give new life to the home. It was a big task considering that he and two business partners—both natives from his home state of North Carolina—were  also in the process of growing their restaurant, Pine State Biscuits, which has since become a wildly popular small chain.
"Kevin is undaunted by challenges, considering them a part of the creative process," says Dolby who grew up on a farm and is now communications director at Zenger Farm, a nonprofit farm and education center in Southeast Portland. "He's excellent at taking something and working with it to reshape the aesthetic and function while at the same time retaining the history."
Atchley's natural eye for interiors was enhanced by his academic background in industrial design and the fact that he was also in the process of helping to create restaurant interiors with some of the same small-space challenges the 690-square-foot home presented.
"I was doing this house while I was trying to figure out how to whittle out a kitchen and dining room at our original 600-square-foot restaurant space on Belmont," he says. "I became very adept at making the best of a small space and learning that walls are not a necessity. Conceptually, the home and restaurant are very aligned, with the reusing and salvaging of materials and use of warm, reclaimed wood."
---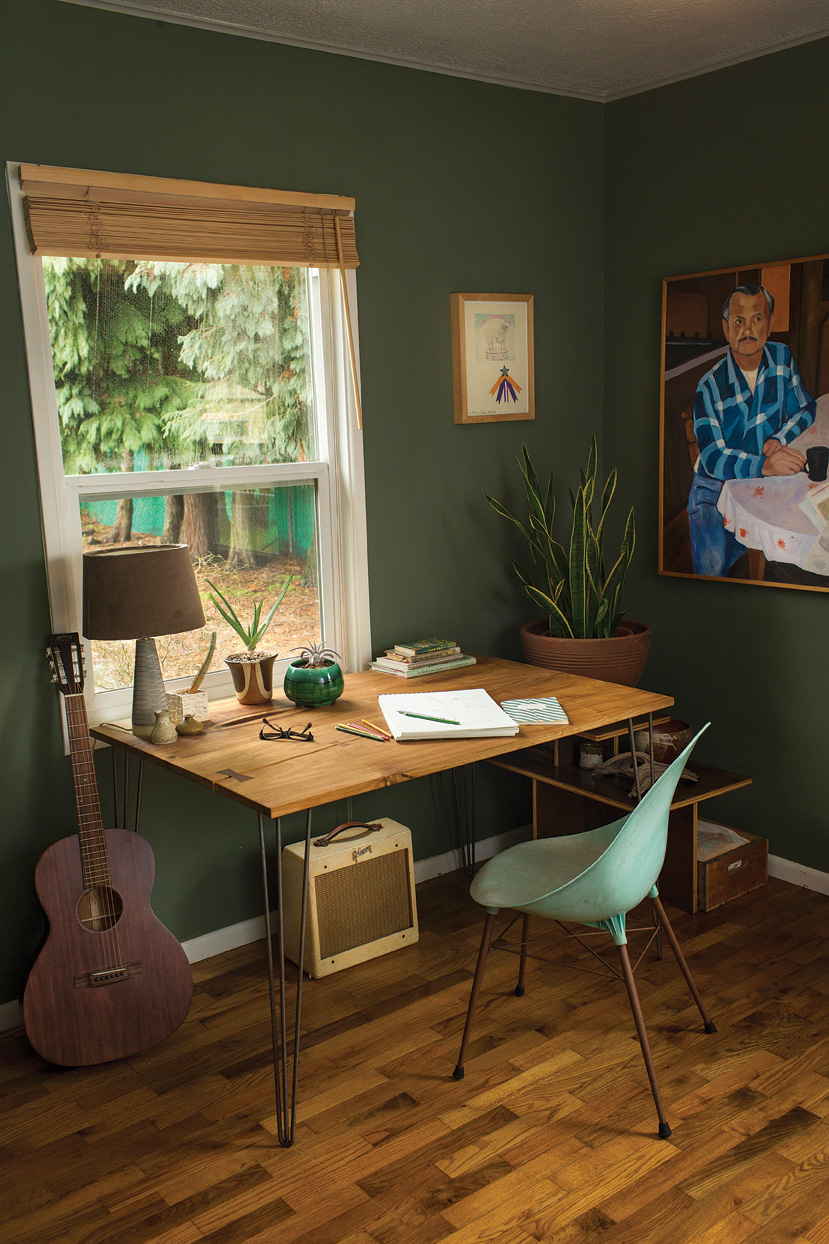 Atchley's first step was to cut a restaurant-style hole in the wall between the kitchen and what would become the dining room and to turn a garage into a mod sunken living room, adding nearly 300 square feet to the interior. Just as he was finishing that nearly year-long structural makeover, he met Dolby, an avid gardener. As their friendship blossomed, they discovered they had many things in common, including a fascination with design. Eventually, they moved in together.
"Laleña diminished the boundary between indoor and outdoor by bringing the natural world into our home with flora and artwork depicting nature and also by creating outdoor 'rooms' that we live in during the dryer months," Atchley says. The couple found sculptural cacti and succulents at a nursery in Yachats and scavenged coastal thrift stores for the right pottery to hold the plants.
In the oversized backyard, Dolby created wild-looking landscapes complete with stunning, mature white pines from a farm near the one where she grew up in Gaston, about 30 miles west of Portland. 
Atchley acknowledges he was lucky to have a partner who could help him "curate" his home at the same time he was busy growing a business.
---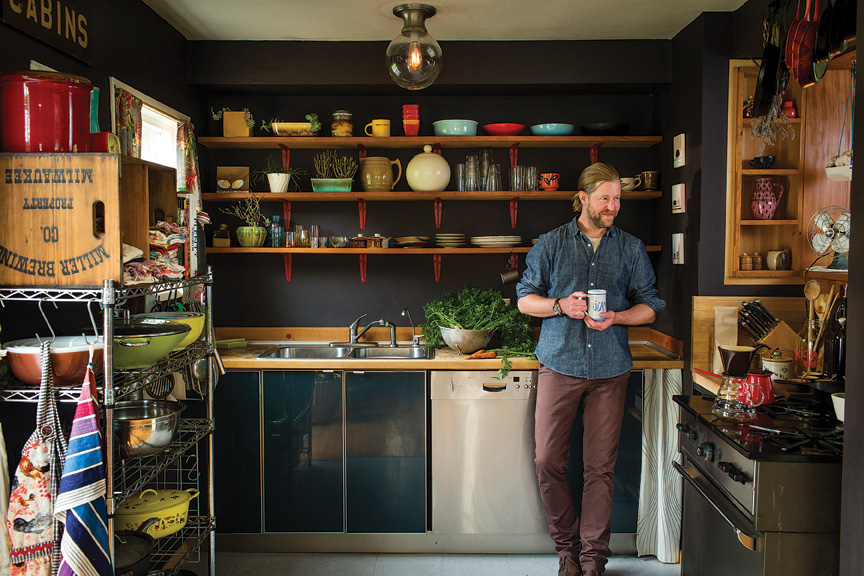 Pine State Biscuits was conceived one day about a decade ago, when Atchley and his North Carolina college friend Walt Alexander were headed up to Mt. Hood to  snowboard. They stopped to fuel up at a breakfast place in Southeast Portland before making the drive.
"We got what would be in North Carolina a staple breakfast for the road, which was biscuits and gravy—and it was heinous. It was so bad," Atchley recalls. "We felt completely cheated and frustrated because we were going snowboarding and didn't get a substantial breakfast."
Atchley, who had worked in restaurants since he was 15, but had decided that design was his grown-up calling, suddenly found himself moving in a new, but familiar direction. He and Alexander eventually joined forces with another North Carolina friend Brian Snyder and opened the first Pine State Biscuits—a  booth at Portland State University's Saturday Market specializing in biscuits and gravy. Later, they created the tiny Belmont location. When the hordes began descending, the partners opened another location on Alberta Street with the same result: a line of cult-like followers that circled the block waiting to eat buttermilk biscuits and country gravy, fried chicken and the Chatfield—a biscuit sandwich made with fried chicken, bacon, cheese and apple butter.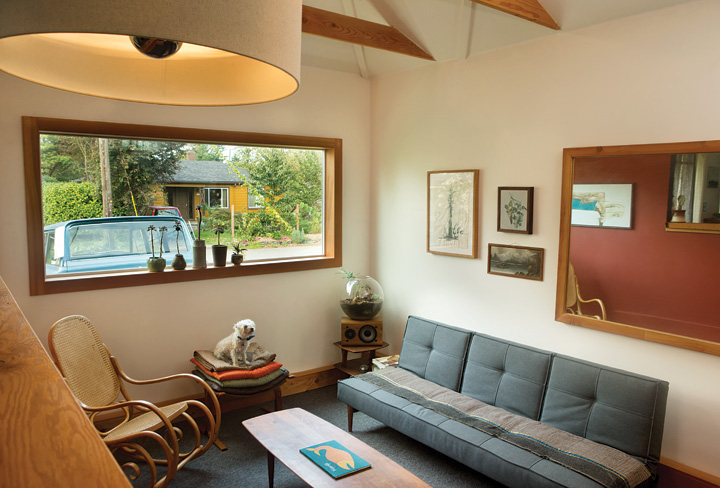 The restaurant has drawn accolades and attention from the Food Network and Oprah Winfrey to a bevy of food blogs across the nation.
"I realized along the way that restaurants were my calling," Atchley says. "Portland was just supposed to be a layover, but I decided I didn't want to leave once I got here."
At home, that same gift of vision paired with determination has clearly paid off. "To live in this neighborhood you have to have a vision," Dolby says. "The creative expression has not only made our home a beautiful place to be, it has expanded our experience together. We've met interesting and earnest craftspeople, artists and plant people, and had many adventures along the way."
---
Laleña's Garden Tips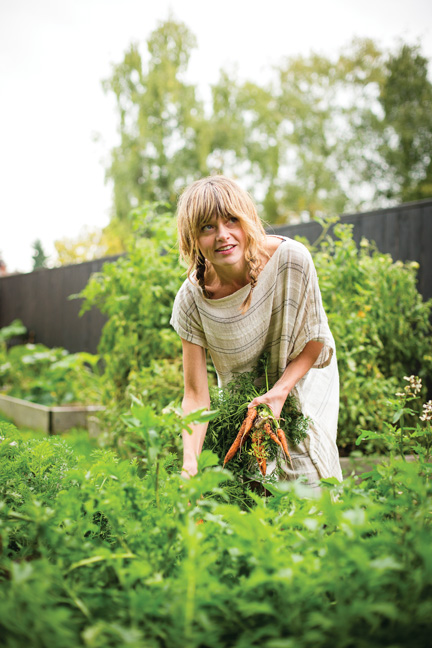 Gardens tell stories of their gardeners. Our large, untended property in Northeast Portland gave us the space to infuse our urban lives with memories of being raised in the country and childhood summer vacations. Through our choices of plants, we  documented our adventures together throughout the Pacific Northwest and California. 
Here are some ideas on how to create your own personal history garden:
Watch Observe how light and water move through your property throughout the year. Notice  the varied temperatures.  Get to know your soil by putting your hand in it often.  Notice where weeds grow and where nothing grows. These markers will help you identify the right plant for the right spot.
Reflect Identify themes in nature that inspire you  (rainforests, high deserts, wildflower meadows, grasslands).
Explore Pair what you've observed about your home landscape with themes that are important to you.  Explore natural landscapes with light, soil, elevation and climate similar to  your property. Note how plants relate to one another and the larger landscape. 
Work in Stages Tackle one area of your property at a time, starting with the spaces you inhabit the most. Select plants that  complement one  another when planted to  mimic what you've witnessed in nature. – Laleña Dolby