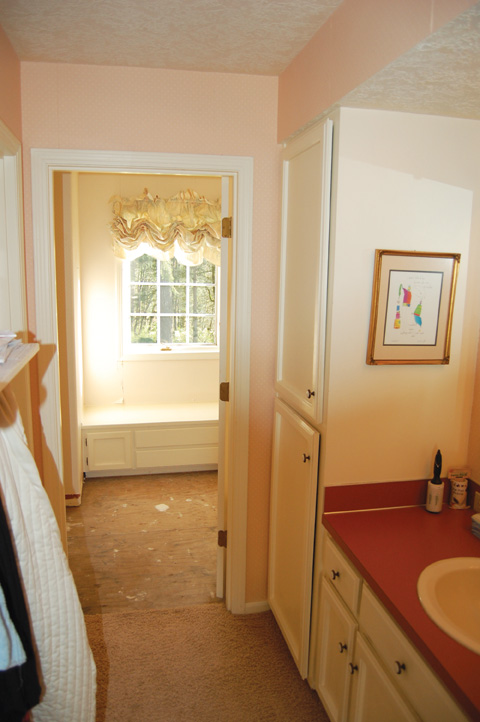 BEFORE
BY DAN COOK
PHOTOGRAPHY BY RICK KEATING
Consider the bathroom remodel in the Salem home of Ken and Judith Van Osdol. Ken awoke in the middle of the night in the fall of 2012 to the sound of a waterfall—except there isn't one on their secluded acreage off Battle Creek Road. "There was a leak in the toilet and the water was cascading down into the dining room below," he says.
Homeowner's insurance covered the cost of the basic second-floor bathroom repairs and restoration of the dining room. That work was done by a remodeler hired by the insurer. 
Judith had never liked the bathroom. "I learned to live with it, not love it," she says. With the space already in  disarray, the Van Osdols chose to see the damage as an opportunity to create the master bathroom they had always wanted.
Since purchasing the home 25 years ago, the couple had raised their two sons, changed careers and become embedded in the community. While they had never done any serious remodeling, the Van Osdols  had been keeping a three-ring notebook with ideas for the bathroom remodel. "We knew what we wanted," Ken says. And, he knew who he wanted to work with.
Kaufman Homes played an active role in reshaping their neighborhood over the years. Between custom-built homes and remodels up and down their leafy street, Kaufman had left its mark—a strong one, Ken says. "When you talk about quality in this town, you're talking about Kaufman." 
He asked Kent Kaufman, president of Kaufman Homes  to take a look at the bathroom and they discussed the couple's vision for how it  would be renovated. From that point on, the remodel went smooth as silk.
The Kaufman team worked closely from the start with the Van Osdols, paying careful attention to their input.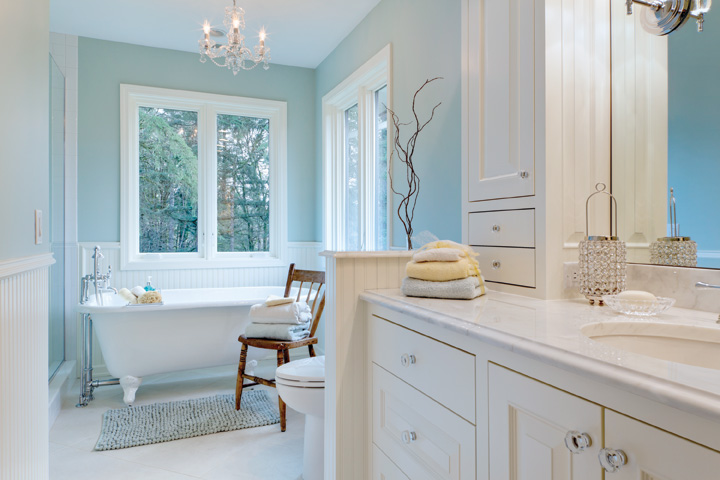 "The Van Osdols were ideal clients because they had a clear idea of what they wanted to do,"  Kaufman says. "Our job was to make it happen the way they envisioned it."
This project was no "dust up" of an existing room, but a near-complete tear out. A wall was removed and  a  window was added.  A claw-foot tub came in; an old 1980s shower stall went out. The vanity emerged sparkling and spacious.
"I used to call this place the cave," Judith says. "Now, it has more light than any room in the house."
The Van Osdols appreciated that Kaufman Homes provides a complete range of remodeling services including  interior designer Julie Vonflue who helps with the clients' decorating needs.
"It was so good to have Julie there advising us on the look and feel of the bathroom," Judith says. "We knew what we were looking for, but needed help from an expert to make it all come together."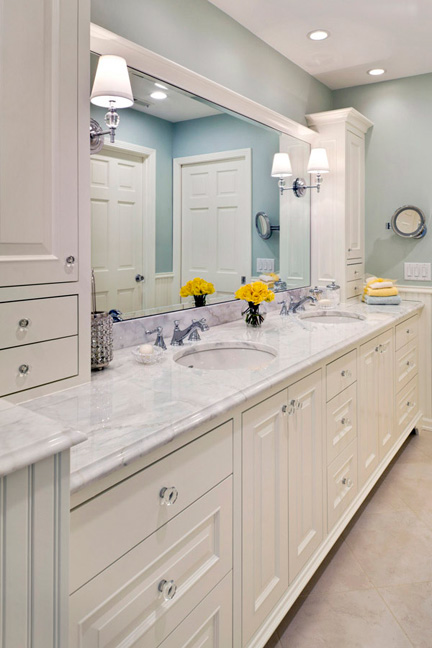 Updating a 30-year-old second-floor bathroom can be tricky. "With a bathroom remodel, they tell you to expect the unexpected," Ken says. "You just don't know what you'll find when something comes out. And we had several of those experiences. But Jesse Walder, the lead carpenter, was so good at adjusting the project to meet the challenges we encountered. He was just such a pleasure to work with."
---
The Van Osdols cite several elements of the Kaufman Homes process that were key to a successful outcome.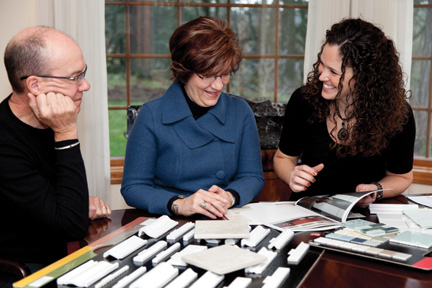 Communication is clear and consistent. "We knew where we were at every step of the way," Ken says. "If someone said something was going to happen, it happened."
Follow through is a core competency. "Workers showed up when they said they would," Judith adds. "The subs worked seamlessly together and before they left, they always cleaned up." 
Quality comes first. "You won't find a flaw anywhere in their work," Ken says. "They get it right."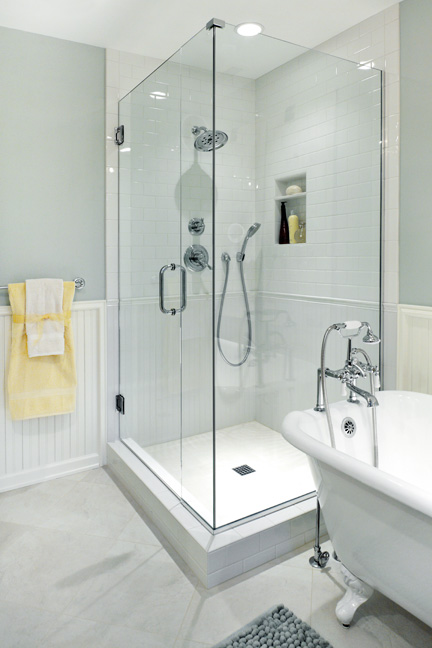 Kaufman doesn't "nickel and dime" clients, or insist on change orders for every little alteration as some contractors do, the couple agreed.
Finally, when Kaufman Homes' team said the job was done, it truly was.
"What is signature about Kaufman's work is that at the end of the project they hand you back your keys and the job is complete," says Ken. "There's no coming back to correct something or tie up loose ends. The job is done." 
 "Our bathroom remodel is 100 percent what we had envisioned," Judith says.
The Van Osdols were so happy with the master bathroom remodel that they immediately hired Kaufman to remodel their guest bathroom. Kaufman's team is taking the little second-floor room down to the studs, helping make another of the Van Osdol's home improvement visions come
to life.
---
Kaufman Homes specializes in custom home building and remodels. For more information, email [email protected] or visit here.