By Jon Shadel | Photo by Priscilla Rodriquez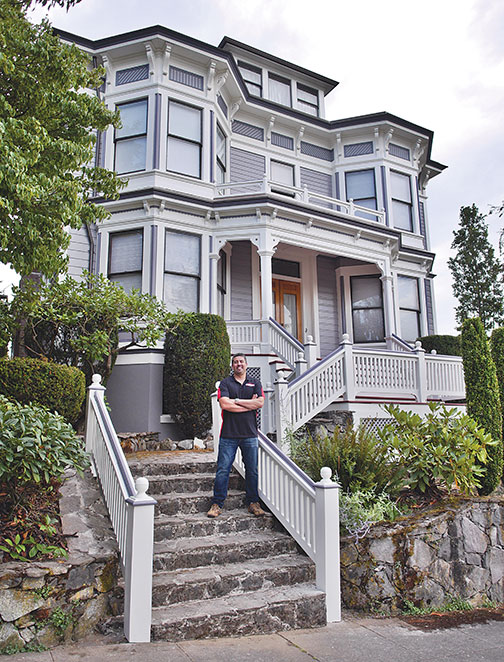 This gray Victorian home in the Mount Tabor neighborhood in southeast Portland has an impressive history. Built in 1888 and on the National Register of Historic Places, the Italianate villa has sheltered many families and witnessed generations of change.
When its current owner, Peggy Collins, decided to paint the exterior, she wanted a contractor who would safely contain the dust from an aging layer of lead paint without compromising the historical integrity of the home during the process.
Collins interviewed numerous painting companies, but was concerned by their safety practices. "Old wood can crack or peel very easily," she says. Many painters wanted to burn or sand off the lead paint—a potentially harmful technique for old homes.
Once she met Randy Ramos and Bill Kruse of Fresh Coat in Portland, she immediately knew they understood the delicate nature of the project. "What I liked about Fresh Coat is that they were in agreement about how the job should be tackled. They determined that the safest technique was to contain the lead paint."
Fresh Coat stresses safe practices when painting historic homes. "First, we always verify the presence of lead paint with lead testers," Ramos says. Rather than sanding or burning, he and his team capture any loose paint pieces before applying a sealant primer to encapsulate the home. Painters apply a total of four layers—two coats of primer and two coats of paint—to create a stunning finished project.
Kruse, the project estimator at Fresh Coat, says the company takes a number of precautionary steps. Thick plastic is laid down within 10 feet of the work area to capture loose paint chips, and painters wear full-body suits with respirators. "We are trying to preserve the historical integrity of the home while keeping everyone safe," he says.
Collins is pleased with the Fresh Coat team's thoroughness. "Before they even started painting, Bill brought over samples of the paint he had mixed to make sure everything was perfect," she says. Today, her Victorian with the double bay windows boasts seven colors, including gray with a lavender tint and a copper-colored accent strip that wraps around the home like a ribbon. This fresh makeover will protect this historic treasure for generations to come.
---
Visit www.FreshCoatPortland.com or call 503-218-3918 to learn more.