By Jon Shadel | Photo by Jason Kaplan
Ever since Cathy and Chris Fisher moved to Oregon 25 years ago, they have dreamed of living in Stafford, a picturesque rural community south of Lake Oswego and east of Tualatin. As empty nesters, the Fishers wanted to downsize and simplify their life.
After years of scouring the countryside, they found the perfect property. Unfortunately, the house on the lot was far from ideal. Built in the 1980s, it was dated and in disrepair.
The Fishers turned to Sitka Projects, a Portland-based remodeling company, to radically transform the home to suit their style.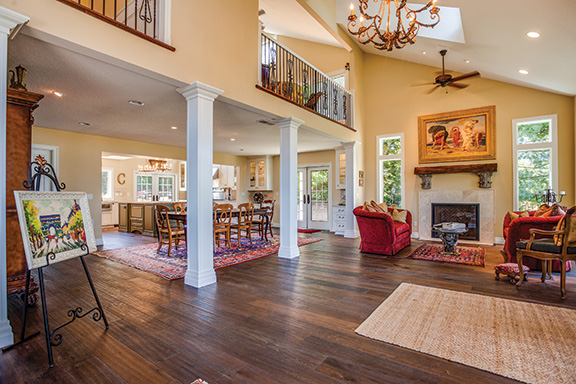 Inspired by their travels in Europe, the Fishers hoped for a continental great room design: open spaces and vaulted ceilings with a French country style. They chose to work with Brad Bowsher of Sitka Projects.
"Brad saw our vision and he was very receptive of my thick packet of photos," Cathy says with a laugh. She had spent months looking through magazines for inspiration. "Brad never said no. He was very welcoming and encouraging of our ideas. We're stunned by the final results."
The finished remodel hardly resembles the original home. The stunning transformation involved a 600-square-foot addition and a 1,600-square-foot remodel.
From the library and catwalk above, one can look down into the great room. Relocating the kitchen from the upper level to the lower level, Bowsher created an open living, dining and kitchen area lined with windows and three sets of French doors to let in natural light.
Bowsher admits the remodel was a challenge— especially reinforcing the home to structurally accommodate the new addition. However, his passion is helping homeowners realize their vision. "When a client comes to us, they typically have the initial idea," he says. "It's our job to help them determine exactly what they want so we can meet their budget and schedule. I was able to be a part of this couple's dream to live in this beautiful community, and that's what makes this one-of-a-kind project so fulfilling."