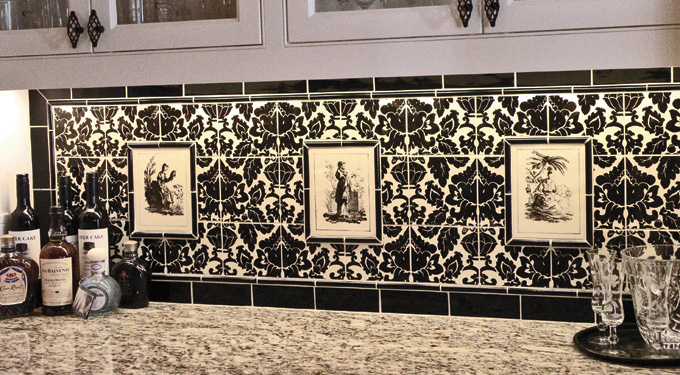 Have a unique vision? Realize it in tile. Tempest Tileworks produces custom silk-screened ceramic tiles in its Portland studio that are sold through showrooms nationwide. Partners Leigh O'Dell and Andy Morrison bought this unique business about seven years ago and moved it to Portland.
"Most people silk screen onto T-shirts. We silk screen onto wet clay," says O'Dell, who describes the machine they use as a "giant pasta maker" that rolls out 3×5-foot slabs of clay. It's left to dry overnight, weighted with sheet rock to prevent warping, then cut to requested shape and size. The silk screen technique can be used with any design. 
Tempest Tileworks has transferred to tile many images in the public domain, including detailed botanical drawings, 17th-century engravings and antique maps. They recently completed production of 225 custom clay panels for the guest bathrooms of Hotel Monaco in Portland that were screened with antique engravings of roses as well as a ribbon with "City of Roses" and the hotel name. But 90 percent of the tile makers' work is residential.
"People have given us pen-and-ink drawings of their dream home," says O'Dell of some of their unique projects. One involved putting an antique map of the Virgin Islands on tiles to be installed in a house there. Tempest Tileworks added the name of the client's hometown to the tiles. 
They use Skutt kilns and clay from Georgies — both Portland companies — and note the local ceramics community is strong. Tempest Tileworks doesn't sell directly to the public; showrooms carry their products and handle the custom orders. O'Dell says the bulk of their business is custom work. "Because we are so small, or maybe because of our own stupidity," she jokes. "But big companies can't do that."
6×6-inch tiles start at $36;  Pratt & Larson, 1201 SE 3rd Ave., Portland; prattandlarson.com; Skutt Kilns, skutt.com; Georgies Ceramic and Clay, georgies.com