'Tis the season to feast, laugh, play games, and enjoy time with friends and family. What better way to celebrate than to gather in a beautiful home out of town for extended merriment and holiday joy? Publisher Courtney Kutzman ventures to Central Oregon and to the Oregon Coast for a special holiday edition of our Home Away From Home series with Meredith Lodging.
---
I've spent many years happily fussing over holiday decor, parties, and setting the perfect table for friends and family. To me there is no better feeling than the one you get throwing a fabulous party for loved ones. Meredith Lodging's well-equipped homes and experienced staff members, as well as my helpful guests, made entertaining away from home effortless and more special than ever.
---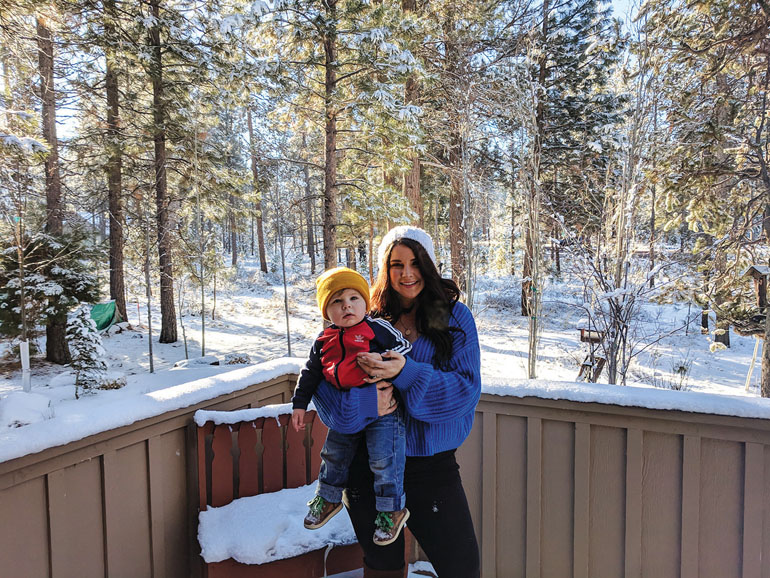 ---
This edition of Home Away for the Holidays takes place at a home called "Wallowa With Western Charm" in Central Oregon and "Ocean Vista" at the Oregon Coast. Oregon Home gathered for a holiday prime-rib feast in Sunriver to kick off the holiday season and toasted the New Year with crab, appetizers and bubbly in Lincoln City.
---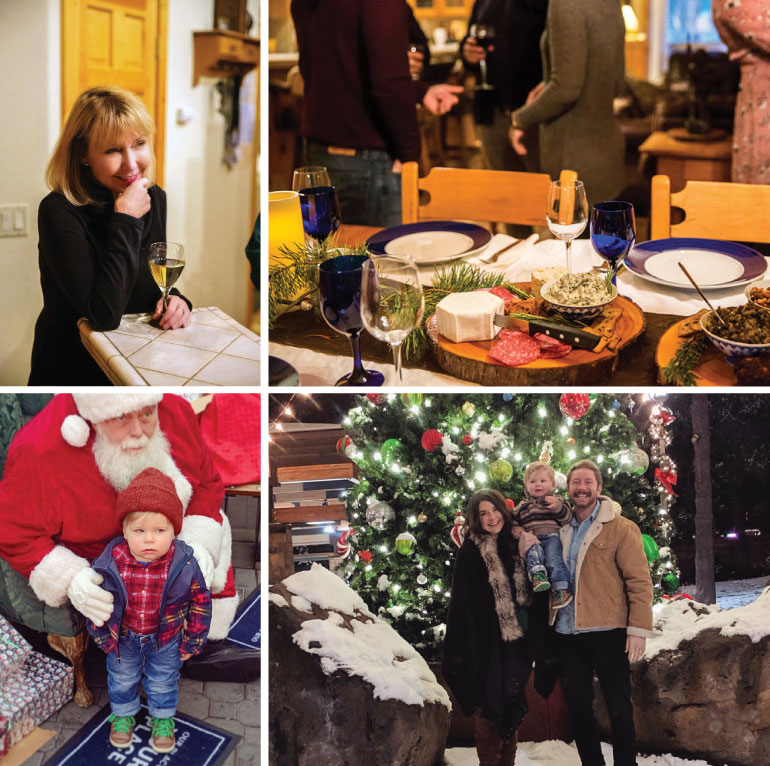 ---
WALLOWA WITH WESTERN CHARM
The Specs:
Sleeps eight
Four bedrooms
Three bathrooms
Hot tub
Ping-pong table
The charming, single-level home has the perfect floor plan for a family to gather. The large dining room table lit by a magnificent antler chandelier makes for an unforgettable feast. The stone fireplace and fantastic Western decor give the living room that cozy feel of being nestled in the heart of Sunriver. Snow-covered trees surround the property, giving the home a private ambience despite being steps away from a walking path to the Sunriver Marketplace.
---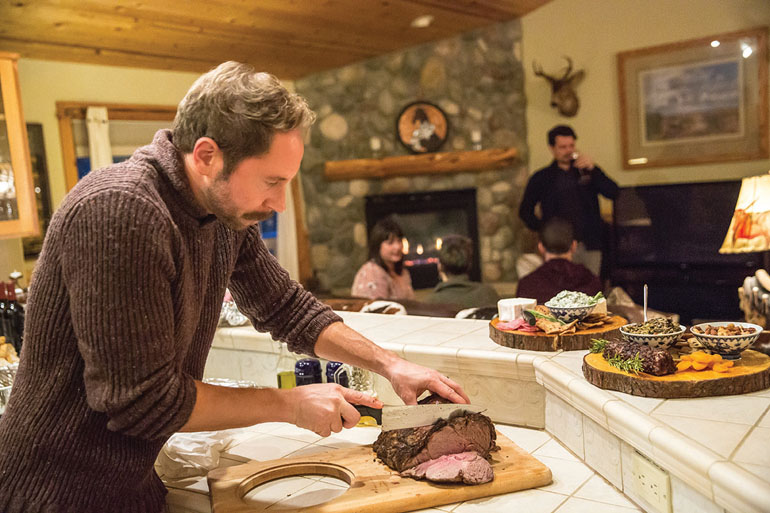 ---
OCEAN VISTA
The Specs:
Sleeps 16
Four bedrooms
Five full bathrooms, one half-bath
Hot tub
Steam room
Game room
The stunning coastal home gives you the instant feeling of luxury with its unbelievable ocean views and perfect amenities. The space was made for our New Year's Eve party with the Meredith Lodging team and close friends, but it would also make for an excellent family reunion spot! Enjoy all of the home's incredible amenities, or take the short five-minute walk to the shoreline and relax on the beach.
---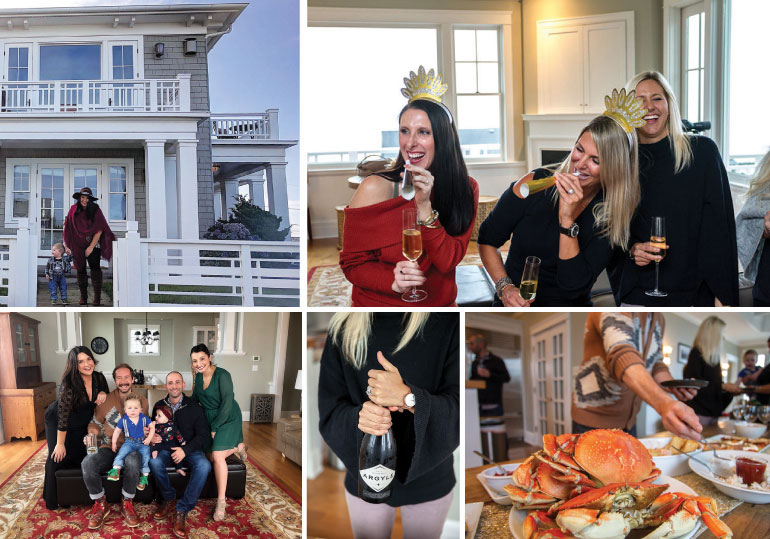 ---
ENTERTAIN AWAY FROM HOME
Make a list (check it twice)! List everything needed for your party, but don't panic when you see how long it is! Reach out to one of the incredibly helpful Meredith Lodging team members and ask about amenities available at your rental. I was able to check many things off my list that were already there waiting for me.
Enjoy the journey. Take the time to plan your commute to make some fun stops along the way. When headed to Sunriver, we stopped in Sisters to stroll through its delightful downtown (perfect for holiday shopping!). When heading toward the Coast, don't forget that Oregon's wine country is on the way. We stopped at Argyle Winery and picked up beverages for our party. Such a lovely way to mark something off your list!
Make it ahead. There are endless recipes for meals that can be made ahead of time. Make things easy on yourself and prepare a few dishes that just need to be heated up, so you are free to play the part of the carefree host!
Natural elements. Need some extra decor to snazzy up your holiday table? Look outside. We found some fallen pine branches that added the perfect, natural decoration to our tablescape.
Check the calendar. Look online for goings-on in the town you're traveling to. You'll often be able to find great markets, parades or fun activities for your guests. We enjoyed the holiday parade in Bend (and Santa!) thanks to a helpful tip from a Meredith Lodging staff member.
---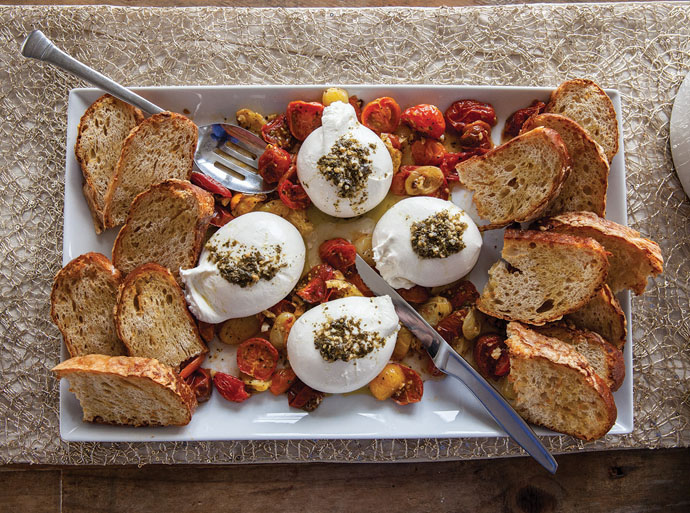 ---
BURRATA WITH ROASTED TOMATOES
Ingredients:
3/4 C extra virgin olive oil
2 medium-size shallots, diced
6 cloves garlic, minced
Salt and pepper to taste
3 10-oz. packages of rainbow cherry tomatoes
4 large burrata rounds
1 sliced garlic baguette
2 C fresh basil leaves
1/3 C pine nuts
1/2 C freshly grated Parmigiano-Reggiano cheese
Preparation:
Preheat oven to 385 degrees. Saute ¼ cup of olive oil, shallots, half the garlic, salt and pepper. Slice rainbow tomatoes in half. Add shallot mixture to rainbow tomatoes on a baking sheet, and bake for 25 to 30 minutes.
Place burrata in a bowl of very warm water for 10 minutes. Drain well and set on a clean towel to dry.
Bake sliced baguette in the oven for 10 minutes to crisp.
Pesto:
Pulse basil and pine nuts in a food processor or blender. Add cheese and remaining garlic, and slowly stream in 1/2 cup olive oil. Add salt and pepper to taste. This is the perfect example of something to make ahead of time.
Plating:
Start by placing all four burrata rounds on the plate. Add the tomato mixture to surround the cheese and lay the sliced bread on the side. Finish by topping with the fresh pesto. This perfect appetizer is always a crowd-pleaser and an excellent dish year-round!
---
Let Meredith Lodging Help Find Your Perfect Home Away From Home
1-855-318-0921 | MeredithLodging.com | #homeawaywithmeredith