Increasing populations and the rising cost of housing inspires these Oregonians to think outside of the single-family lot
There's no doubt Oregon is experience some growing pains. The most recent US Census report puts Portland as the 14th fastest growing metro region in the nation — growing about 1.7 percent last year. Portland is gaining an average of 80 residents a day. Pressure on the housing market to find room for this growth is driving up prices. Portland was also ranked 16th out of the top 25 most expensive cities according to the National Association of Home Builders. And it's not just Portland. Bend was number eight on the list of least affordable cities for those with populations under 500,000. "Our market is definitely an inflationary market, and we're not building enough supply," explains Jerry Johnson of Johnson Economics, a local economic consultancy. "Production is still not up to demand. There are still segments of the market that are really hard to produce new houses for — like lower to moderate income and new home buyers."
City planners, affordable housing advocates, homebuilders, environmentalists and neighborhood advocacy groups who were once on opposite sides of the growth and density debate have now found themselves tentative partners in zoning reviews and capacity planning. For Portland, single-family lot zoning and design overlay restrictions that came into play in the 1950s in most neighborhoods have made anything other than a single-family, and by comparison, overly-large (seemly overly-expensive) house the only financially feasible option for builders. The high price of land and development fees only add to the overall cost passed down to buyers. "This causes the missing middle," says Jean-Pierre Veillet, native Portlander, designer and developer of such forward-thinking projects as Pine Street Market. "Everything has gone up. The cost and delay from the city, the cost of contractors and development — it's all working against us. Our margins aren't't huge here. The city has a tremendous responsibility to make this more efficient and to make building more affordable. We need to embrace growth thoughtfully — within our own communities — not from outside investors. That's in the best interest of Portland — and in maintaining our neighborhood character and diversity."
Eric Engstrom, City Planner with the City of Portland spoke this spring at a Home Builders Association Conference hosted at the McMenamins Kennedy School in NE Portland on how updates to the zoning plans would help. "We project Portland to have the capacity for at 80,000 more mixed-use and multi-family type housing units by 2035. We also have another 20,000 to 30,000 in single family capacity. So, from a top-down level, we do have adequate supply of housing for the influx of population. But the diversity of this housing is too limited to meet the need of Portland's residents. The concern is we don't have much room for people who have outgrown their small apartment but can't yet afford a home on a 5,000 square foot lot — thus the push for middle housing. The zoning review will consider allowing for a broader range of more affordable housing types in what are now single-family neighborhoods. We hope to continue to allow ADUs (accessory dwelling units) and to add more duplexes, triplexes and potentially cottage clusters into the zones."
In the meantime, some very savvy architects, designers, developers and regular Oregonians have found creative ways to find more space — and more community — in our increasingly more popular corner of the country.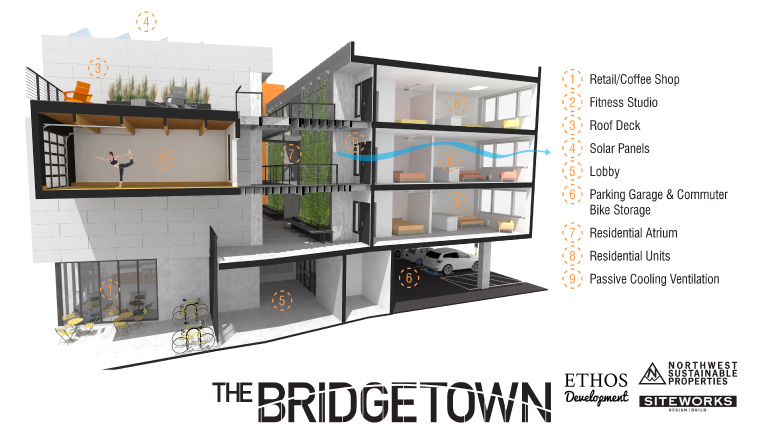 ---
THE BRIDGETOWN – NORTHEAST PORTLAND
Embracing city living in an apartment
Neighborhoods like Fremont decided to embrace growth in their last zoning review. A designated commercial street has zoning which allows for mixed use apartment buildings. The beauty of The Bridgetown complex designed by Siteworks and developed by Northwest Sustainable Properties and Ethos Development is in the thoughtful interplay of shared retail and residential spaces. The award-winning building is designed to create a communal sense within for residents and without to the greater neighborhood. Built on an energy conservation model, the 50 apartments and four retail spaces provide amenities and benefits not found in a traditional single-family home dwelling. "For most Portlanders, the single family home across from your favorite restaurant is no longer attainable," says Veillet. "I'm building apartments now with families in mind. They have community spaces, access to play areas and great urban walkability and amenities. I think the way the new high-tech labor force moves around, this is the new reality. Smaller but better space is good for everyone. Good design can also have the component of social responsibility."
Photo: The Bridgetown sits in the Beaumont Village neighborhood's busy commercial corridor, replacing three single-family lots. The 50-unit passive-ventilation, low-energy-consumption development is the recipient of an Energy Trust of Oregon award. Exterior balconies and corridors create maximum common areas for communal interaction.

---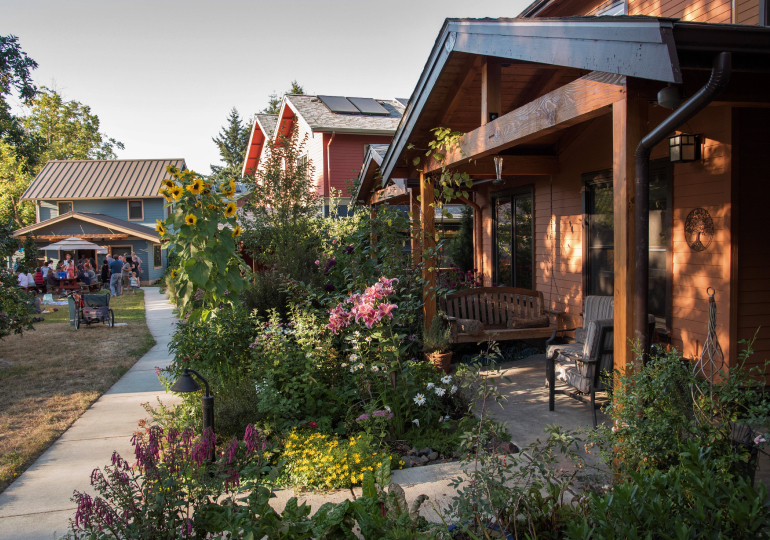 ---
CULLY GROVE – NORTH PORTLAND
Communal living
While Eli Spevek of Orange Splot Development waits for zoning codes to catch up to the new reality of population density and the housing crisis in Portland, he's quietly doing an innovative work-around. Committed to building community-oriented, affordable and eco-sensitive housing in Portland, Spevak has been actively involved in housing advocacy and builder-Metro think tanks focused on finding ways to respond to Portland's rising housing prices and cost-burdened housing development process. Most recently, he teamed up with Zach Parrish of ONO Development to co-develop the award-winning Cully Grove community — a vibrant collection of smaller homes, community building and common gardens. For larger lots, planned developments provide more flexibility in site layout and support a wider variety of housing styles than typical subdivisions. This allows for more flexibility in site layout and a wider variety of housing styles. The catch is, they have to be sold as condos. Buyers don't mind, though, because the communities Spevak builds are just that — communities. Cully Grove, designed by Green Gables Design & Restoration and Communitecture is a cluster of sustainably built triplexes, duplexes, and single homes woven together with shared amenities, existing trees, artwork, winding paths, play areas, a community building and garden areas. The effect is a sense of connectedness unprecedented in a traditional neighborhood. Today Cully grove is a thriving "farm in the city."
---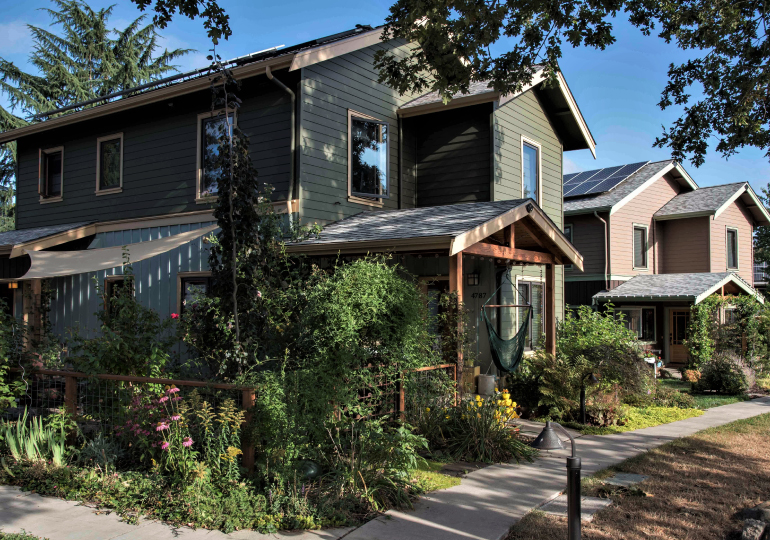 Cully Grove's sustainable features include an on-site well for garden irrigation, 2,000 square feet of eco-roofs on the carports and custom-made bike racks and other details by a local metalsmith.
---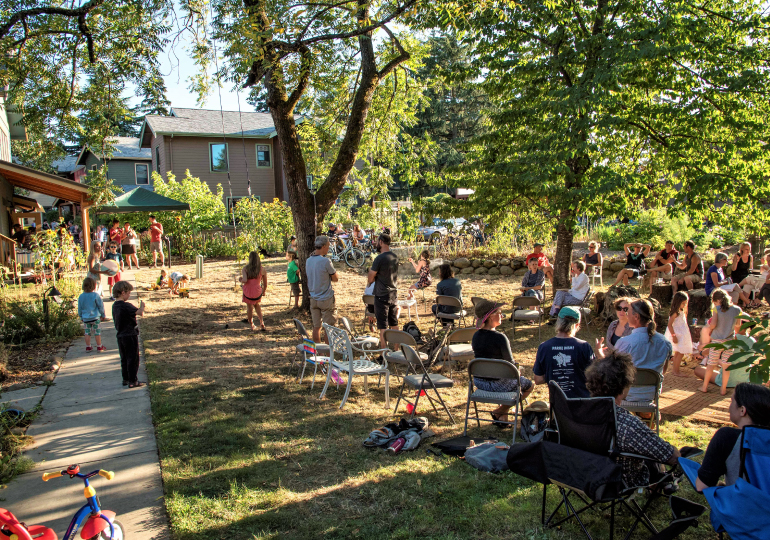 Residents of all ages gather in the 1,100-square-foot Common House to celebrate community events and to share the harvest of a significant amount of food they grow together on site.
---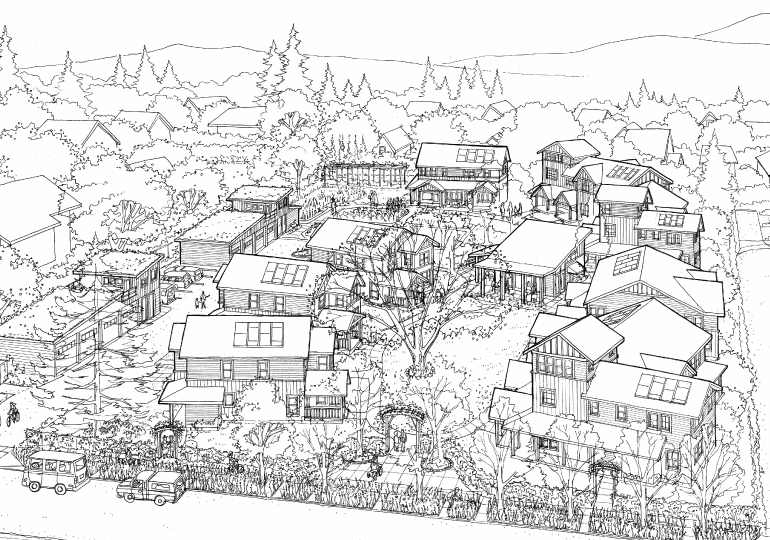 Sixteen attached and detached homes provide a range of prices and sizes for a variety of family income levels.
---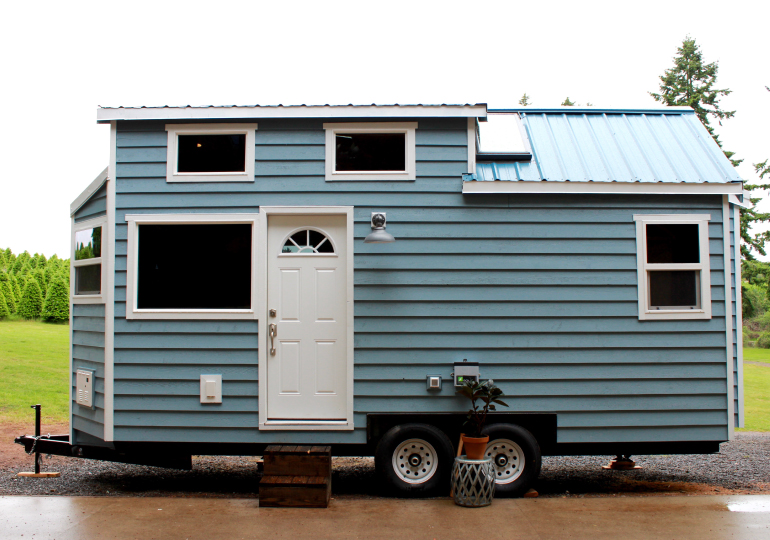 ---
THE SAPPHIRE – BEND, OR
The tiny home
Known for their tiny home show, Tiny Luxury on HGTV and DIY Network, Portland design-build group, Tiny Heirloom, builds uber-enviable tiny homes that live large. They've shown the world that living with less doesn't mean "living less." There's a variety of reasons people choose to live in a tiny home — they want to downsize, be able to take their home with them when they travel, enjoy nature more, get off the grid — you name it. A lot of the time, it's not necessarily a more economical choice, because these tiny homes can come with a big price tag. But for Andre Jurgensen and Rachel Blackmon, a young couple living in Bend, going small ended up being at least half of what a monthly apartment rental would have cost.
When Andre and Rachel decided to move from their one bedroom apartment in Austin, Texas to Bend they were discouraged at the lack of options. Not only were there no affordable rentals, they couldn't find anywhere that would take their two dogs. "We thought, how are we going to make this dream happen?" recalls Rachel. "We had been thinking about a tiny home down the road, and we decided to bump up the idea." They took out an RV loan and combined it with savings to start the process of custom building their tiny home. Then they stumbled upon Tiny Heirloom and The Sapphire. The house had been built for their TV show and was for sale from the original owner — it fit their tight budget even with all the luxury amenities. So in the end, Rachel and Andre have a gorgeous home, in a gorgeous setting and are pursuing the work and lifestyle they love. Isn't that why everyone wants to move to Oregon in the first place?
---
Andre and Rachel park their tiny home on rental space they found on Craigslist. Right now, the city doesn't have a consistent way of dealing with mobile tiny homes. The grey area has caused some problems for other members of the tiny home community they know. Rachel runs an outdoor doggie daycare and hiking service from The Sapphire, while Andre works remotely as a graphic designer for his firm based in Austin. The Sapphire embraces the best of the Oregon lifestyle — the great outdoors, fine craftsmanship, entrepreneurship and individualism.
---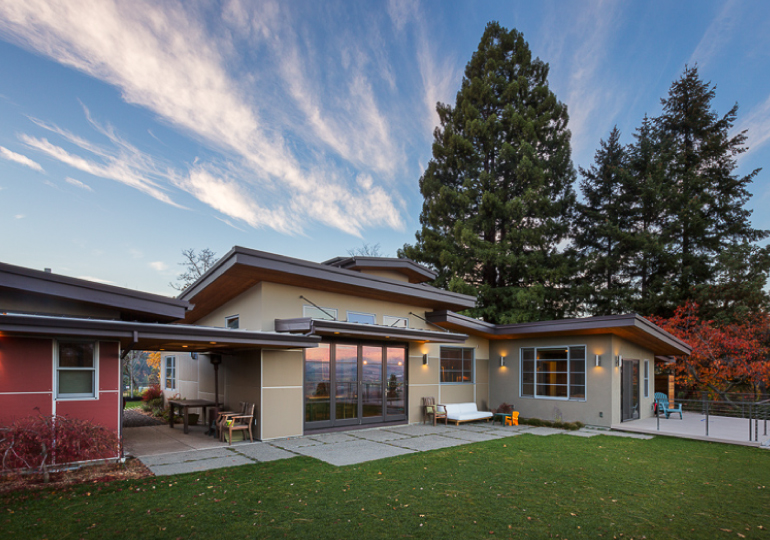 ---
KEPLER RIDGE – ASHLAND, OR
The flexible accessory dwelling unit
The accessory dwelling unit, or ADU, has been the go-to in recent years for Oregonians to gain more space, offset building or developing costs, create rental income or much needed rental space or lengthen the lifespan of their current home. In Portland, the continuing waiver of SDC fees associated with building an ADU has been a huge incentive. Many spec homebuilders in areas where rentals are in short supply are automatically including ADUs and mother-in-laws in their houses to give future homeowners more flexibility. For Ashland architect, Carlos Delgado, ADUs are a common request. "Although Ashland will soon be implementing a cottage house ordinance, allowing more than two units per house lot, it would be great if the city waived SDC fees like Portland," explains Delgado. For Kepler Ridge, Delgado's client added an ADU to help offset the cost of building a custom home with rental income, and to eventually have a place for an aging parent to live. Multigenerational housing offers families a greater sense of community in a smaller footprint and helps older generations with less means to live more comfortably.
---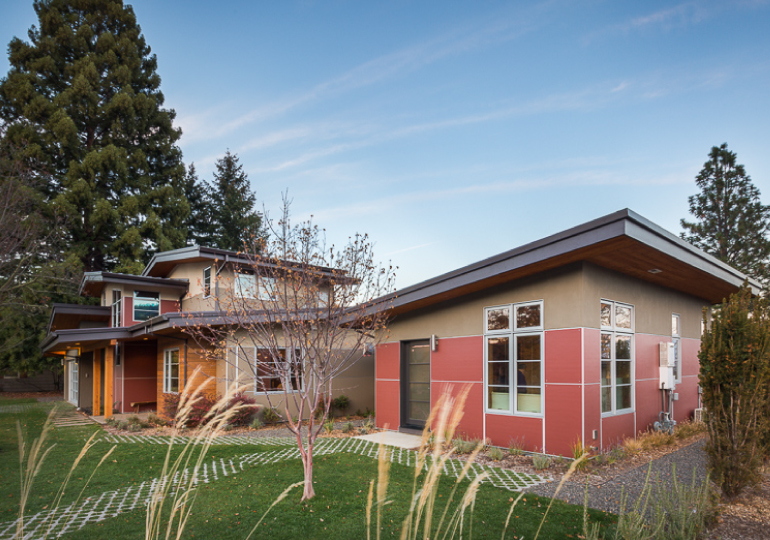 The Kepler Ridge property is in a traditional single-family residential neighborhood where ADUs are becoming a popular choice for homeowners to find extra space for extended family. The current housing market often makes staying put more cost-effective than moving.
---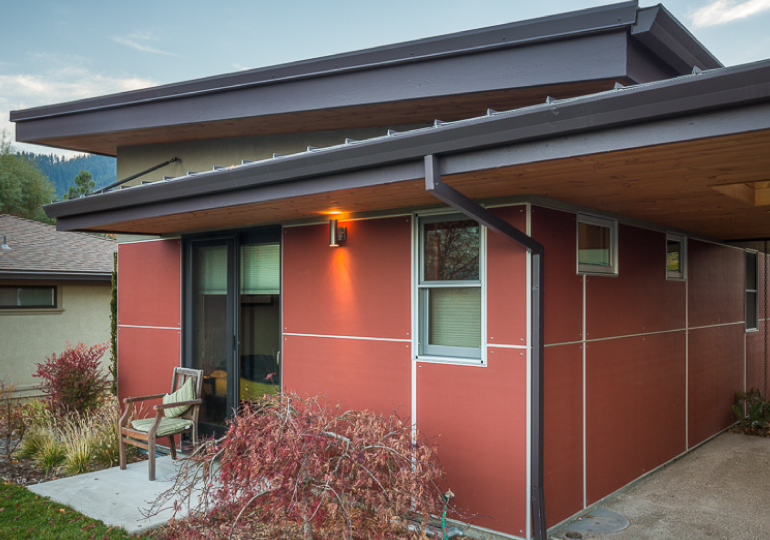 The fully self-contained ADU is a single-level cottage perfect for aging in place. It's now occupied by the family's grandmother who has relocated to Ashland full-time. Connected to the main house by a breezeway, this home and ADU are built to high efficiency and sustainable building standards by Jovick Construction, LLC, awarded a LEED for Homes Platinum Certification, Earth Advantage Platinum Certification and Northwest ENERGY STAR® Certification.