Produced by the marketing department of Oregon Home
Janel Campbell, design consultant at Neil Kelly Company, knows what makes a kitchen fabulous. "Great kitchen design is about function foremost," the avid home chef says. Starting with that focus, Campbell creates stunning kitchens, including the condo remodel that garnered her top local prize in the 2010-2012 Sub-Zero and Wolf Kitchen design contest.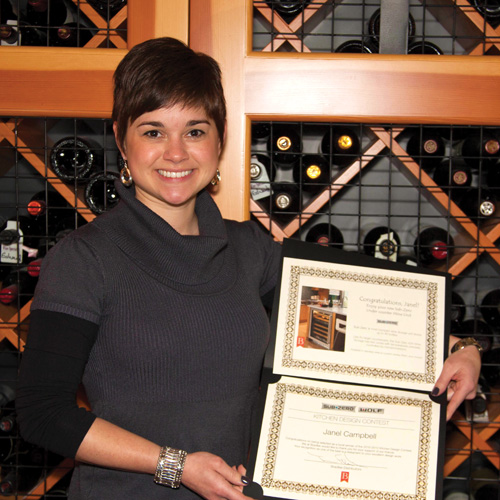 Janel Campbell wins the Regional Design Award. // Photos by Sierra Breshears
The prestigious bi-annual contest recognizes top talent in the design industry by awarding prizes for the best completed kitchen projects. "The contest is a jewel in the crown of the design community," Campbell says.
Her remodel featured quarter-sawn oak cabinets stained in hues of chocolate and green, a curved bar and an art display nook carved from a column. Like each entry in the contest, Janel's kitchen design included appliances from Sub-Zero and Wolf, lines represented by Bradlee Distributors.
"We're honored to represent Sub-Zero and Wolf products in the Northwest," Bradlee sales representative Dan Studt says. "Not only is the company headquartered in the USA and a third-generation family-owned business, but Sub-Zero has always focused on producing top-of-the-line kitchen appliances and nothing else."
Participating in the Kitchen Design Contest allows Bradlee to celebrate the designers and clients who incorporate these long-lasting appliances into all types of kitchens. "We want the design community to trust that we're here to support them," Studt says, "especially as they work with consumers during the decision-making process."
Bradlee Distributors represents Sub-Zero, Wolf, Franke, Best, Abbaka and ASKO brands. For more information, visit bradlee.net.