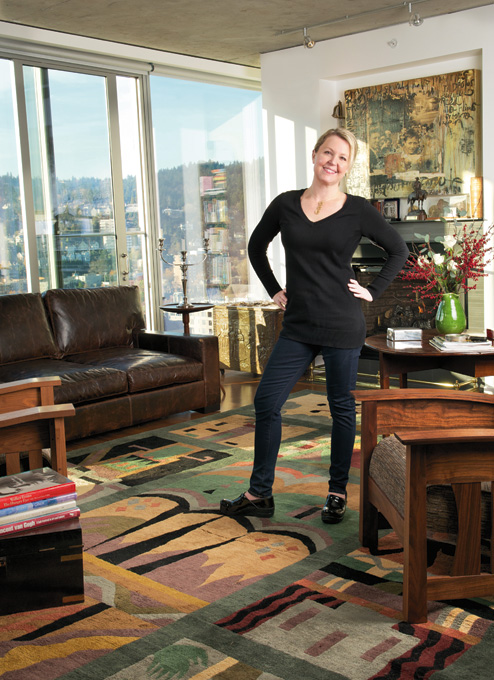 Photo by Eric Näslund
Life is an illusion. That's not an esoteric philosophy but routine reality for Gretchen Miller of HIVE-FX. The special-effects company she founded in Portland in 2007 with business partner Jim Clark creates magical moments in movies, television shows and commercials. The falling meteor entering the atmosphere with a flash? Those adorable squirrels that behave like naughty children? They're just some of the visual effects that come out of their studio. The downtown penthouse Miller shares with movie director John Kent Harrison is filled with strong visual effects and no digital tricks. The main great room combines a meaningful collection of antique family furniture and new treasures meant to last for years to come.
STOP MOTION: "We both work really hard so like to come home and stay in our little bubble and repair ourselves," says Miller. "Most of the time, we're reading or watching movies." The DVD collection is neatly tucked away in the drawers of a blond wood bureau from Partners in Time antiques store in Portland.
OPTICAL EFFECTS: Exposed concrete pillars and ceiling create a cool, industrial backdrop for warm wooden Morris chairs from The Joinery; a leather sofa, aged like an old bomber jacket, from Perch Furniture; a family heirloom metal-clad trunk, and ornate sideboard. "It's a commitment when you buy furniture, so we want it to last."
MORPHING: "Our style is classic but also eclectic and bold. We like things big and bold. We don't do things lightly."
COLORIZED: A Tibetan rug from Tufenkian Carpets brings a blast of color to the otherwise neutral tones of the walls, floors and furniture.
DIRECTOR'S CUT: Hanging above the fireplace is an assembled piece by artist Sabrina Ward Harrison that incorporates vintage images of her dad.