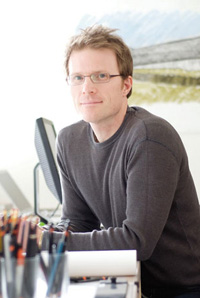 Portland writer Brian Libby interviewed designer Corey Martin of PATH Architecture for the April/May issue of Oregon Home. Martin's Park Box house was a winner of a 2009 AIA Craftsmanship Award and Merit Award. Here is an extended excerpt from that interview.
LOTS OF LIGHT
"We almost end up spending more time indoors because the living room feels like you're outside. On rainy days it's nice to be in here and not have a single electric light on. It's pretty stark right now with the trees bare, but when the cherry tree is in bloom. It's awesome. The first time there were big storms in here, it was like, 'Wow.' It felt you were like an airplane getting nailed."
WINDOWS ON THE PARK
"The park is the greatest asset. To me it feels like this place is in an open meadow or something, even though you're in a vital urban context. When you're in here it feels like the best balance between urban and rural. You see the horizon, the green of the grass, the trees, the park. And the design of the windows is such that your view is guided upward. You don't have to look at all the cars and street.
I really try and always push my windows floor to ceiling if I can, but if I can I push them to the walls. It highlights that the building is built out of plainer elements. That wall up there is a three-dimensional object. There is a window floating in space.
There's a pragmatic side of pushing the windows to the wall. The light is a seamless transition. I feel it's a climatic response, and for Pacific Northwest light. There's just such even diffuse light that it's just everywhere. This house next door with the punched openings, it's surrounded by a dark wall. It's just such a high contrast, and it's harsh. I think those buildings were designed for California or New Mexico. If you really back up and look at designing for this light and this climate, I think it's better this way."
MATERIALS
"You learn from the material and use it in the best way. Pietro Belluschi's generation didn't even have double-pane windows. Even when getting direct sun it doesn't get hot. We have a roof hatch that we can open and all these glass doors slide open. It's also really airtight.
We build double walled curtain walled systems and concepts like that to generate heat and prevent heat gain. When it's cooler you can use it and when it's warm you can move it out.
My professor at UO, john Reynolds, taught us about all this. That's partly why I've been on the fence about the LEED green-washing bandwagon. He taught us to design common-sense energy efficient buildings. People are marketing things they don't even need to talk about. But because of climate change, we do have to talk about it."
---
URBAN LIVING
"I also think for us, personally, we have always struggled with living in an urban environment. We love the density, the vitality, the community spaces, the art and culture. But at the same time at our core, Michele and I really want to live out in the mountains. This place was an attempt to get the best of both worlds.
In the past we spent every single weekend we could rock climbing and cycling. That's how we met. We're hoping to let Casey experience that lifestyle, too."
LIGHT AND VOLUME
"I really love high noon in the summer. The way the light comes in is really beautiful. Right now is great, with this winter sun angle.
Casey understands the difference between winter and summer, where the sun comes up and where it goes down. How far down it is south in the summer. When he gets up, he notices the sunrise and where the sun is coming from.
My favorite view is standing at the sink and looking out. I like the layering that you get with the view. At the birch you start at the street, and there's this unfolding process. This is about feeling that things far away are close.
This is about volumetric connection. There's the fence and the window layers, but it feels like one space. This project is about how to find a small site and make it feel bigger and more connected to the landscape. This is a small yard and a small deck but it doesn't feel like it. The living space of this house is like 1,600 feet. It's not a very big space, but it feels massive. This is a great space to live. You don't feel like you're a small space. That idea of having connection to the sky and the horizon and the light without feeling like you're on display, that's a real balancing act."
STAIRWAY ON WIRES
"It's suspended on stainless steel rods. I've always wanted to create a stair that was open and feels like it's floating. Normally it gets pretty bulky. The rods actually become a guardrail and a suspension for the stair. It's a way of, again, making the space feel bigger than it is."
THE KITCHEN
"We hide the pragmatic stuff like the fridge. So you've got this open feeling kitchen without having to look at the appliances. Even the countertops are just butcher block, a super inexpensive material. The open shelving also plays into that idea of the space feeling larger than it is. The ceiling height is really important. These aren't low ceilings. A building like this would normally have 8-foot ceilings but these are 9½ nine. It's nice."
---
BUIDING A DUPLEX
"Michele and I had been looking for years for a place that felt both urban and natural. This lot, the only way we could make it work for the price was to build two units. We decided to build two units and pre-sell one to enable us to live here. That all happened right at the time when the banks were starting to crash. We had to go in with our other tenant as a development partner. All four of us actually work. I did the cabinetry. We all built all the decks, the fences, the paving, and the landscaping ourselves."
UPSTAIRS
"This is just a great place to work. It feels like you're in a treehouse. I do most of my work, my project management, there, and most of my design work here. It's a nice place to get away and not be distracted."
SPATIAL FLOW
"Everything kind of spirals off the center, and yet is kind of hidden. Things are never centered. They're behind a wall or hidden. The result is that it's just nice and comfortable and has good flow. It has good spatial flow.
It's more of communal living, and that's an idea that hit home for me working on the Wieden+Kennedy building with Brad [Cloepfil]. We talked about the idea of a long house and the idea that people live together clustered around a center or hearth. The windows, they're the fireplace, the anchor, the reference point. Everything relates to it, refers to it. On other early projects I worked on, we tried to kind of always put the living room in the kitchen.
This is all about it being one space. It doesn't have so many layers as much as a long house space. It's great for raising a family and for entertaining."
ARTWORK
"I had a stint trying to make it as a sculptor, from 1999 to 2003. From 1998 to 2005 I had my own wood and metal shop and sculpture studio at the B&O that I kind of intermittently lived in. That was a crazy time. Doing the true live-work artist's life for a while.
For me, I always fall back on that, that I have this ability and tendency towards conceptual pure sculpture that is really valuable and really helpful. My grandma and my mom were sculptors and jewelers. My grandma did a lot of sculpture that was landscape-inspired. When I was in college, I had this kind of aha moment where I realized it came from her.
Something I really learned during that time is you have to challenge your human scale. You have to try and work larger than yourself to understand your relationship to space and even to your body.
I realized a lot of what I was drawing and sculpting was related to coastal Native Americans. I hadn't even really seen it or followed it, but the influence came from my intuition. I'm more of an artist than an architect. I don't necessarily create a building with a concept first. I create a building and think of concepts to go with it. It's a give and take, for sure. But I think the best work that I've done is unintentional and flowed freely from my gut. To me that's what you've got to try to do. No matter how much you talk about it, it's all just sort of flowing freely.
That whole idea of light overlapping boundaries, that to me is the most poetic thing about architecture. It's not just what you see. It's connected to so much more."