Produced by the marketing department of Oregon Home
Herb Heagh-Arvitt was committed to finding an energy efficient solution for heating water, but his electric heat pump water heater was not doing the trick. He hit the ceiling when his system took nearly all day to recover enough hot water for his guests to get a shower.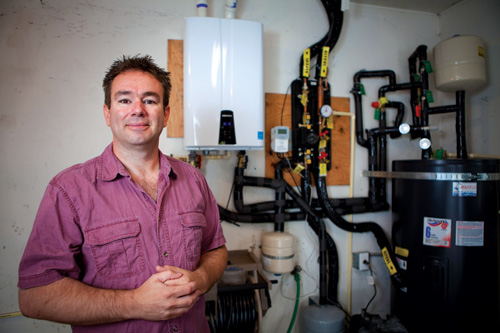 Herb Heagh-Arvitt in front of his efficient, new solar water heating system installed by Fast Water Heater Company. // Photos by Adam Wickham
"When I want hot water, I want it now and I want a lot of it," he said.
Heagh-Arvitt bought his heat pump water heater hoping it would leave a light environmental footprint and keep energy costs down. He didn't realize that it may not work for heavy hot water users due to the longer recovery times.
Heagh-Arvitt called Energy Trust of Oregon when he was looking for a new system. At first, Fast Water Heater Company was recommended. When it was clear the system did not meet his needs, he called Fast Water Heater back to help him find a better solution.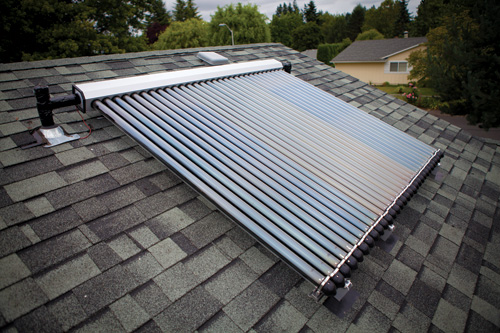 Rooftop view of a solar-powered water heater.
This time, Fast Water Heater suggested a natural gas water heater to meet Heagh-Arvitt's desire to "go green," keep costs down and shower to his heart's delight.
"Recovery time was important, so we chose a solar-powered system with NW Natural gas for back-up heat," said Jeff Jordan, Fast Water Heater president. In the end, Heagh-Arvitt agreed that a tankless water heater with solar panels would meet his needs.
Thanks to generous rebates, Heagh-Arvitt found the solar tankless system within reach. When he jumped in for his first shower, he knew his troubles were over.
Today, his annual water heating bill is projected to drop to about $78, compared to $678 for his electric water heating system.
"I can shower forever and never run out of hot water," said the grateful customer. "With Fast Water Heater and NW Natural, I found the right solution for my family."